Products
Instruments & Software
NSH
Navigation Sensor Hub
Engineered for: USV, Vessel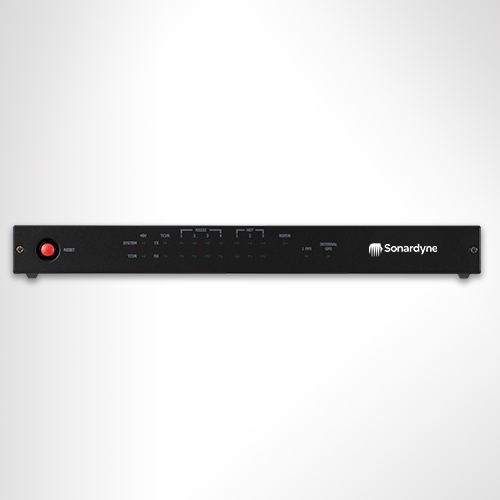 The Navigation Sensor Hub (NSH) forms part of the vessel-fit for a Ranger 2 USBL or Marksman LUSBL acoustic positioning system and is usually interfaced with a Marine Computer, HPT transeiver, DP desk and external sensors.

---
At a glance
Use it with Ranger 2 and Marksman LUSBL systems
Interfaces vessel's acoustic instruments with operating software
Time stamps gyro, VRU and GNSS data
Offers upto 16 serial ports (RS232/485)
Configurable for dual independent applications
Power, comms and timing for USBL
Want to know more?
Overview
NSH is a 2U high rack-mounted unit that is the interface between your in-water deployed transponders, vessel-mounted transceiver and Marine Computer which runs Ranger 2 USBL or Marksman LUSBL software applications.
In addition to accurately time-stamping incoming data from external devices such as gyro, VRU and GNSS, the NSH also provides power and communications for ship-borne acoustic transceivers; HPT 5000 or HPT 7000.
A range of hardware interface cards are available for interfacing Sonardyne transceivers and external sensors. By simply plugging these cards into the rear of the unit, the role of the Navigation Sensor Hub can be transformed from supporting simple to complex acoustic operations.
The NSH includes an IEEE-1588/PTP precision time source that can be linked to GPS PPS input. Multiple NSHs automatically synchronise their clocks. All incoming data is time stamped to sub-microsecond accuracy; outgoing transmissions and triggers can be scheduled to the same precision.
Depending on the application (DP, drilling or survey operations), the NSH can be configured in stand-alone, dual-independent or dual-redundant modes.
Resources
| Feature | | Type 8098 |
| --- | --- | --- |
| Processor | | Freescale PowerQUICC™ II Pro Processor running at 1000 MIPS |
| Memory | | One single SO-CDIMM DDR2 PC4200 512MB Module |
| Motherboard | | Proprietary Sonardyne Type 8098-046 |
| Ports and Connectors | | AC IEC power connector socket |
| | | 12 x Interface card connectors |
| Power Supply | | Auto sensing ac input voltage: 100-240 V, 50/60 Hz |
| | | Max current: 2 A @ 240 V, 4 A @ 110 V |
| | | Ave. operating current: 0.32 A @ 240 V |
| Environmental Specifications | Operating | -5 to 40°C (23 to 104°F) |
| | Storage | -20 to 55°C (-4 to 131° F) |
| | Relative Humidity | 20–80% (non-condensing) |
| | Shock | 10 G acceleration peak to peak |
| | | 5–17 Hz, 0.1" double amplitude displacement |
| | | 17–640 Hz, 1.5 G acceleration peak to peak |
| Safety | | Complies with EN61010-1 |
| EMC | | Complies with Immunity & Emission requirements of EN60945 |
| Dimensions (Length x Width x Height) | | 384 x 482 x 88 mm (15.1 x 18.9 x 3.4") |
Manuals and quick start guides
Datasheets
Software and firmware
Power, comms and timing for USBL