SMART
Asset monitoring and analysis transponder
Engineered for: Seabed, Structure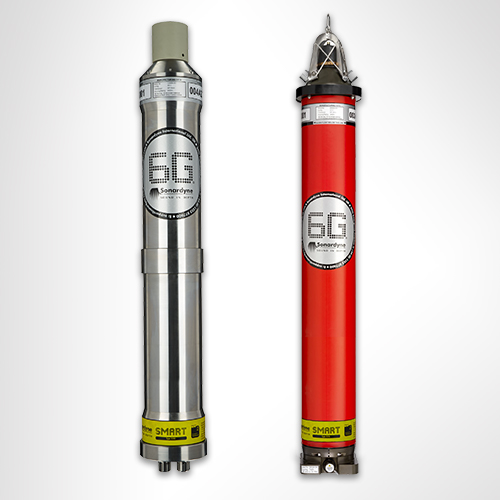 SMART brings together low power electronics, data logging, subsea data processing and acoustic telemetry into a single, easily deployed instrument that's suitable for a wide range of long duration, remote monitoring campaigns across energy and science
---
At a glance
Battery options to support campaigns in excess of 10 years
Can be deployed and recovered using ROV
3,000 m standard depth rating; options for 7,000 m
Onboard logging and processing of data; offloaded acoustically on demand
Built on our low power 6G hardware platform and Wideband 2 digital signal architecture for reliable acoustic performance in noisy conditions
Asset monitoring made SMART
Want to know more?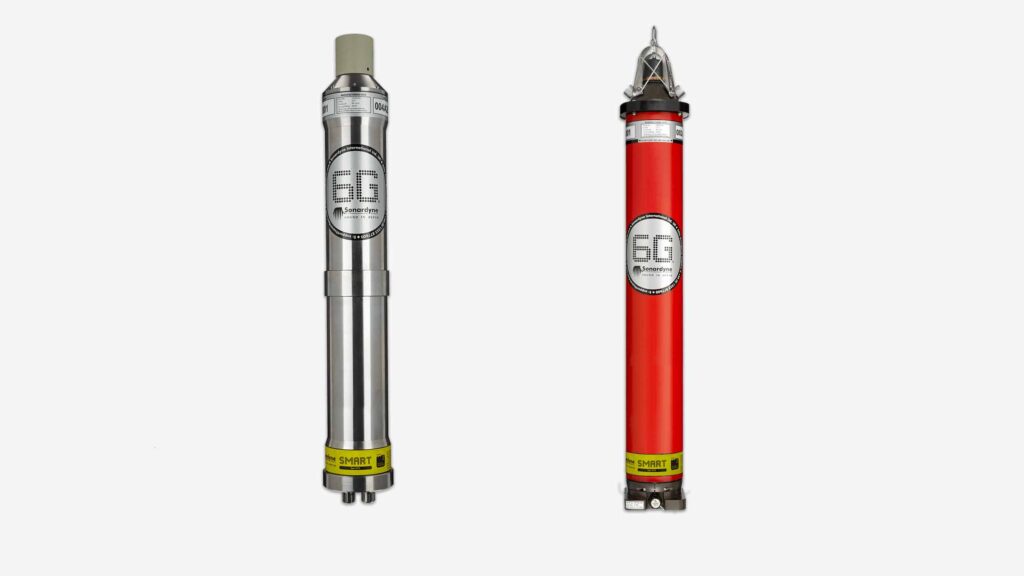 SMARTs are built on our 6G hardware platform providing long life and ease of setup
SMARTs run internal algorithms, only sending analysed data to the surface
Data transfer rates of up to 9,000 bps are supported
Battery life is typically 500 days based on common logging regimes
Benefits of SMART for your operations
Configurable
SMARTs can be configured to make measurements at specific intervals, intervals which can be adjusted on-demand by you as your campaign progresses.
6G & Wideband 2
These unique technologies help make SMART smart; delivering long endurance, intelligent asset monitoring and secure data delivery.
Made for you
Nearly all asset monitoring surveys are unique in their requirements. SMARTs can be engineered to meet your project's exacts needs and budget.
Overview
SMART delivers the precision, reliability and flexibility you need for analysing short and long-term trends in structures, pipelines, spoolpieces and risers such as creep, bending and strain.
With a wide range of sensor options available, we can configure a system to meet the specific monitoring needs of your offshore assets.
A typical survey includes multiple SMARTs deployed on the structure under investigation; PLET, pipeline, template or riser. Our service includes designing and fabricating custom brackets to mount SMARTs onto your infrastructure – including making them ROV-friendly to enable fast and efficient installation and removal.
Sensors
SMART includes digital and analogue inputs which can be configured to connect to multiple data sources. Internal sensors are available for motion measurement including; accelerometers, angular rate sensors and inclinometers, along with standard and high precision pressure and temperature sensors. External sensors that can be interfaced include; pressure sensors, strain gauges and ADCPs. For more bespoke applications, custom interfaces can be created to link to instruments from corrosion monitors to vibration measurement tools.
Onboard data logging and analysis
A low power data logger is a key ingredient of SMART, enabling data received from external and internal sources to be securely archived using dual redundant storage. Where SMART goes beyond existing products, is in its ability to process raw data subsea to provide value added functions.
Onboard SMART is has a highly capable processor which can run sophisticated user specified algorithms, as well as simple data analyses such as Min/Max/Mean statistics and thresholding for alarms and critical event reporting. By reducing high bandwidth sensor data to small, critical packets, SMART enhances users' knowledge of the subsea world. By efficiently managing power consumption, long deployment times can be achieved from the internal battery pack.
Data harvesting
SMART uses our trusted Wideband 2 acoustic telemetry module for seafloor to surface communications. Operating in the Medium Frequency (MF) or Low Medium Frequency (LMF) band, there are options for omni-directional and directional transducers with high output powers for use in deep water and in challenging acoustic environments.
Utilising Sonardyne Wideband 2 advanced spread spectrum coding, SMART can transmit stored data at rates up to 9,000 bps to topside transceivers and modems including HPT 5000, Modem 6 Dunker 6.
Alternatively, SMART can be coupled via an Ethernet connection to a BlueComm high bandwidth optical communication link enabling larger quantities of data to be 'harvested' from ROV, AUV or USV. All logged data can be downloaded from safe storage via Ethernet when the unit is recovered.
Topside software
The software to run your network of SMARTs is fully configurable and can run either on our Marine Computer or on a third party computer connected via a Sonardyne Surface Interface Unit (SIU). Users can choose to run standard software, which provides acoustic link configuration, diagnostics and a command interface to the SMART, with data passed on to third party software.
This option is attractive if analysis and display software is already available for the application or where the SMART is providing a wireless backup to a cabled system. Alternatively, our custom projects teams can adapt the standard platform to provide you with software that meets your specific requirements for managing and displaying data, including now remote, over-the-horizon command and control.
Why invest
Acoustics
Sonardyne Wideband 2 MF band (19 - 34 kHz); field proven in high noise subsea environments

Over 500 unique addresses, ideal for large array deployments

Data transfer rates of 100 to 9,000 bps - user selectable

Omni-directional transducer for wide area acoustic coverage
Design
3,000 m depth rating; up to 7,000 m on request

Super Duplex Stainless Steel standard housing material; options for different materials depending on environmental conditions

ROV-friendly design; option for integrated acoustic release mechanism

Lithium battery providing over 500 logging days at typical regimes
Sensing
6 DOF high performance sensor fitted as standard

Extensive range of internal and external sensors; analogue or digital. Speak to us about your requirements

Sampling rate: 5 Hz, 10 Hz, 25 Hz

Data storage: 32 GB, dual redundant, FAT 32

Processing capability: Fully programmable including FTT spectral analysis, statistical functions and bespoke options
Ownership
A typical system; multiple structure-mounted SMARTs, vessel-based Modem 6 or Dunker 6 or HPT 5000 / 7000, SIU, SMART software

Warranty: 1 year return to Sonardyne service centre

ITAR Controlled: No

UK Export License: Not required
Resources
| Feature | | Type 8316 |
| --- | --- | --- |
| Depth Rating | | 3,000 m (up to 7,000 m on request) |
| Acoustic Operating Frequency | | MF (20–34 kHz) |
| Acoustic Data Rate | | 100–9,000 bps |
| Standard Battery Specifications | | 100 Ah @ 15 V (high capacity options available) |
| Power Consumption | Listening | 50 mW |
| | Logging | 200 mW |
| Battery Life (Typical) (Lithium) | | >500 days @ 25% logging duty, hourly reporting |
| Mechanical Construction | | Super duplex stainless steel |
| Weight in Air/Water | | 32/22 kg |
| Operating Temperature | | -5 to 30°C |
| Storage Temperature | | -25 to 70°C |
| | | |
| SMART Feature | | |
| 6 Degrees of Freedom High Performance Motion Sensor | | Standard |
| Triaxial Acceleration Measurement | Range | ±30 ms-2 |
| | RMS Noise | 6x10-4 ms-2/√Hz |
| | Instability | 5x10-4 ms-2 |
| Triaxial Angular Rate Measurement | Range | ±150 deg s-1 |
| | RMS Noise | 0.002 deg s-1/√Hz |
| | Instability | 2.2 deg/hr |
| Sensor Axial Misalignment | | 0.02° |
| Sampling Rate | | 5 Hz, 10 Hz and 25 Hz |
| Anti-aliasing Filter (Standard) | | -3 dB cut-off @ 4 Hz |
| Data Storage | | 32 GB dual redundant, FAT32 |
| Processing Capability | | Fully programmable including FFT spectral analysis, statistical functions and bespoke options |
| Logging and Reporting Scheme | | Fully configurable |
| Connectivity | | Acoustic Link (for real-time reporting), Ethernet Port (high speed data upload), serial Port |
| Additional Sensors | | Optional internal and external sensors |
| The table above shows typical values for a SMART transponder configured for drilling riser fatigue monitoring. As a flexible instrumentation platform, alternative configurations are available including alternative motion sensors if higher sensitivity is required. SMART can be offered with a standard data processing algorithm for fatigue monitoring or can incorporate customer specific requirements on request | | |
Datasheets
Software and firmware
Asset monitoring made SMART