Sentinel
Intruder detection sonar (IDS)
Engineered for: Diver, Vessel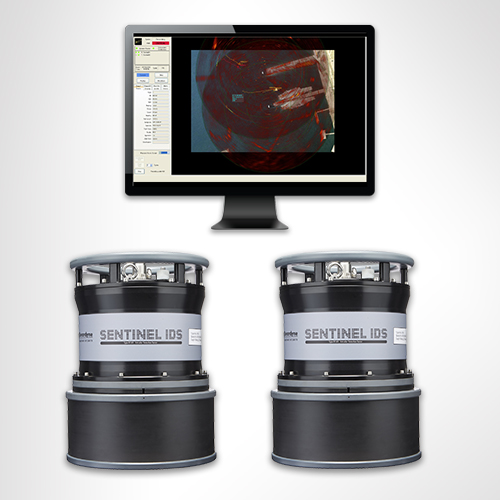 Close the gap in your situational awareness by specifying the world's most widely deployed underwater intruder detection sonar, Sentinel, to help safeguard your vessels, oil platforms, waterside facilities and national infrastructure.
---
At a glance
Detects, tracks and classifies divers and UUVs approaching protected high value assets
Helps protect ports, harbours, naval bases, private yachts, residences, power stations, offshore platform
900 diver and 1,200 m UUV detection range
Rapidly deployed for instant protection
Integrates with your existing C2 system
Low false alarm rate; no specialist sonar experience required
Protecting your maritime assets from underwater threats
Want to know more?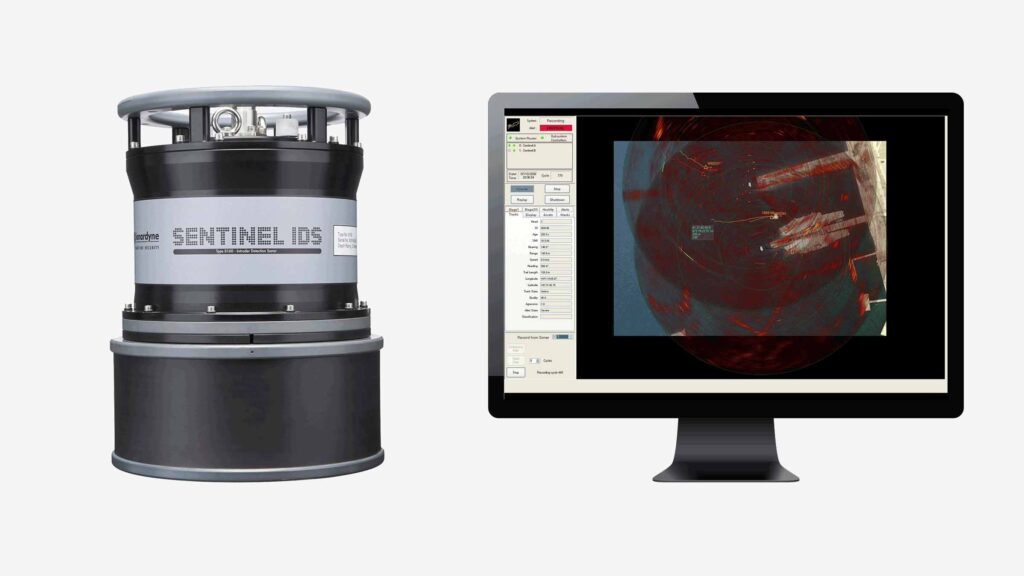 One sonar head provides 360 degrees of underwater protection
Man-portable sonar head; easy to deploy and recover
Sentinel connects seamlessly with your existing C2 security system
Sentinel software boast powerful features to optimise performance yet is easy to learn
Benefits of Sentinel for your operations
Design
Small and lightweight, Sentinel can be deployed where you need it; from a patrol vessel, installed permanently in a port or configured as an expeditionary unit that can be deployed at a moments notice.
Scalable
For very large sites, such as naval bases and container ports, Sentinel sonar heads can be networked together to provide uninterrupted protection. Integration with C2 systems is standard.
Low false alarms
Sentinel's advanced algorithms intelligently and reliably discriminate a real threat from fauna and flora removing false alarms, freeing up Security personnel to monitor other critical systems.
Overview
Whether it's protecting a commercial harbour, naval vessel, private yacht, critical national infrastructure facility or waterside residence from the threat of attack, Sentinel is cost-effective commercial-off-the-shelf (COTS) underwater security technology that is in service globally, easy to operate and proven in all theatres of operation.
Sentinel, developed by our sister company Wavefront Systems and manufactured and commericalised by Sonardyne, detects, tracks and classifies divers and uncrewed underwater vehicles (UUVs) approaching a protected asset from any direction and alerts security personnel to the threat. With the ability to identify divers at ranges of up to 900 m and UUVs at 1,200 m, Sentinel takes reliable, long range underwater intruder detection to a new level and since its introduction, has been used in CNI, vessel and VIP protection duties around the world.
Sentinel is small and lightweight so is quick to deploy from a boat, install in a port or fix along a coastline – providing you with an instant underwater security shield. We've engineered all the complexity associated with configuring and operating advanced sonar technology into easy-to-use software meaning that your security personnel don't need to be sonar experts to use it. In fact, once it's set up, Sentinel can be left to run autonomously.
The base system, Sentinel, is configured to meet the needs of commercial and infrastructure facility protection projects. It can be used as a standalone security sensor or integrated with third-party command and control (C2) security systems. Support for networked sonar is also offered, meaning that entire waterfronts can be protected using a single operator station.
Our Sentinel expeditionary system is a portable diver detection sonar (PDDS). Its small topside footprint means it's perfect for short-term operations using offshore patrol vessels (OPVs) and temporary sites on shore. We also offer a military-only variant, Sentinel XF, not available to private or commercial users.
Scylla
Scylla is an optional accessory for the Sentinel sonar head which adds an audible, non-lethal warning and deterrent capability. If a diver enters a restricted zone, Scylla broadcasts a pre-record audio message that can be heard by the diver at up to 600 metres away. The message can be used to instruct the diver to alter course or surface. The user also has the option of using Scylla to broadcast live messages if specific instructions need to be communicated to the diver.
Ports and harbours
The reliable detection of underwater targets in the acoustically hostile environment of a seaport, harbour or marine terminal using sonar is a notoriously difficult challenge to overcome. Constant vessel traffic, noise from active depth sounders and a complex thermal structure characterise the scene.
Sentinel has been specifically designed to cope with these conditions, including 'brown' water, shallow water and tidal harbours where vessel activity results in a lot of disturbance in the water column. The system's unique detection, classification and tracking software has been proven to operate in all environmental conditions and is capable of tracking multiple targets in real-time.
Critical National Infrastructure
Due to their strategic and economic importance, critical national infrastructure facilities such as nuclear power plants, dams, LNG terminals and offshore oil platforms represent attractive targets for sabotage.
Whilst these CNI installations have stringent above-the-water security measures, including physical barriers, access control radar and long-range opto-electrical sensors, they are not generally equipped to detect intrusions from below the water. That's why constant, real-time underwater monitoring using Sentinel will help ensure your facility is fully protected.
Naval vessels
Naval ships anchored off the coast or berthed in ports and dockyards are difficult assets to protect because of their size and proximity to commercial shipping traffic, open shipping lanes and leisure users. Physical measures such as floating barriers offer ships protection against surface attack using fast boats, divers using easily acquired scuba equipment remain a significant, yet hard to detect threat.
Sentinel's compact sonar can be deployed using its own cable over the side of small craft patrolling inland waterways, through the hull of a naval vessel (e.g. Offshore Patrol Vessels) or lowered on a lightweight frame directly onto the seabed. If required, track data can also be exported via an open, industry standard interface to the vessel's Combat Management System or integrated bridge.
Private vessels, coastal residences, cruise ships
Sentinel provides reliable, effective and affordable security for properties and vessels considered to be vulnerable to unauthorised access from the water. The moment an intruder enters a monitored underwater exclusion zone, the alarm is raised and the threat is tracked. Sentinel's advance warning of an attack gives security personnel time to assess the threat, intercept it, or simply move the protected vessel away from it – ensuring the safety of owners, guests and crew always comes first.
Why invest
At a glance
In service globally since 2007; military, offshore, power generation, VIPs, high profile events...

One of the smallest IDS solutions on the market; take it and deploy it anyway

Commerical-off-the-shelf (COTS) technology that intrgrates seamlessly with your existing security systems; radar, CCTV...

No specialist sonar experience needed; software automates most of the heavy lifting

Can be remotely monitored from anywhere in the world
Performance
Up to 2,400 m diameter protection zone using a single sonar head

Detects divers up to 900m away

Detects UUVs up to 1,200 m away

Up 10 targets tracked and classified simultaneously

Exports track, status and display image data

Automated, user definable alarms
Typical system set up
Man portable sonar head (or networked multiple sonar heads), cabling (including fibre option), junction boxes, shelters

Deployment options; lightweight seadbed frame, seabed stand, rail and trolley mount, vessel through-hull/over-the-side, cable suspension, fixed bracket

Sonar processor, command workstation, software

Optional Syclla underwater loudhailer for deterring intruders
Support
Unrivalled access to our technology and application specialists to configure your tailor-made security solution

Each project is backed with site visits, customers demos, FATs and SATs depending on your requirement

Comprehensive and flexible training for security system operators and equipment maintainers

24-hour onsite and remote technical support backed with global equipment servicing and repair
Resources
| Feature | Sentinel Sonar Processor Type 8165-002-01 | Sentinel Command Workstation Type 8165-022-01 |
| --- | --- | --- |
| Power Supply | Manual Switched 115/230 V ac, 6/3 A, 60/50 Hz | Auto-Switching 115/230 V ac, 6/3 A, 60/50 Hz |
| Operating Temperature | 0º to 40º C (32º to 104ºF) | 0º to 40º C (32º to 104ºF) |
| Storage Temperature Relative | -10º to 70º C (14º to 158º F) | -10º to 70º C (14º to 158º F) |
| Humidity | 20% – 80% (non-condensing) | 20% – 80% (non-condensing) |
| Shock | 10G acceleration peak to peak 5-17Hz, 0.1" double amplitude displacement 17-640Hz, 1.5G acceleration peak to peak | 10G acceleration peak to peak 5-17Hz, 0.1" double amplitude displacement 17-640Hz, 1.5G acceleration peak to peak |
| Dimensions (L x W x H) | 384mm (15.1") x 482mm (18.9") x 88mm (3.4") | 384mm (15.1") x 482mm (18.9") x 88mm (3.4") |
Protecting your maritime assets from underwater threats