Products
Instruments & Software
RT 6-HD
Heavy duty acoustic release transponder
Engineered for: Seabed, Structure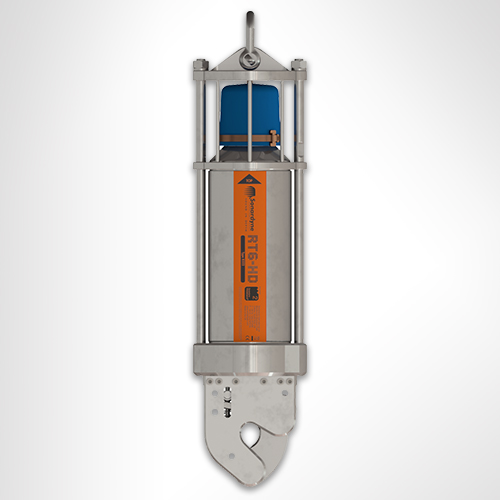 Release Transponder 6 Heavy Duty (RT 6-HD) is a tough, reliable, acoustic release transponder engineered with a Working Load Limit of 2,500 kg and fully compatibility with LMF Ranger 2 USBL systems.

---
At a glance
Use it with your Sonardyne Ranger 2 USBL to lift, lower and track heavy subsea structures in deep water
Working Load Limit 2,500 kg (4:1)
Highly reliable release mechanism
Compact and rugged design
Suitable for
Deploy, track, moor and recover your equipment
Want to know more?
Benefits of RT 6-6000 for your operations
High WLL
The highest standard WLL of 2,500 kg of any of our transponders without any additional load amplification frames.
USBL topside
If you've got access to a Ranger 2 USBL system on your survey or research vessel then you have everything you need to control your RT 6-HD.
Versatile
RT 6-HD is more than just an acoustic release. It can be tracked with our Ranger 2 USBL making relocating and recovering it fast and simple.
Overview
Acoustic release transponders are a vital pieces of ocean equipment; relied upon by energy, defence and science users to moor valuable equipment strings for years at a time, and when commanded to do so, reliably return equipment and logged data to the surface.
Transponders need to be tough, reliable and easy to work with. The RT 6-HD meets these requirements.
Part of our new range of acoustic releases, RT 6-HD combines the extensive mechanical design track record with the flexibility of our 6G platform, resulting in enhanced battery life and perhaps most significantly, compatibility with our  Ranger 2 USBL system.
With RT 6-HD you can for the first time use your vessel's Ranger 2 USBL to deploy, track, locate and command the instrument – removing the need for a separate topside unit.
For users without access to Ranger 2 USBL, a portable dunker unit is available to command RT 6-HD.
With a WLL of 2,500 kg (at 4:1), twice that of our RT 6-3000 and RT 6-6000, RT-HD is designed specialist heavy lift application scenarios such as deep water construction and salvage.
RT 6-HD is also our deepest rated acoustic release transponder at 7,000 m. Excellent corrosion resistance is achieved by using super duplex stainless steel for the housing materials.
On the back deck prior to deployment, RT 6-HD is configured with our iWand hand-held acoustic transponder test and configuration device.
RT 6-HD is configured with our iWand hand-held acoustic transponder test and configuration device.
Resources
| Feature | Type 8322 |
| --- | --- |
| Depth Rating | 7,000 m |
| Operating Frequency | LMF (14–19 kHz) |
| Beam Shape | Hemispherical |
| Transmit Source Level (dB re 1 µPa @ 1 m) | 188 dB |
| Working Load Limit (4:1) | 2,500 kg |
| Proof Load | 5,000 kg |
| Breaking Load | 10,000 kg |
| Battery Life (Alkaline) | >36 months active |
| Surface Unit | Sonardyne 6G transceiver |
| Mechanical Construction | Super duplex stainless steel |
| Operating Temperature | -5 to 40°C |
| Storage Temperature | -20 to 55°C |
| Dimensions (Maximum) (Length x Diameter) | 691 x 164 mm |
| Weight in Air/Water | 24.5/20 kg |
Deploy, track, moor and recover your equipment