Tsunami detection system
Wireless early warning system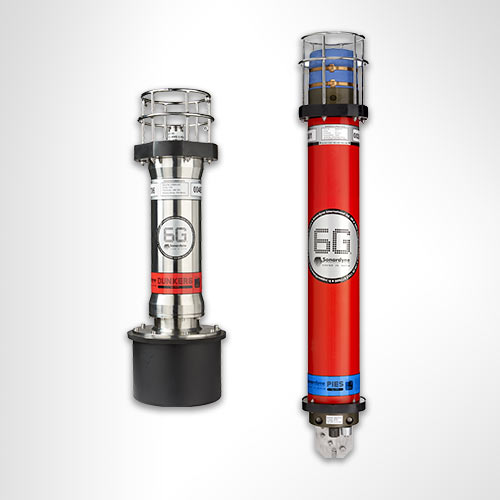 Our Tsunami detection technology has been in service globally for more than a decade, providing vulnerable coastal communities with early warning of an approaching tsunami wave. The system combines high security wireless acoustic communications, trusted subsea hardware and low servicing intervals.
---
At a glance
All-in-one wireless solution for detecting tsunamis; no fixed sea-to-shore infrastructure required
Detects waves as small as 3 cm in height
Warnings received onshore within minutes of confirmed passing over a monitoring location
Two year seabed transponder service intervals with lithium battery
Remotely configurable via surface buoy satellite comms link
Operationally deployed in the Bay of Bengal, Mediterranean and elsewhere
Suitable for
Trusted to protect coastal communities
Want to find out more?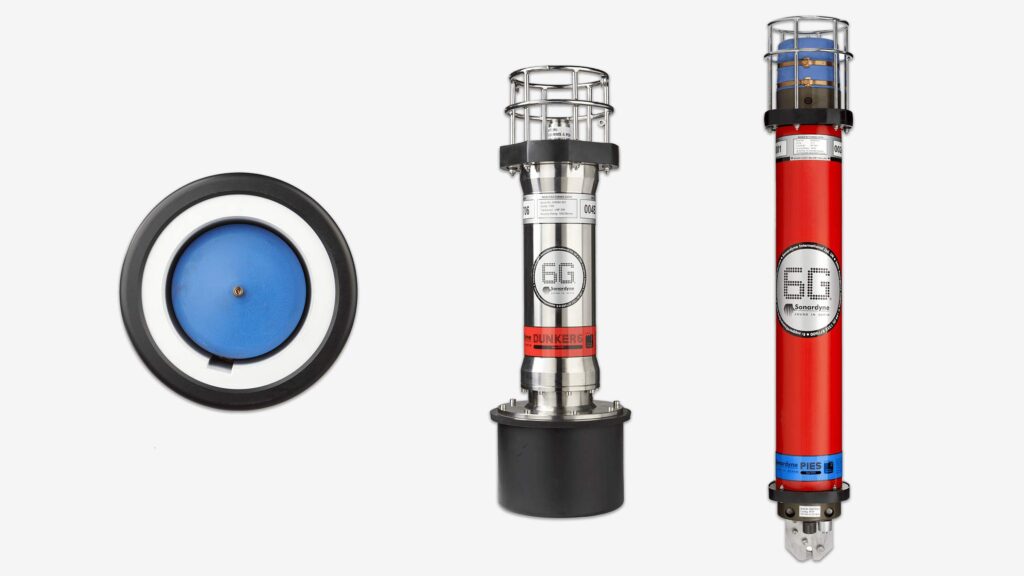 We use secure digital acoustic communications to ensure a reliable seabed-to-surface link that's always available
Buoy-mounted dunker to command the BPR and receive emergency signals
All-in-one BPR containing sensors, battery pack and acoustic modem
Integrated acoustic release mechanism for easy recovery for services. No need for ROV recovery
Benefits of Sonardyne tsunami monitoring technology
It's integrated
Competing warning systems are often made up individual sensors, battery packs and modem with vulnerable connectors and cables. Our solution is an all-in-one instrument that's rugged and robust.
It's wireless
The system's built using high security wireless subsea to surface acoustic communications removing the need for expensive subsea cables back to shore or up to the surface which are vulnerable to damage.
It's easy to adopt
Our warning system is commercial-off-the-shelf, can be acquired easily, delivered in short timescales and commissioned without any significant investment in, or construction of, sea-to-shore infrastructure.
Overview
The system is built around a network of battery-powered, seabed deployed monitoring transponders – often referred to as bottom pressure recorders – that are positioned on the seabed hundreds of miles off the coast.
A tsunami wave in deep water creates a small (a little as 3 cm) but measurable change in pressure that can be maintained for as long as 20 minutes. If one of the transponders detects that small, but continuous change in water pressure, it transmits an emergency warning signal up to a surface buoy moored above it. From there, it is forwarded by satellite transmission to a onshore monitoring centre, where it can be correlated with other seismic sensors so that a warning can be issued to vulnerable coastal communities and response agencies.
This means that the first warning of a tsunami, caused by a small variation in water pressure on the seabed thousands of miles from shore, can be in the office of the monitoring organisation within minutes.
Each BPR transponder in the monitoring network is a customised version of our highly successful Compatt 6 acoustic transponder, featuring Wideband 2 digital acoustic technology to provide robust data transmissions even in difficult acoustic conditions.
Operating in the LMF (14 – 20 kHz) band, the system is supplied with a buoy-mounted transceiver, but also works with any of our compatible surface dunkers or transceivers, including a Ranger 2 LMF HPT. This two-way link also enables the unit to be remotely configured, for example, if the operator wishes to put the unit into an alert mode in anticipation of a tsunami.
The instrument is optimised for low-power consumption and long long term deployments, and can also be supplied as a glass-sphere (Fetch). This can be deployed for up to 10 years without needing to recover the instrument and in water depths down to 7,000 metres.
The BPR continuously monitors water pressure, saving data every 15 seconds and in routine operation acoustically transmits this data hourly to a buoy on the surface. Alongside this, the instrument runs the same NOAA algorithm as used in the Deep-ocean Assessment and Reporting of Tsunamis (DART) system, which compares the measured pressure with the predicted tidally modified pressure based on the previous three hours history to correct for local conditions. If two consecutive differences between both measurements exceed three centimetres, the instrument goes into an alert mode and transmits a sequence of messages containing high-resolution pressure data to the surface over the next few hours.
At service intervals, a vessel equipped with a Ranger 2 USBL or dunker can visit the location of each BPR and send an secure command instructing the BPR to activate its acoustic release mechanism and allowing the unit to float back to the surface. Once onboard, operators can inspect the unit for damage then proceed to replace the unit's battery pack, finally preparing the unit for re-deployment.
Why invest
Acoustics
Powered by 6G and Wideband 2 technology; in use global within science, energy and defence

Long range for deep water deployment far offshore; 19-34kHz frequency band

Advanced protocols to minimise data loss and re-sends

Directional transducer for optimised seafloor-to-surface communications

100 - 900 baud user payload, bi-directional
Design
Trusted mechanical BPR design; compact, integrated, self-powered, no cables to get damaged

Standard depth rating of 5,000 m (option for 7,000)

Integrated release mechanism for recovery of seabed BPR

Simple to integrate surface transceiver on instrumented buoy (solar and communications)

2 year battery life typical; up to 10 years possible with alternative design of BPR
A typical system
Multiple BPR transponders, 5,000 m rated, 2 year battery life

5,000 m rated transponder floatation collar for deployment and recovery. Optional anti-trawl frame

LMF surface transceiver (buoy-mounted), comms interface unit, cabling

iWand back-deck and workshop test and configuration device,

Command and configuration software
Ownership
Warranty: 1 year return to Sonardyne service centre

Training; onsite or remote operator and maintainer training required

ITAR Controlled: No

UK Export License: Not required
Resources
| Feature | Type 8141 Buoy Mounted Transceiver | Type 8142-000-02 Buoy Mounted Transceiver |
| --- | --- | --- |
| Frequency Band | LMF (14–19 kHz) | LMF (14–19 kHz) |
| Transducer Beam Shape | Directional | Directional |
| Transmit Source Level (dB re 1 µPa @ 1 m) | 196–172 dB (3 levels) | 196–172 dB (3 levels) |
| Receive Sensitivity (dB re 1 µPa) | 95–130 dB (6 levels) | 95–130 dB (6 levels) |
| Telemetry (Wideband 2) | 100–900 baud, user payload, bi-directional | 100–900 baud, user payload, bi-directional |
| Sonardyne Messaging Service (SMS) data buffer | 128 bytes | 128 bytes |
| Command/Control | Accessed through communications interface | Accessed through communications interface |
| Error Detection and Correction | Advanced protocols to minimise data loss and re-sends | Advanced protocols to minimise data loss and re-sends |
| Communications Interface | RS232 (9,600–115,200 baud) | RS232 (9,600–115,200 baud) |
| Dimensions (Length x Diameter) | 608 x 260 mm | 608 x 260 mm |
| Mass/Weight in Air/Water | Weight in Air/Water 9.75/5.26 kg | Weight in Air/Water 9.75/52 N |
| External Power Requirement | 24–50 V dc, 1 W quiescent, 100 W peak | 24–50 V dc, 1 W quiescent, 100 W peak |
| Armoured Cable to buoy Payload | Included (10 m, 8-core, with strain relief) | Included (10 m, 8-core, with strain relief) |
| | | |
| Feature | Type 8303 Bottom Pressure Recorder 6 | Type 8303-6226 Bottom Pressure Recorder 6 |
| Depth Rating | 5,000 m (4,100 and 7,000 m option) | 6,000 m |
| Frequency Band | LMF (14–19 kHz) | LMF (14–19 kHz) |
| Transducer Beam Shape | Directional | Directional |
| Transmit Source Level (dB re 1 µPa @ 1 m) | 202–169 dB (5 levels) | 202–169 dB (5 levels) |
| Receive Sensitivity (dB re 1 µPa) | 80–120 dB (6 levels) | 80–120 dB (6 levels) |
| Telemetry (Wideband 2) | 100–900 baud, user payload, bi-directional | 100–900 baud, user payload, bi-directional |
| Battery Life (Monitoring) | 725 days standard (1,450 days maximum option) | 1,450 days |
| Working Load Limit (4:1) (Release) | 250 kg | 250 kg |
| Dimensions (Length x Diameter) | 1,106 x 200 mm | 1,667 x 200 mm |
| Mass/Weight in Air/Water | 28.2/14.2kg (standard 5,000 m option) | 49.5 kg/235 N |
| Pressure Sensor | 4,100 m (7,000 m option) | 6,800 m range |
| BPR Floatation Collar | Included (nett buoyancy 300 N) | n/a |
| | | |
| Feature | | Floatation for Bottom Pressure Recorder 6 |
| Depth Rating | n/a | 6,000 m |
| Dimensions (Diameter) | n/a | 857 mm |
| Mass/Weight in Water | n/a | 211 kg/760 N |
You may also be interested in
Trusted to protect coastal communities