SPRINT-Nav Mini
All-in-one vehicle guidance and navigation system
Engineered for: AUV, ROV, Towfish, USV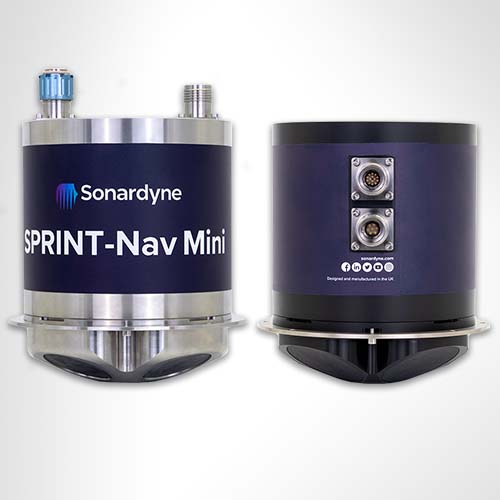 Need reliable surface and subsea vehicle guidance and navigation but you're tight on space? SPRINT-Nav Mini fuses AHRS, DVL, INS and depth data into a single, lightweight instrument, giving you fast, precise and robust navigation, guidance and control information.
---
At a glance
213 mm tall by 148 mm in diameter; the industry's smallest all-in-one hybrid acoustic-inertial subsea navigator
Hybrid DVL-INS synergies dramatically improve both robustness and performance compared with standalone instruments.
Fly higher - 500 kHz DVL maintains bottom lock at up to 200 m altitude
Replaces four separate instruments; AHRS, DVL, INS and pressure sensor - saving you cost, cabling and payload
Easy to integrate, simple to operate, web UI for configuration
Mini in size, big in performance
Want to find out more?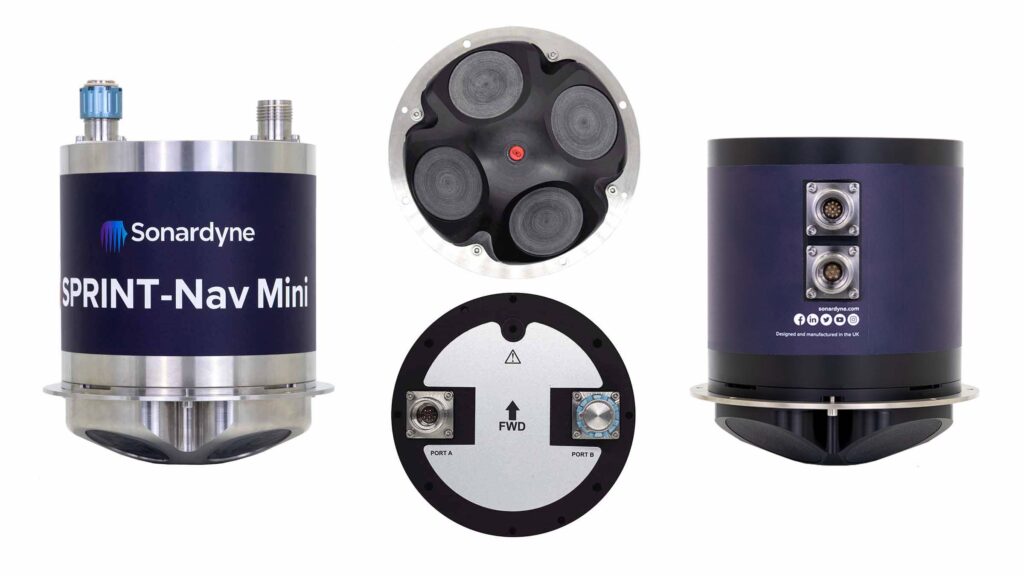 4,000 m rated version in titanium (left), SPRINT-Nav 300 m rated version in POM-C (right)
Mounting plate, choice of top or bottom mounting location
500 kHz DVL, 0.3/200 min/max altitude
14-way primary CRE connector providing required connectivity, plus a 7-pin auxiliary connector. Custom connectors on request
Benefits of SPRINT-Nav Mini for your operations
For energy
Low power and small, it's the ideal size for installing on all size ROVs as well as USVs undertaking data harvesting missions in shallow water and around offshore structures which often block GNSS signals.
For defence
It provides your towfish, diver swim-boards, swimmer delivery vehicles and low-logistic AUVs with continuous, high grade navigation to keep your mission on course, even in navigation denied environments.
For science
Because it's cheaper than the four separate sensors it replaces (AHRS, DVL, INS and pressure sensor), it's a cost-effective solution for your research platforms where budgets need to stretch as far as possible.
Overview
SPRINT-Nav Mini is the world's smallest hybrid acoustic-inertial technology. An all-in-one vessel and marine robot navigation instrument with performance beyond its size. It replaces the need for separate AHRS, DVL, INS and depth sensors so there's less cabling and fewer connectors to keep check of. But it's not only simpler to mobilise, it's also cheaper than those four sensors it replaces.
Measuring just 213 mm in height (only fractionally taller than some competing DVL-only instruments), 148 mm in diameter and weighing in at approximately 3.6 kg in air for the 300 m rated unit – or 7.1 kg for the 4,000 m depth version – for something so small, SPRINT-Nav Mini packs a big punch for all your underwater ocean robot applications.
SPRINT-Nav Mini is powered by the same hybrid acoustic-inertial navigation algorithm you'll find inside our established SPRINT-Nav family. This combines the strengths of all the sensors contained within to provide robust, precise and accurate outputs. It continues to work even in challenging environments and provides a continuous stream of positions, orientation, velocities, depth and altitude at up to 200 updates per second.
SPRINT-Nav Mini arrives pre-calibrated from the factory, meaning there is no need to manoeuvre your vehicle every time the unit is mobilised. SPRINT-Nav Mini does the thinking for you, all in a single plug-and-play unit. Turn it on, give it a latitude, and away you go.
However, despite its extremely small size, it's still a true north seeking gyrocompass which won't drift over time unlike MEMS-based systems. The output can be fed directly to your own (or a third party) user interface or vehicle control software. The simple Web User Interface makes setup and configuration painless. It could not be any simpler.
Options
Two depth ratings are available; a 300 m, and a 4,000 m depth-rated unit. There is also a side-connector option depth rated for 300 m and measuring only 183 mm in height making it ideal for tight spaces on small platforms
SPRINT-Nav Mini Guidance provides orientation, velocity, depth and altitude required to support station-keeping and ROV DP applications.
Where conventional INS outputs are also required, SPRINT-Nav Mini Navigator is the option of choice, outputting latitude and longitude in addition to all the guidance outputs at a user-selected update rate.
Why invest
General
Ideally suited for subsea vehicle guidance, control and navigation

Size, weight and power optimised; perfect for all size vehicles

Powered by our class-leading SPRINT hybrid navigation engine

Gyrocompass simplicity with hybrid acoustic-inertial navigation Performance

Cheaper than the four separate sensors it replaces; AHRS, DVL, INS and pressure sensor
Performance
300 m and 4,000 m depth rated options

Navigator variant provides 0.05% error for distance travelled

Heading accuracy 0.5° secant latitude (0.1° Navigator variant)

0.02° Pitch/Roll accuracy

Better than 0.4 cm/s velocity precision (<2 m/s at 50 m altitude)

0.3/200 m min/max altitude

0.01% FS depth

Up to 200 Hz output rate
Design
213 x 148 mm, 3.6 kg weight in air (300 m version), 7.1 kg (4000 m version)

Acetal Copolymer (300 m) or Titanium (4000 m) housing construction

Mounting plate, choice of top or bottom mounting location

11-pin Size-A CRE connectors x 2. Custom connectors on request

Side-connector variant with 14-pin and 7-pin Size-A CRE connectors

User friendly Web UI makes it easy to integrate and simple to operate
Ownership
What's in the box: SPRINT-Nav Mini, mounting plate, test lead and cable tail

Warranty: 1 year return to Sonardyne service centre

ITAR Controlled: No

UK Export License: TBC
Resources
| Feature | | SPRINT-Nav Mini – Guidance | SPRINT-Nav Mini – Navigator |
| --- | --- | --- | --- |
| Performance | | | |
| DVL Aided | Typical Survey | n/a | 0.05% |
| | Distance from Origin | n/a | 0.30% |
| Altitude Min/Max | | 0.3/200 m | 0.3/200 m |
| USBL & DVL Aided | Precision Improvement | n/a | Up to 5x better |
| Heading (Secant Latitude) with GNSS or USBL, and DVL | | 0.50° | 0.10° |
| Heading (Secant Latitude) with GNSS or USBL or DVL | | 0.50° | 0.15° |
| Roll and Pitch | | 0.02° | 0.02° |
| Angular Rate Range | | ±450°/s | ±450°/s |
| Velocity Precision (<2 m/s at 50 m Altitude) | | <0.4 cm/s | <0.4 cm/s |
| Depth accuracy | | 0.01% FS | 0.01% FS |
| Power | | | |
| Power Requirements | | 24 V dc, 10 W nominal | 24 V dc, 10 W nominal |
| Physical/Comms | | | |
| Data Storage | | 32 GB internal memory | 32 GB internal memory |
| Serial Ports/Protocol | | 3x RS232 | 3x RS232 |
| Other Ports | | Ethernet, UDP/TCP, WebUI, 2 x trigger inputs (1PPS/DVL trigger) | Ethernet, UDP/TCP, WebUI, 2 x trigger inputs (1PPS/DVL trigger) |
| Mechanical Construction | 300 m | POM-C | POM-C |
| | 4,000 m | Titanium | Titanium |
| Dimensions (Diameter x Height) (incl. connectors and mounting ring) | 300 m | 148 x 213 mm | 148 x 213 mm |
| | 4,000 m | 148 x 213 mm | 148 x 213 mm |
| | 300 m (side connector) | n/a | 148 x 187 mm (174 x 187 including connector) |
| Weight Air/Water | 300 m | 3.6/0.7 kg | 3.6/0.7 kg |
| | 4,000 m | 7.1/4.2 kg | 7.1/4.2 kg |
| Environmental | | | |
| Depth Rating | | 300/4,000 m | 300/4,000 m |
| Operating Temperature | | -5 to 50°C | -5 to 50°C |
| Storage Temperature | | -25 to 55°C | -25 to 55°C |
Mini in size, big in performance