SPRINT
Subsea inertial navigation system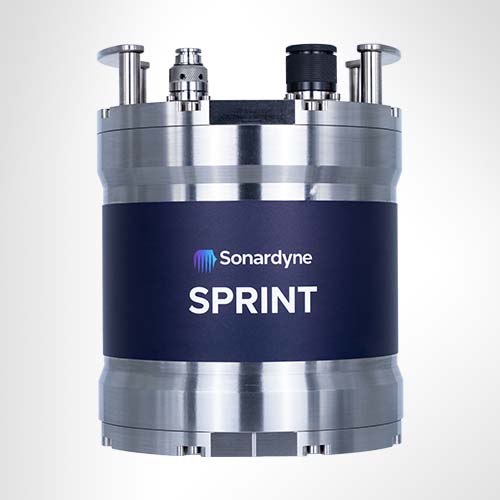 Flexible, cost-effective and easy to use subsea navigation. Get unprecedented levels of performance and a single offering for ROV guidance and survey. SPRINT makes optimal use of acoustic aiding data from acoustic USBL, LBL, Doppler Velocity Log (DVL) and pressure sensors.
---
At a glance
Popular for navigating ROVs and AUVs
Speeds up operations – saves you time
Small, lightweight and easy to install
Track record spanning more that 10 years
Range of performance levels to suit your task; 300, 500, 700
OEM and integrated DVL (SPRINT-Nav) options available
Product At A Glance Cta Title
Product At A Glance Cta Description
Which SPRINT is right for your operations?
SPRINT 300
The lowest cost subsea INS available with less than 0.1° Sec Lat Heading. Supports dual ROV and Survey use and standalone ROV guidance. Also provides mid-water station keeping with vendor independent USBL aiding.
SPRINT 500
Supports tightly integrated sparse LBL range aiding from Sonardyne 6G transponders, Perfectly suited to demanding multibeam survey operations with automatic, proven pressure and swell compensation.
SPRINT 700
One of the highest performance INS systems available under dual use export control. With tight integration to Sonardyne acoustics, it supports the most demanding subsea survey tasks such as mobile laser mapping and acoustic inertial metrology.
Overview
SPRINT is an acoustically aided subsea inertial navigation system for ROV, towed platforms and AUVs.
It makes optimal use of acoustic aiding data from Ultra-Short BaseLine (USBL) and Long BaseLine (LBL) positioning and other sensors such as Doppler Velocity Log (DVL) and pressure sensors. This improves position accuracy, precision, reliability and integrity while reducing operational time and vessel costs. The system extends the operating limits of your vessel's USBL (vendor independent) and can dramatically improve the operational efficiency of  LBL by enabling sparse seabed transponder  arrays.
Inertial navigation is inherently self-contained, robust with very good short term accuracy but can drift over time. Therefore the INS is aided with complementary acoustic positioning to provide long term accuracy and robustness. The additional integrity offered by inertial integration significantly reduces operational delays during periods of challenging subsea acoustic conditions such as aeration and noise. The precision and update rate of the output allows greater subsea vehicle control and is suitable for ROV station keeping.
SPRINT shares the same hardware platform as our Lodestar AHRS. It runs both the AHRS and INS algorithms concurrently allows inertial navigation to start or restart instantaneously on receipt of a position update as the AHRS seamlessly provides orientation to the INS on start-up. This avoids the lengthy 'alignment' period common to other INS systems. Thereafter, the separate AHRS and INS computed orientation are autonomously monitored as an indication of system health.
All AHRS and INS computations are performed within the SPRINT, making the system robust and resilient to communications issues. SPRINT maintains a rolling 15 day backup of all real time navigation and raw data on an onboard SD card which can be retrieved if required. Coupled with concurrent logging of all data by the topside software, data integrity is ensured.
DVL and AHRS/INS
Our Syrinx DVL provides tight beam-level aiding to SPRINT which allows for unprecedented DVL positioning performance and can continue to operate even if one or two DVL beams are unavailable. Standalone 3rd generation SPRINT units are engineered to mechanically 'mate' with Syrinx DVL using matching endcap alignment dowels. This provides the performance and space benefits of pre-calibrated and repeatable inertial and DVL but either unit can be swapped out.
For the ultimate integration, SPRINT and Syrinx DVL are  available as a single combined unit. SPRINT-Nav combines these sensors to provide one of the smallest inertial DVL instruments available on the market. Available with an optional internal intelligent pressure sensor, it provides a single unit for almost any ROV and survey task. In the combined unit, each Syrinx transducer has a full depth rated water block to ensure protection of the internal components. When supplied together, most combinations of SPRINT and Syrinx are unlikely to require a re-export licence, making shipping easier.
OEM
SPRINT's available as an OEM option for applications requiring a bespoke installation arrangement. The lightweight aluminium housing is one of the smallest form factor high performance OEM INS/AHRS units available and is fully supported by a integration development kit and service. Speak to us about your unique requirements.
Why invest
Design
205 x 260 mm, 11.5 kg weight in water (4,000 m version) 205 x 280 mm, 14 kg (6,000 m version)

Titanium housing construction; OEM option available

Provides concurrent AHRS and INS capability for dual use

Navigation outputs: position, depth, attitude, velocity, accelerations, rotations

Onboard data storage and battery backup to ride through brown outs

Vendor independent USBL aiding; tightly coupled Sonardyne Fusion 2 LBL aiding

In field remote performance upgrades: Yes
Performance (SPRINT 700)
Heading accuracy 0.02° (secant latitude)

0.01° Pitch/Roll accuracy

0.03% Typical survey accuracy

INS Aiding supported: USBL, depth, DVL, zero velocity, manual position, LBL (position), GNSS

USBL/LBL aided: 4.5 x precision improvement

USBL/LBL and DVL aided: 6 to 13 x precision improvement

Station keeping <1m over 24 hours (Syrinx DVL)
Typical applications
ROV and towfish positioning

Hydrographic and multibeam survey

Offshore construction; trenching, as-laid, OOS, touchdown monitoring, structure placement

ROV DP including mid-water station keeping
Ownership
What's in the box: SPRINT, mounting plate, test lead and cable tail, Fusion 2 software

Warranty: 1 year return to Sonardyne service centre

ITAR Controlled: No

UK Export License: Yes
Resources
| Performance | | SPRINT 300 | SPRINT 500 | SPRINT 700 |
| --- | --- | --- | --- | --- |
| Heading | | 0.05° secant latitude | 0.04° secant latitude | 0.02° secant latitude |
| INS Initialisation | | Instantaneous | Instantaneous | Instantaneous |
| Roll and Pitch | | 0.01° | 0.01° | 0.01° |
| INS Aiding Supported | | USBL, Depth, DVL, Zero Velocity, Manual Position, LBL, GNSS | USBL, Depth, DVL, Zero Velocity, Manual Position, LBL, GNSS | USBL, Depth, DVL, Zero Velocity, Manual Position, LBL, GNSS |
| USBL/LBL Aided | | 3x precision improvement | 3.5x precision improvement | 4.5x precision improvement |
| USBL/LBL and DVL Aided | | 3 to 7 x precision improvement | 4 to 10 x precision improvement | 6 to 13 x precision improvement |
| LBL/DVL Aided | Typical Survey | 0.05% | 0.03% | 0.02% |
| | Distance from Origin | 0.15% | 0.10% | 0.08% |
| DVL Aiding Loss/Drift | | 1.2 m over 1 minute, 5 m over 2 minutes | 0.8 m over 1 minute, 3.2 m over 2 minutes | <0.5 m over 1 minute, 2 m over 2 minutes |
| Station Keeping | | <1 m over 24 hours (Syrinx DVL) | <1 m over 24 hours (Syrinx DVL) | <1 m over 24 hours (Syrinx DVL) |
| Power | | | | |
| Power Requirement | | 20–50 V dc, 15 W nominal (35 W maximum) | 20–50 V dc, 15 W nominal (35 W maximum) | 20–50 V dc, 15 W nominal (35 W maximum) |
| Power Pass Through | | 3x for external aiding sensors (up to 3 A per sensor) | 3x for external aiding sensors (up to 3 A per sensor) | 3x for external aiding sensors (up to 3 A per sensor) |
| Back Up Battery Type/Life | | Li-ion/5 minutes | Li-ion/5 minutes | Li-ion/5 minutes |
| Data/Comms | | | | |
| Data Storage | | 8 GB internal memory | 8 GB internal memory | 8 GB internal memory |
| Serial Ports/Protocol | | 4x RS232 or RS485 | 4x RS232 or RS485 | 4x RS232 or RS485 |
| Other Ports | | Ethernet, 4x Triggers | Ethernet, 4x Triggers | Ethernet, 4x Triggers |
| Output Rate | | Up to 100 Hz | Up to 100 Hz | Up to 100 Hz |
| Mechanical | | | | |
| Connector Options | | 4x Seacon/Seanet 1x Seacon/Seanet | 4x Seacon/Seanet 1x Seacon/Seanet | 4x Seacon/Seanet 1x Seacon/Seanet |
| Mechanical Construction | | Titanium | Titanium | Titanium |
| Dimensions (Diameter x Height) | 4,000 m (Seacon) | 205 x 260 mm | 205 x 260 mm | 205 x 260 mm |
| | 6,000 m (Seacon) | 205 x 280 mm | 205 x 280 mm | 205 x 280 mm |
| | 4,000 m (Seanet) | 205 x 250 mm | 205 x 250 mm | 205 x 250 mm |
| Weight in Air/Water | 4,000 m | 18.5/11.5 kg | 18.5/11.5 kg | 18.5/11.5 kg |
| | 6,000 m | 22/14 kg | 22/14 kg | 22/14 kg |
| Environmental | | | | |
| Depth Rating | | 4,000/6,000 m | 4,000/6,000 m | 4,000/6,000 m |
| Operating Temperature | | -20 to +55°C | -20 to +55°C | -20 to +55°C |
| Storage Temperature | | -20 to +60°C | -20 to +60°C | -20 to +60°C |
| Shock Rating | | 22 g, 11 ms half sine | 22 g, 11 ms half sine | 22 g, 11 ms half sine |
For ROVs, AUVs, towfish or resident