BlueComm 200
Underwater optical communications and data transfer modem
Engineered for: AUV, ROV, USV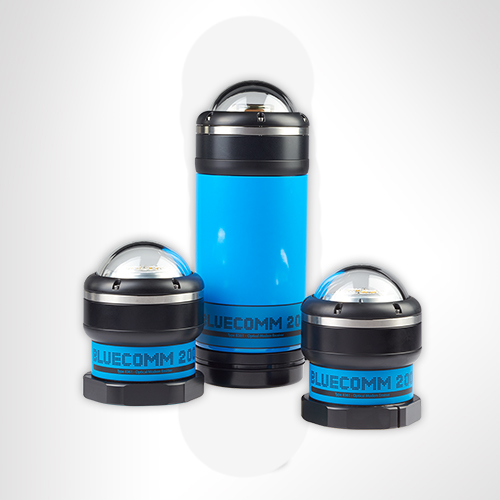 BlueComm 200 provides a wireless optical subsea link to your underwater assets. Impressive data rates mean you can run true wireless operations. Optical communications enable up to 10 Mbps data transfer at ranges up to 150 m even in high ambient light operations.
---
At a glance
2.5 to 10 Mbps at ranges up to 150 m
Suitable for moderate to low turbidity dark water (>200 m depth or night-time) applications
Data recovery by AUV, ROV, USV or surface deployed dunker system
Up to 4,000 m depth operation
Send data at the speed of light
Want to know more?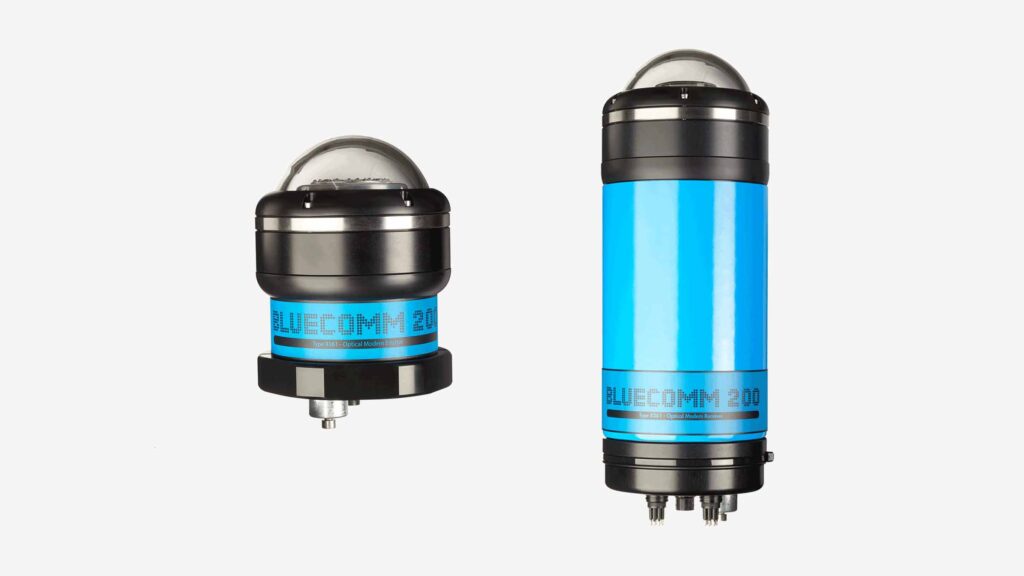 Small, easy to mount optical transmitter
Titanium and glass construction
Separate receiver ensures interference free connectivity
Choice of standard and ultra-violet models depending on operational environment
Why BlueComm 200 is perfect for...
For energy
Tetherless vehicle operations around complex seafloor infrastructure is now possible thanks to BlueComm 200 with a bi-directional link that's suited for ROV command and control.
For defence
There's no need to recover your underwater networks. Covertly harvest large amounts of data fast and efficiently from your surveillance arrays with Bluecomm 200.
For science
BlueComm 200 is ideal for operations such as live video streaming during underwater excursions, opening up science missions to the global audience in real-time.
Overview
BlueComm 200 uses an array of high power light-emitting diodes (LEDs) that are rapidly modulated to transmit data. It uses a separate photomultiplier tube as its receiving element. The photomultiplier tube allows sensitive receive capability and communication ranges of up to 150 m.
Due to the sensitivity of the photomultiplier receiver, the emitter is housed separately to prevent self-interference. All BlueComm 200 modems provide subsea wireless optical communications up to 10 Mbps. Two versions of the BlueComm 200 are available, operating at different wavelengths.
The allocation of bandwidths is ideal for applications where high-speed data transfer is mostly required in only one direction such as for extraction of large data volumes from seafloor instrumentation or sensors.
Optical data transmission is highly efficient, enabling more than nine gigabytes of data to be transferred using only the energy contained in a single Lithium D sized battery cell.
BlueComm 200 or BlueComm 200 UV?
BlueComm 200 operates using visible light. Visible light can travel significant distances through water meaning that BlueComm 200 has a range of up to 150 m. This makes it an excellent tool for wireless transfer of video and direct control of a vehicle in AUV applications. It is also ideal for data harvesting applications. Using BlueComm 200, an AUV or ROV can transfer large volumes of data up to ten thousand times quicker than acoustics. Artificial lights and sunlight can interfere with BlueComm 200 and that would limit its operating range.
BlueComm 200 UV works just like BlueComm 200, however it uses a shorter wavelength in the ultra-violet spectrum. This means that it can operate even in the presence of artificial lights. Operating in the UV spectrum, BlueComm 200 UV can work at ranges of up to 75 metres. It is best suited for ROV or AUV applications that require the use of lights, for example, when recording video.
Why invest
Optics
450 nm (royal blue), 405 nm (UV) optical wavelength

180° (omni-directional) beam pattern

10 W / 15 W receiver/transmitter optical transmit power
Design
Titanium and glass construction

Subconn connectors

5.7 kg weight in water, emitter and receiver
Performance
2.5 - 10 Mbps data rate

4000 m depth rating

up to 150m optical communication range
Ownership
What's in the box: two sets of one emitter and one receiver, two test cables and manual

Warranty: 1 year return to Sonardyne service centre

ITAR Controlled: No

UK Export License: Not required
Resources
| Feature | | Type 8361 BlueComm 200 | Type 8361 BlueComm 200 UV |
| --- | --- | --- | --- |
| Depth Rating | | Type 8361 BlueComm 200 UV | Up to 4,000 m operation |
| Data Rate | | 2.5–10 Megabits per second | 2.5–10 Megabits per second |
| Optical Communication Range | | Up to 150 m | Up to 75 m |
| Materials | | Anodized aluminium or titanium | Anodized aluminium or titanium |
| Supply Voltage | | 24–36 V dc | 24–36 V dc |
| Communications Interface | | 10/100 Base-T Ethernet (static IP address) | 10/100 Base-T Ethernet (static IP address) |
| Command Interface | | Graphical user interface or Ethernet UDP command set | Graphical user interface or Ethernet UDP command set |
| | | | |
| Receiver Unit | | | |
| Receive Wavelength | | Broadband visible light | UV (band pass filter blocking visible light) |
| Receive Angle | | 180° (omni-directional) | 180° (omni-directional) |
| Power Consumption | | 10 W | 10 W |
| Receiver Weight in Air/Water | | 7.3/3.1 kg | 7.3/3.1 kg |
| | | | |
| Emitter Unit | | | |
| Optical Transmit Power | | 6 W (radiated light) | 6 W (radiated light) |
| Optical Wavelength Options | | 450 nm (royal blue), 400–800 nm (white) | 450 nm (royal blue), 400–800 nm (white) |
| Emitter Beam Pattern | | 180° (omni-directional) | 180° (omni-directional) |
| Power Consumption | | 15 W (bandwidth allocation dependant) | 30 W (bandwidth allocation dependant) |
| Emitter Weight in Air/Water | | 3.6/2.6 kg | 3.6/2.6 kg |
| | | | |
| Environmental and Dimensions | | | |
| Operating Temperature Range | | -5 to 40ºC | -5 to 40°C |
| Storage Temperature | | -20 to 55ºC | -20 to 55°C |
| Dimensions (Length x Diameter) | Receiver | 384 x 136 mm | 384 x 136 mm |
| | Emitter | 199 x 136 mm | 199 x 136 mm |
Manuals and quick start guides
Datasheets
STP files
Send data at the speed of light