BlueComm 100 (obsolete)
Underwater optical communications and data transfer modem
Engineered for: AUV, ROV, Structure, USV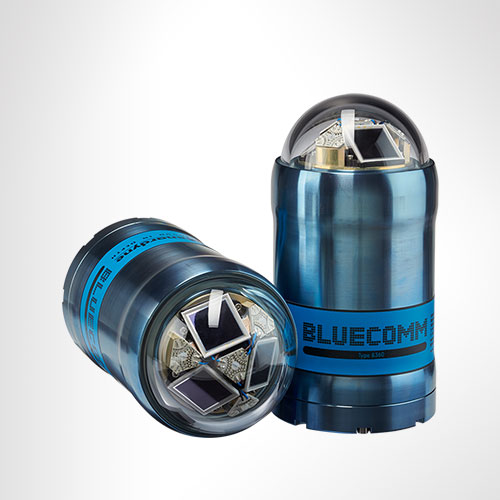 Delivering 5 Mbps at 15 m range, BlueComm 100 is a short range, highly reliable wireless data transfer system for all lighting conditions.
---
At a glance
1 to 5 Mbps at ranges of up to 10 m
Suitable for shallow or deep water applications
Data recovery from seafloor instruments and tether-free subsea vehicle control
Send your data at the speed of light
Want to know more?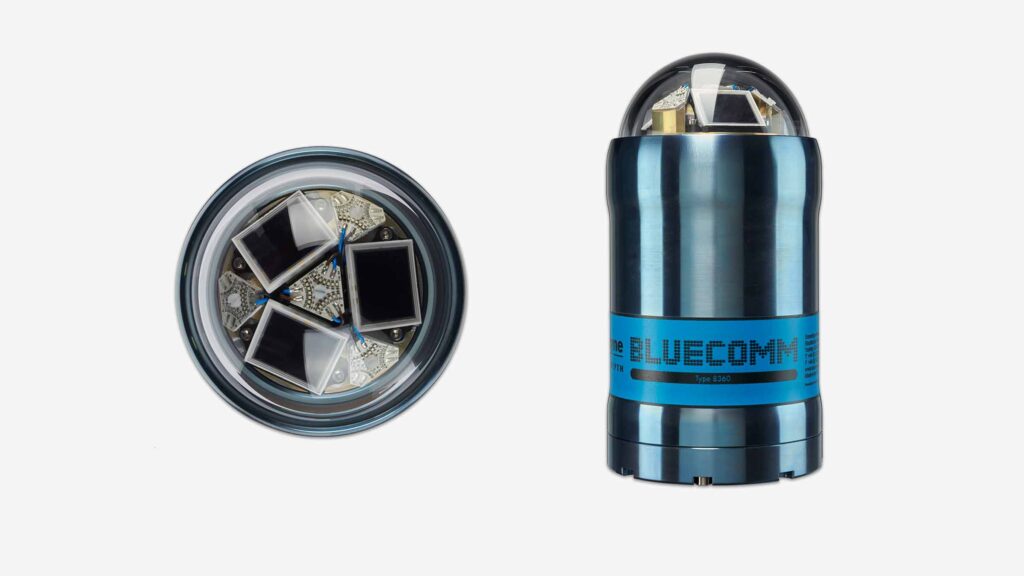 Combined transmitters and receivers in a single unit
60 degree beam pattern ensures reliable connectivity in real-world situations
Rugged design built to withstand operational conditions
4,000 m depth rating as standard
Why BlueComm 100 is perfect for your operations
For energy
BlueComm is an enabling technology for resident vehicles allowing high speed data off loading and low latency vehicle control.
For defence
AUVs or submarines can collect data fast and efficiently from seabed data-logging instruments and covertly harvest the data.
For science
With such fast data rates, it's possible to 'connect' your subsea data back to your laboratory – without the costs of a cabled observatory.
Overview
BlueComm 100 uses an array of high power light-emitting diodes (LEDs) that are rapidly modulated to transmit data. The receiver uses photodiodes allowing peak performance in all lighting conditions, including very shallow 'high ambient light' conditions.
Both the receivers and emitters are packaged into a small 5 kg unit rated to 4,000 m. Delivering 5 Mbps at 15 metres range, BlueComm 100 is a short-range, highly reliable solution.
High-speed wireless communications are not just useful for controlling ROVs and AUVs. Wherever there is a subsea application requiring control, monitoring or the point-to-point transmission of data, 'going wireless' is now a credible alternative. BlueComm can be used to provide a remote 'eyeball' on specific subsea operations removing the need for a second ROV.
Complementary acoustic positioning and communications provide long-range command and control of the camera and optical link including wake-up, pan, tilt, zoom, lighting and sleep mode control functions.
As a high-speed communication platform, BlueComm is an Ethernet-connected device allowing plug-and-play connectivity to clients' own subsea networks. As such, this allows for easy expansion of pre-existing networks, increasing productivity by increasing speed.
Its flexible system architecture means that BlueComm can be integrated with our comprehensive array of acoustic navigation, control and monitoring devices. Complementary Sonardyne acoustics communications provide long-range (>4 km), low bandwidth command and control. This capability enables functions such as data recording to be turned 'on' and 'off' remotely from the surface, and health or QC information to be transmitted.
Why invest
Optics
450 nm optical wavelength

60 degrees beam pattern

6 W (radiometric) optical transmit power
Performance
1 - 5 Mbps data rate

4000 m depth rating

1 - 15 m optical communication range
Design
Titanium and glass construction

Subconn connectors

264 mm x 128 mm, 2.4 kgs weight in water
Ownership
What's in the box: two BlueComm 100 units, two test cables and manual

Warranty: 1 year return to Sonardyne service centre

ITAR Controlled: No

UK Export License: Not required
Resources
| Feature | Type 8360-100 Specification |
| --- | --- |
| Depth Rating | 4,000 m |
| Data Rate | 1–5 Mbps |
| Optical Communication Range | 1–15 m |
| Materials | Titanium and glass dome |
| Supply Voltage | 24–36 V dc |
| Rear Connector Type | 10/100 Base-T ethernet (static IP address) |
| Power Consumption | 10–30 W (dependent on transmit ratio) |
| Command Interface | Graphical User Interface / UDP Command Set |
| Communications Type | Bidirectional, Time Division Multiplexing |
| Optical Transmit Power | 6 W (radiometric) |
| Optical Wavelength | 450 nm (royal blue) |
| Emitter Beam Shape | 60° (half angle) |
| Receive Beam Shape | 60° (half angle) |
| Dimensions (Length x Diameter) | 264 x 128 mm |
| Operating Temperature | -5 to 40°C |
| Storage Temperature | -20 to 55°C |
| Weight in Air/Water | 5.2/2.4 kg |
Manuals and quick start guides
Datasheets
Send your data at the speed of light