Vigilant
Forward Looking Sonar
Engineered for: USV, Vessel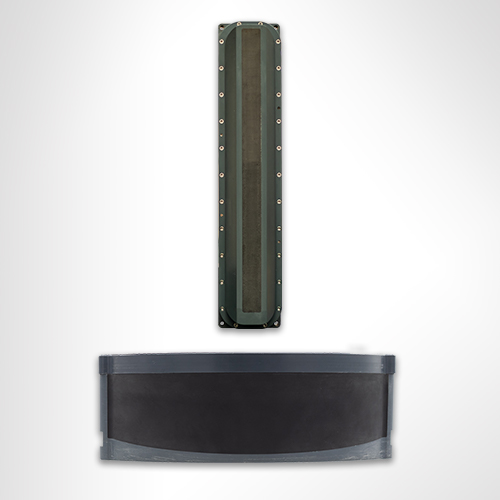 Is your cruise ship, research vessel, private yacht, survey vessel, naval vessel or uncrewed surface vessel venturing into unchartered waters? Vigilant is a forward looking sonar which transforms your vessel's underwater situational awareness, alerting you to hidden threats.


---
At a glance
Navigate with confidence; reduces the risk of underwater collisions and groundings
Long range hazard detection gives you time to change course
Perfect for vessels of all sizes; commercial, military, cruise, exploration and private
Compact design with mounting options to suit both new-build or retrofit
Use it with our Sentinel intruder detection sonar for added protection
Compatible with your existing bridge systems
See what lies under your surface or subsea vessel
Want to find out more?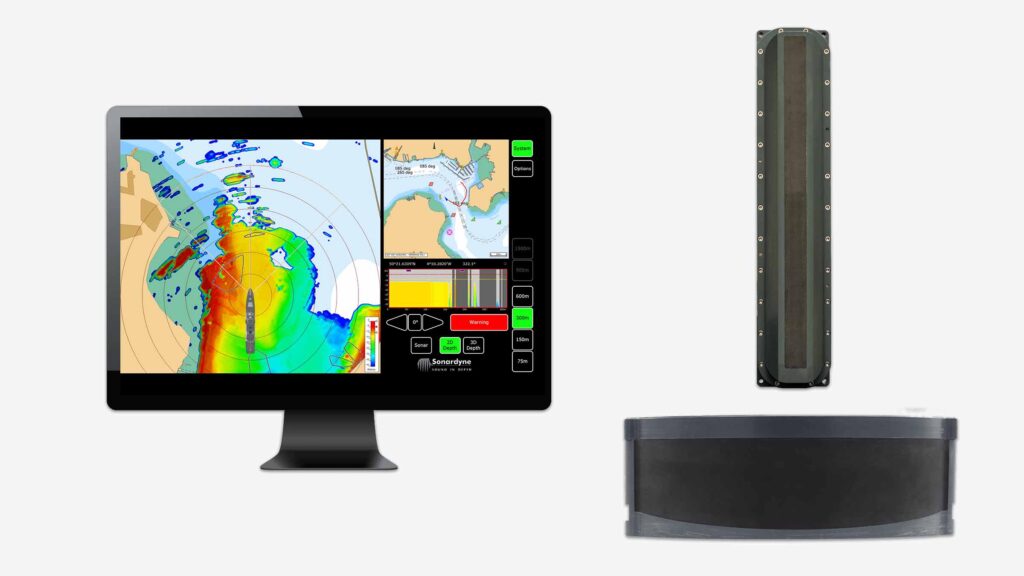 Vigilant shows captains and crews where it is safe to navigate and alerts them to potential underwater dangers that could result in a collision or grounding
Sonar data can be overlaid into third party ECDIS systems providing a powerful extra layer of domain awareness against otherwise unseen underwater obstacles
Bow-mounted receiver array
Bow-mounted transmitter array
Benefits of Vigilant for your operations
For energy
Unrivalled resolution and detail that's compatible with your existing bridge system, with the added benefit can be retrofitted to any vessel.
For defence
Transform your underwater situational awareness and guide your uncrewed system or swimmer delivery vehicle with confidence.
For science
Pushing the boundaries in science can take you to uncharted waters. Navigate and keep your vessel safe even in harsh polar regions.
Overview
Imagine you had the equivalent of a parking sensor installed on the bow of your vessel. Imagine that it gave you a live 3D view of the seabed and the water column on your vessel heading. Imagine if that sensor also sent you automated warnings, when there was a collision hazard ahead, hidden from sight.
Don't imagine any more because Vigilant provides you with all of this capability.
Vigilant (formerly NOAS), developed by our sister company Wavefront Systems and manufactured and commericalised by Sonardyne, is a long-range, forward looking sonar (FLS). It's a compact navigation and obstacle avoidance sonar providing automated alarms of objects in the water column out to 1.5 km. It also creates – with unrivalled resolution and detail – a real-time, easy to interpret 3D terrain map of the seabed and water column ahead out to 600 m and down to 100 m water depth.
Fit it to your vessel and you're then prepared for anything, from seeking out a secluded bay, navigating busy shipping lanes or voyaging into the Arctic Circle to watch the Northern Lights. It's also autonomous vessel ready.
The system consists of a sonar projector and receiver array mounted in the vessel's bow (or optionally on a retractable deployment pole) and bridge software.
At just 31 cm-wide, comparative with a gaming console, and weighing only 14 kg in air , the sonar is easy to handle and install on a wide range of vessels, from exploration cruise, private yachts and naval ships, to harbour patrol vessels, offshore support vessels and research ships.
Seaborne collision avoidance is also a vital consideration for autonomous ships and an ever-increasing number of unmanned surface and underwater vessels in the offshore energy, ocean science and naval market sectors. Vigilant can be integrated into these autonomous platforms to provide essential information to autopilots and command and control systems, to aid safe navigation and manoeuvres around hazardous obstacles.
Vigilant has two principal operating modes, 3D mode and Sonar mode. 3D mode produces stunning 3D bathymetry and colour coded depth imagery using our proprietary Altitude Confidence Filter (ACF), out to 600 m and down to 100 m. Sonar mode processes the intensity of the acoustic data to extract long-range positional data out to 1.5 km and over a 120 degree field of view. In this mode, the sonar returns are used to generate alerts to the operator (or a third-party system) to the presence of a navigationally relevant obstacle.
With its history mapping capability, a comprehensive picture of the underwater environment surrounding the vessel is built up, providing crews with greater situational awareness for tight manoeuvres or backing out of a confined area.
Combined with our Sentinel intruder detection system, naval facilities and assets at anchor or in port can also protect themselves from underwater threats.
Vigilant FLS is designed to be retrofitted to existing vessels as well as new builds. Comprehensive engineering support and advice is available from Sonardyne to support installation and commissioning.
Why invest
General
Real-time determination of seabed terrain and under water hazards

Easy to transport, hardware comes in one box

Historical image display provides comprehensive situational awareness of the subsea environment

Easy to configure and operate; no need for sonar background

Overlay charts provide clear context

Configurations available for ships, unmanned surface and underwater vehicles, and SDVs
Performance
Field of view 120°

Range 600 m in 2D/3D depth modes and 1500 m in sonar mode

Operating frequency 70 kHz

Operational speed up to 25 knots

Bottom mapping ratio up to 20 x water depth

Depth detection up to 100 m
Design
Receiver size (H x W x L): 110 x 310 x 401 mm

Projector size (H x W x L): 578 x 118 x 125 mm

Intuitive user software with touch screen interface

Seamless switching between Sonar and 2D/3D depth modes, and variable display ranges

User defined settings for warnings and automated alarm parameters

Electronic Nautical Chart (ENC) overlay (chart licence and permits not included)
Ownership
What's in the box: Projector and Receiver sonar arrays, cable assemblies, power and distribution cabinet, rack mounted marine computer, software

Warranty: 1 year return to Sonardyne service centre

ITAR Controlled: No

UK Export License: Not required
Resources
| Feature | Vigilant FLS |
| --- | --- |
| Range/Field of View | 75 m, 150 m, 300 m, 600 m x 120o 2D/3D Depth Mode 75 m, 150 m, 300 m, 600 m, 900 m, 1500 m x 120o Sonar Mode |
| Operational Speed | Up to 25 knots |
| Operating Frequency | 70 kHz |
| Bottom Mapping Ratio | Up to 20 x water depth |
| Maximum Depth Detection | 100 m |
| Roll/Pitch Stabilisation | +/- 20° |
| Angular Accuracy | ~0.3° |
| Operating Power | <150 W |
| Operating Temperature | -2 to 40oC |
| Storage Temperature Range | -20 to 55°C |
| Receiver (Height x Width x Length) | 110 x 310 x 400.5 mm |
| Receiver Weight in Air/Water | 12.0/6.0 kg |
| Transmitter (Height x Width x Length) | 577.5 x 118 x 124.5 mm |
| Transmitter Weight in Air/Water | 11.5/6.0 kg |
You may also be interested in
See what lies under your surface or subsea vessel