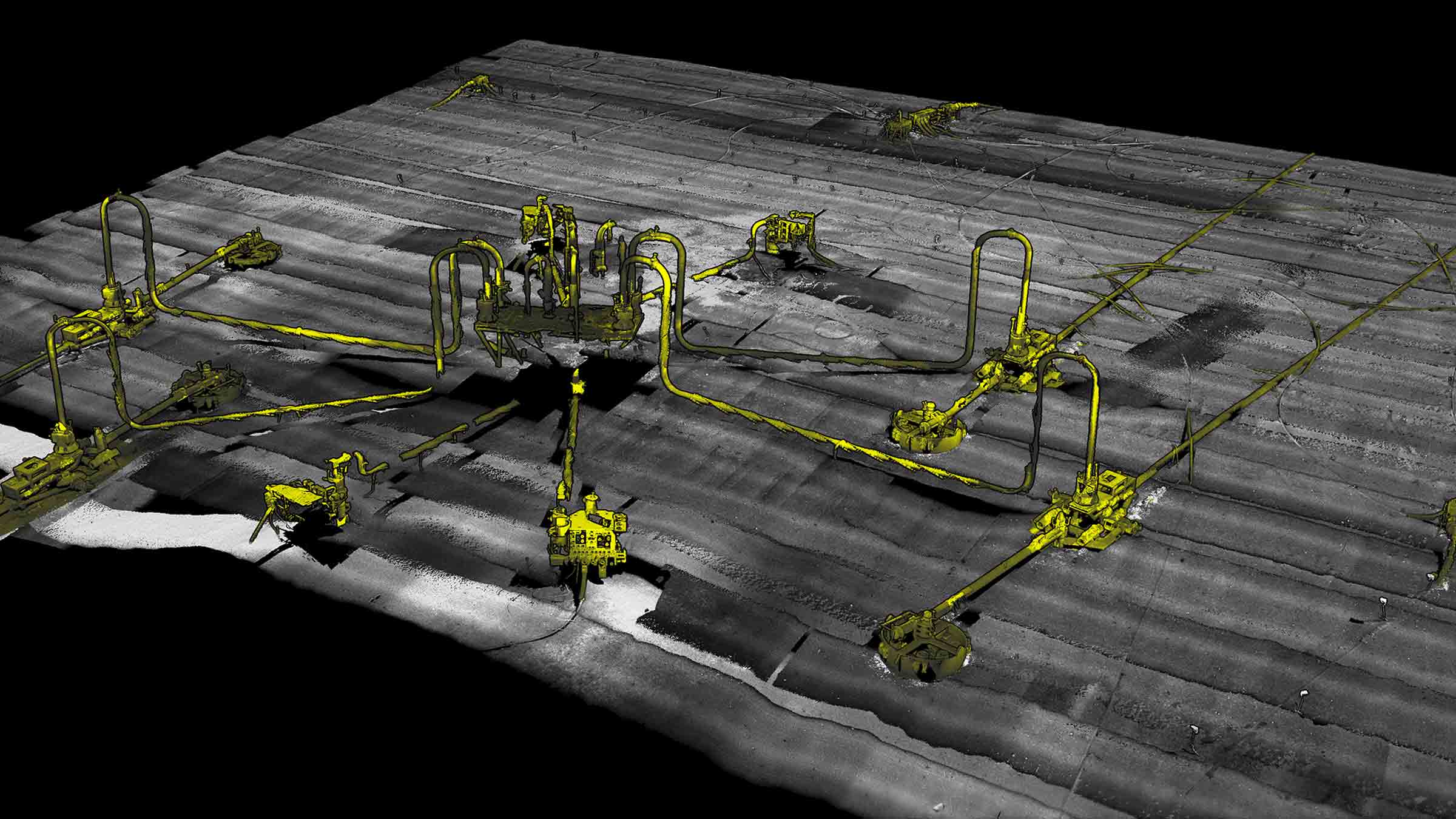 Dynamic laser scanning
Mobile, high resolution underwater structure and feature mapping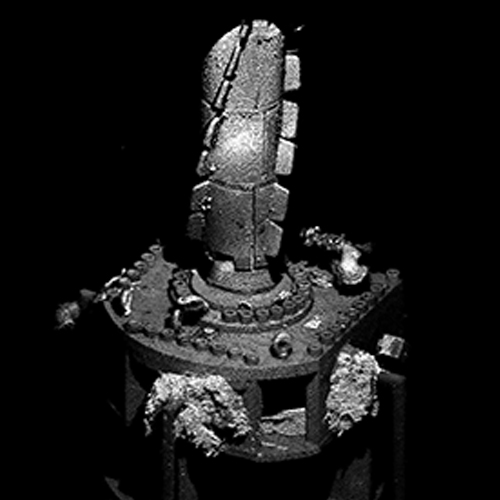 Designed in collaboration with Voyis and Innova, our dynamic laser scanning service is enabled using an all-in-one Work-class ROV skid with all acoustic, inertial and imaging sensors fitted, interfaced and pre-calibrated.
---
At a glance
De-risk your surveys; all sensors are interfaced and ready to go
Sensors are pre-calibrated saving valuable offshore time
Designed for Workclass ROV's
Simple plug-and-play interfacing, only requires power and fibre communication with ROV
Our services add value to your operations
Find out more about how we can help you
Why this service is perfect...
For energy
Dynamic laser scanning enables large offshore sites to be mapped quickly and with complete precision, meaning complex structures and drill centres can now be scanned whilst minimising vessel time.
For defence
Dynamic laser scanning can be used to provide non-contact, wide-area high resolution images of the seabed to search, identify and classify seabed threats including unattended sensors and mines.
For science
With our skid attached to your deep water research ROV, large areas can be mapped in high resolution, including entire wrecks and flora and fauna for habitat classification and population surveys.
Overview
High resolution geo-referenced underwater surveys using laser has widespread applications including; contactless metrology, wide-area structure mapping, pipeline inspections, mooring chain surveys, inland waterway inspections, scour surveys, seabed coral / fauna mapping, threat detection, wreck and drilling mud surveys.
Our dynamic laser scanning skid is a turn-key survey solution comprising of all the hardware and software, pre-configured and calibrated, to enable simple and fast mobilisation, efficient acquisition, and if needed, in-person or remote support from our expert surveyors.
The skid is fitted with a SPRINT-Nav, ROVNav 6+, sound velocity, conductivity and temperature sensors, and a custom Voyis ULS500 Pro.
All the sensors are interfaced via an Innova Titan Matrix MKII+ multiplexor.
Dynamic and fast
Until now, because dynamic centimetric-level navigation with fast update rates has not been commercially available, subsea laser and LiDAR systems have predominantly been used in a static mode. Due to the relatively short ranges achievable from these systems, multiple scans are required involving relocating the system to a number of locations on the seabed. Operationally, this is time consuming, both in terms of physically relocating the scanner, waiting for the visibility to clear after the scanner has been placed on seabed, and then processing time to merge the data together. It also means scans are limited to side, ground-level views.
With our dynamic platform, a site can be mapped quickly with no issues of reduced visibility as the ROV does not come into contact with the seabed and can move to scan any target of interest – including from above. High resolution point cloud data can contain a wealth of information which can be utilised for various engineering requirements, including revealing previously unknown features.
Why this service
All-in-one service
A tightly integrated, acoustically-aided navigation solution capable of meeting any positioning specification

Integration with other Sonardyne Group Companies Voyis and EIVA enable the full package to be provided and supported

Help with planning your operations via our Survey Support Group

We are able to provide experienced surveyors to assist with operations, either offshore or remotely via our ROAM service

Navigation post processing service available
Save time during data acquisition
Comprehensively scan large areas with no gaps in coverage

Cut survey time; no need to relocate sensor and wait for visibility

Can operate in reduced turbidity due to being on a dynamic platform

Scan items of interest at shorter range, in higher density without the need for relocating equipment
Technology differentiators
We aid SPRINT-Nav with tightly coupled two-way acoustic travel times, with each range received individually and precisely time-stamped

We combine individual Syrinx DVL beam velocities within SPRINT-Nav rather than generic DVL XYZ velocity

All acoustic aiding (LBL and DVL) uses rich proprietary quality metrics, and timing is guaranteed to the micro-second level

SPRINT-Nav INS provides direct time synchronisation (1PPS) for the ULS500 Pro, removing risk of issues with latency or timing jitter on ROV MUX communications to topside

Our Janus software is an extremely powerful tool for ensuring the very highest quality post-processed navigation with full QC of data. It performs both forwards and backwards post-processing of the INS data.

Logging of relative tidal data from a Compatt 6+ that can be used in post processing
De-risk operations
The factory-supplied equipment is pre-configured to ensure it can be mobilised as quickly as possible while reducing risks and complexity commonly associated with sensor integrations from several different vendors

All equipment is supplied with the latest software and firmware, meaning no compatibility issues

Our laser skid is DNV rated for Commercial, work-class ROV operations

Backed by our global customer and survey support group network
Our services add value to your operations