PIES
Pressure Inverted Echo Sounder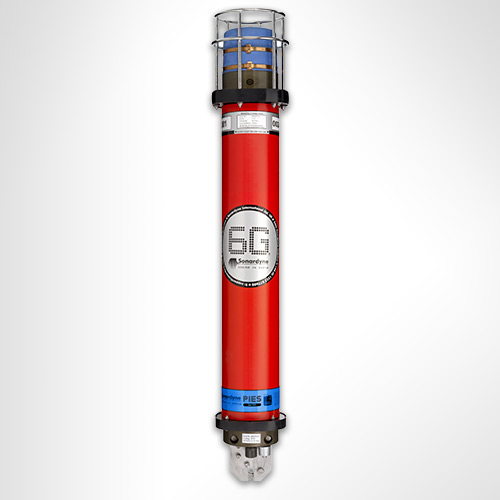 Pressure Inverted Echo Sounder (PIES) is a long-life sensor logging node that accurately measures the average sound velocity through a column of water from the seabed to the sea surface.
---
At a glance
Use it to measure average sound speed in the water column
Developed for marine seismic and ocean science applications
Harvest data using ROV, AUV, USV or surface vessel
Integrated acoustic release for easy recovery at conclusion of survey
Choice of form factor to suit your concept of operations
Delivering insight for your surveillance surveys
Want to know more?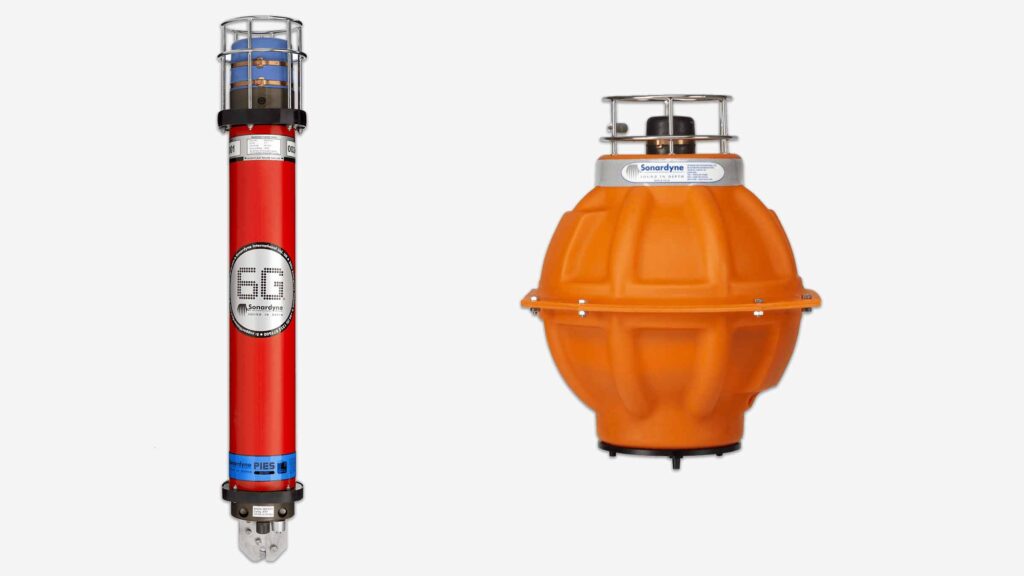 PIES is built on our 6G instrument platform with a global track record of reliability
A telemetry link allows recorded data to be transmitted to surface at data rates ranging from 100 to 9,000 bits per second
Average water column velocity is calculated directly from the depth and travel time data, noting that speed = distance / time
Both versions of PIES feature an integrated acoustic release for simple recovery
Benefit of PIES for your applications
Long endurance
Monitor for months or years - PIES is engineered for sustained observation campaigns and can be deployed for up to five years.
Clarity
PIES helps oceanographers and geophysicists to better understand the physical processes that occur in the deep ocean, guiding policy and operational decisions.
Data on demand
Harvest your data when you want, how you want using an uncrewed surface vessel to lower your costs and reduce emissions.
Overview
PIES is a long endurance oceanographic instrument for precisely measuring average sound speed in the water column.
The instrument has been developed for marine seismic and ocean science applications to gather valuable physical oceanography data. PIES can be configured for autonomous monitoring over periods of several months or years. One key operational advantage for users is that minimal conductivity and temperature profiling is needed over the seismic survey period.
PIES uses an up chirp to accurately measure two-way travel time through the water column. It simultaneously measures pressure at the seabed. Pressure measurements are converted to depth to find the acoustic distance travelled from the seabed to the surface and back again. By combining the depth and travel time, the average sound speed in the water column can be calculated.
An embedded acoustic modem allows you to retrieve via USV or crewed vessel. Alternatively, the PIES unit can be retrieved to the surface. The SD card extractor software gives you access to the raw data gathered by the instrument. Accurate conversion from pressure to depth can be achieved by allowing you to include local barometric pressure, seawater density and gravity with the PIES data.
A PIES unit is user-configurable to capture at a programmable ping rate ranging from one minute to many minutes or even hours. The choice of ping rate enables you to balance the conflicting demands of battery life with the need to average out effects from the instantaneous sea state at the time of acoustic measurement.
Although data can be harvested at any time without recovering the instrument – using a vessel-of-opportunity or uncrewed surface vessel equipped with a Sonardyne modem-enabled instrument – logged data is typically retrieved once the survey is completed and the PIES unit is recovered on the surface.
PIES data is retrieved using the SD Card Extractor software and the raw measurements are post-processed with geophysical data. The set-up for the SD Card Extractor is partially automatic and can detect the current baud rate, minimising the time spent completing the extraction process.
Why invest
Acoustics
Integrated modem with data rates ranging from 100 to 9000 bps

LMF (14–19 kHz) operating frequency

190–202 dB (4 Levels) Transmit source level

80–120 dB (7 levels) Receive sensitivity
Design
Easy to set up with configuration and sampling period programmable via telemetry link

Glass sphere or hard anodised aluminium housing options

Customisable sensor payload options
Performance
3,000 or 6,000 m depth rated

Up to five year deployment life

Vessel, USV or AUV data harvesting options

Anti-trawl fame option available
Ownership
Warranty: 1-year return to Sonardyne service centre

ITAR Controlled: No

UK Export License: Not required
Resources
| Feature | | Type 8302-3116 | Type 8306-3816 |
| --- | --- | --- | --- |
| Depth Rating | | 3,000 or 6,000 m | 3,000 or 6,000 m |
| Operating Frequency | | LMF (14–20 kHz) | LMF (14–20 kHz) |
| Transmit Source Level (dB re 1 µPa @ 1 m) | | 190–202 dB (4 levels) | 190–202 dB (4 levels) |
| Receive Sensitivity (dB re 1 µPa) | | 80–120 dB (7 levels) | 80–120 dB (7 levels) |
| Battery Life (Capacity) | | Multi-years life, dependent on sensors and sampling interval (100 Ahr) | 5 years life (dependent on sensors and sampling interval (180 Ah) |
| Mechanical Construction | | Hard anodised aluminium housing, duplex stainless steel guards | Glass sphere, galvanised stand, duplex stainless steel guards and connectors |
| Weight in Air/Water | Fetch | 30.6/16.1 kg | 43/-10 kg (upthrust buoyancy) |
| | Stand | n/a | 60/52 kg |
| | | | |
| Sensor Options | | | |
| Temperature (±0.1°C) | | Standard | Optional |
| Tilt Switch (±30–45°) | | Standard | Standard |
| High Precision Strain Gauge (±0.01%) Keller or Presens | | Optional | Optional |
| Paroscientific DigiQuartz Pressure Sensor (±0.01%) 1,350 m, 2,000 m, 4,130 m, 6,800 m | | Standard | Standard |
| High Accuracy Inclinometer Range: ±90° Accuracy: ±0.05° over 0–±15°; ±0.2° over 0–±45° | | Optional | Optional |
| Sound Velocity Sensor ±0.02 m/s Accuracy Under Calibration Conditions | | Optional | Optional |
| External Sensor Options Turbidity, Conductivity, ADCP | | n/a | Optional |
| Release Mechanism (Screw-off) | | Standard | Standard |
| Connector Type | | Subconn MCIL8M | Impulse MCIL-8-MP |
| (See Compatt 6 and AMT datasheets for more information) | | | |
Manuals and quick start guides
Datasheets
Software and firmware
Delivering insight for your surveillance surveys