Solstice
Multi aperture side scan sonar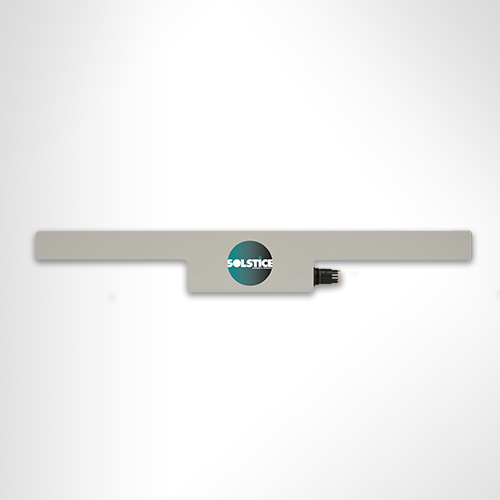 Capture every feature and every detail in ultra-high resolution. Solstice multi-aperture side-scan sonar significantly increases the operational envelope of your underwater vehicle by providing wide swath coverage, at high resolution – all while consuming very low power.
---
At a glance
Mission ready; designed to support search, classify and map (SCM) and hydrographic operations
Small and compact arrays; optimised for low-logistic AUVs and towed bodies
Survey more ground in a single pass; 200 m-wide swath ensures high coverage rates
Along track resolution of 0.15°; best in class delivering maximum detection rates
Collocated side scan image and bathy improves your situational awareness
Consumes only 18 W; power budget friendly increases your AUV's endurance
Delivering pixel perfect imaging
Want to know more?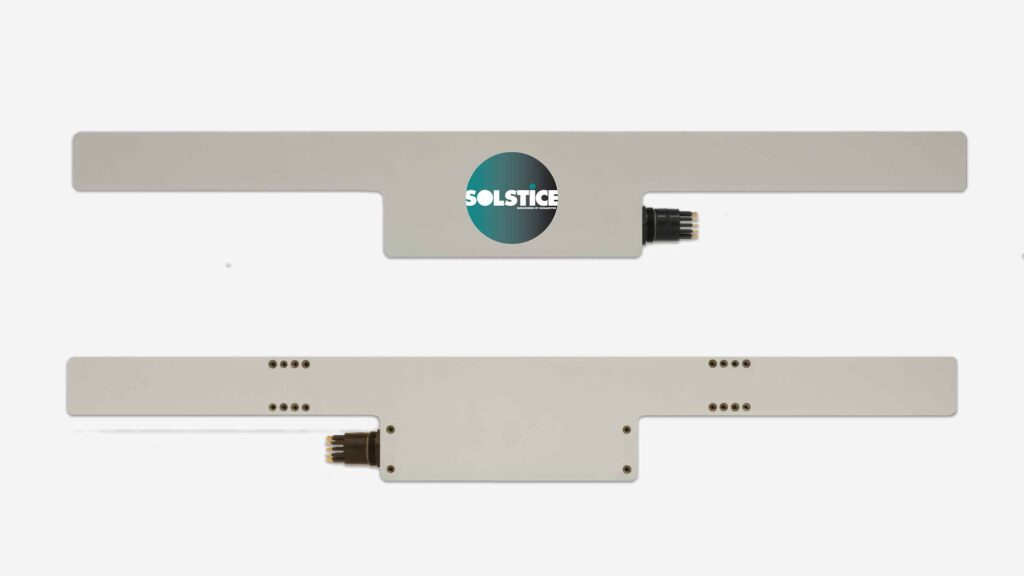 Each of Solstice's 682 mm long, 2.11 kg arrays, has 32 multibeam elements
A supplied Interface Control Document simplifies the integration of Solstice into low-logistic AUVs
Solstice supports .SWF8 and .XTF output formats compatible with 3rd party software
Real-time array calibration is used to dynamically recalibrate each individual hydrophone element several times a second to maintain performance
Benefits of Solstice for your AUV operations
High tempo
Large swaths of 200m on each side ensure large coverage rates, increasing your site characterisation efficient without compromising on the detail.
Pixel perfect
Class-leading imagery is provided to enable operators to make classification decisions with greater levels of confidence in less time.
AUV or towfish
Solstice is also ideal for deployment in a towfish for MCM operations - we recommend EIVA Scanfish in a configuration called Equinox.
Overview
Solstice, developed by our sister company Wavefront Systems and manufactured and commericalised by Sonardyne, is the number one side scan sonar in the world for AUVs and towed bodies. The imagery produced is recognised to be of the highest quality possible from side-scan sonar enabling detection and classification of seafloor objects across the whole swath.
Multiple apertures improve the signal-to-noise ratio performance, capturing stunning imagery at longer ranges than other sonars at the same frequency. It is interferometric too, meaning you also get co-located 3D data. It's the ideal choice for hydrographic, archaeological, search, salvage, unexploded ordnance, and mine countermeasure missions.
Each of Solstice's 682 mm long, 2.11 kg arrays, has 32 multibeam elements. This configuration ensures that your AUV or towed body is able to gather more data with higher image fidelity.
Unlike most conventional side scan sonars which have a fixed focus, Solstice uses a unique back-projection beam-forming technique to focus at every single pixel in the image. Imagery from conventional side scans is also often distorted due to non-linear platform motion and may have gaps in coverage due to platform roll, pitch and yaw.
Solstice on the other hand uses knowledge of the platform motion to eliminate its effects, producing undistorted imagery with 100% ground coverage.
Accurate imaging demands highly linear element alignment, which cannot easily be achieved mechanically.
Real-time array calibration is therefore used to dynamically re-calibrate each hydrophone element several times a second to compensate for any dynamical strains causing array non-linearity.
Solstice has been designed to produce high-contrast imagery in waters ranging from 600 m depth to very shallow, less than 10 m depth, littoral waters, eliminating noise from multi-path reverberation, enhancing the contrast of the imagery. It employs a unique array technology which allows wide swath coverage normally associated with wide vertical beamwidth, whilst providing the shadow contrast associated with very narrow vertical beams.
The result is improved probability of detection and decreased probability of false alarms improving the efficiency of your mine counter-measures, archaeological, search and salvage missions.
Why invest
Technical
Frequency band: 725 kHz to 775 kHz

Source Level (dB re 1 uPa @ 1 m) 220 dB

2 x (32 + 4) Receive channels

2 x 32 Transmit Channels
Performance
Depth rated to 300 or 600 m

Across track resolution 37.5 mm

Along-track resolution 0.15°

Geo-rectified waterfall display

Image resolution 30 mm x 30 mm

Co-located side-scan and bathy

Real-time CAD/CAC option
Design
2 x array flanks each 682 mm in length, weighing 2.11 kg

Processing electronics in their own payload pressure vessel (PPV) or as OEM

Simple to install and mount; full vehicle integration support provided

Uses widely available Subcon connectors
Ownership
What's in the box: 2 x Solstice arrays, PPV Module (or OEM electronics)

Warranty: 1 year return to Sonardyne service centre

Export license: Not required

ITAR controlled: No
Resources
| Feature | Type 8200-500-35 |
| --- | --- |
| Depth Rating | 300 or 600 m |
| Frequency Band | 725–775 kHz |
| Source Level (dB re 1 µPa @ 1 m) | 220 dB |
| Number of Receiver Channels | 2 x (32 +4) |
| Number of Transmitter Channels | 2 x 32 |
| Azimuth Beam Width | 0.15° |
| Swath | 200 m |
| Bathymetry | Yes |
| Power (Array & PPV) | 18 W |
| Operating Temperature | -2 to 40°C |
| Hydrophone Array Length | 682 mm |
| Projector Array Length | 416 mm |
| Output Formats | .SWF8 and .XTF |
| Weight in Air/Water | 2.11/0.76 kg |
| | |
| Payload Pressure Valve | Type 8200-500-35 |
| Depth Rating | 300 m |
| Dimensions (Diameter x Length) | 133 x 289 mm |
| Weight in Air/Water | 2.88/0.25 kg |
You may also be interested in
Delivering pixel perfect imaging