Fetch AZA
Self-calibrating bottom pressure recorder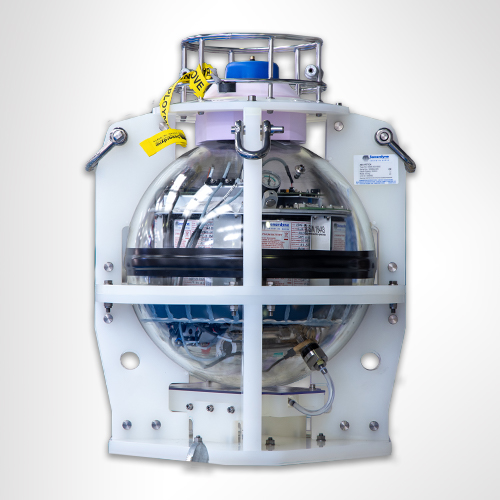 Fetch AZA revolutionises seabed measurements, across ocean science and the commercial sectors. It's now possible to record high-resolution data from a self-calibrating sensor, at all depths, for long durations of up to 10 years.
---
At a glance
Self-calibrating for accurate environmental monitoring
Long life—up to 10 years battery life
3,000 and 6,000 m depth options
Easy to deploy, easy to recover
Can be configured with a wide range of sensors
Integrated acoustic modem for data recovery
Suitable for
Low cost in-situ ocean surveillance
Want to know more?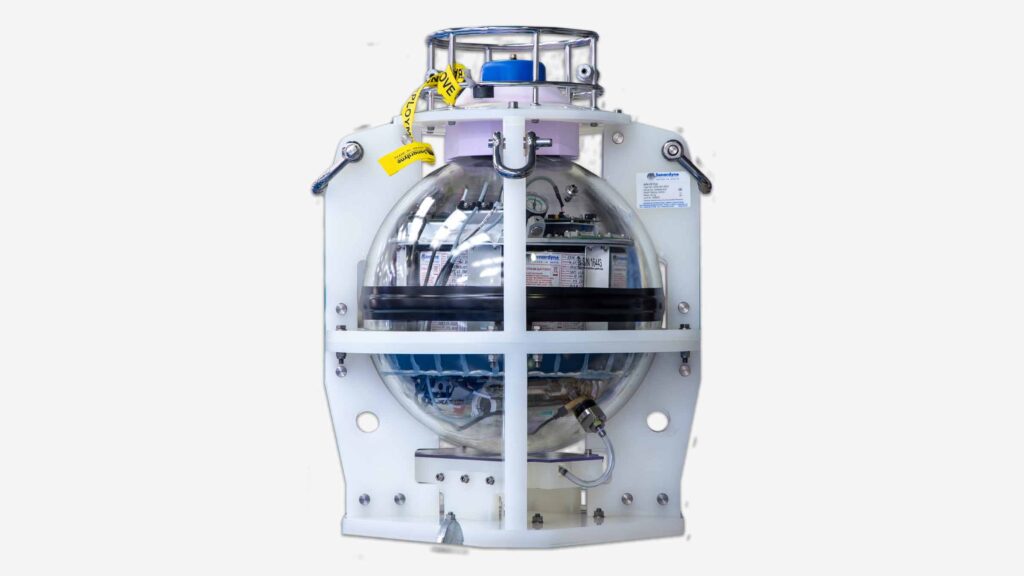 Command and control from a vessel or USV
Engineering using industry-standard glass spheres, trusted globally
Patented self-calibrating system ensures pressure sensors never drift
Integrated acoustic release mechanism for easy recover after survey
Why Fetch AZA is perfect for your operations
Remote
Data from Fetch AZAs can be recovered using USVs from over-the-horizon meaning you no longer need a dedicated crewed vessel with associated costs and emissions.
Accurate
The high quality pressure sensor is automatically recalibrated in situ allowing consistently accurate readings over a deployment period of up to 10 years.
Repeatable
Fetch AZA makes detecting and recording centimetric horizontal and vertical movement achievable and repeatable over time.
Overview
Unlike traditional pressure sensors, which suffer from drift over time, our Fetch AZA technology autonomously recalibrates in situ.
A unique control system periodically cycles the pressure sensor from ambient seabed pressure to near-zero, enabling comparison to a highly accurate low-pressure reference sensor for calibration. The reference sensor is never subjected to ambient pressure and is accurate to changes of less than a millibar, or about 1cm of head of water.
These capabilities have created an instrument that revolutionises seabed measurements, across ocean science and the commercial sectors. This means that scientists can now undertake measurements, at a resolution they've never been able to achieve before. These are critical to understanding tectonic processes.
In the commercial sphere, Fetch AZA now meets upstream production companies' long-term goal of measuring 1cm/year of vertical movement across their fields. Such fine-scale measurement provides a powerful new tool for proactive reservoir management. This is a key enabler for maximizing economic recovery.
The sensors are low power, allowing for long endurance deployments, and provide time-stamped data, which is often critical to commercial and scientific objectives. With their in-built data storage and high-speed modem capacity, they can support data collection and harvesting using a wide range of other Sonardyne and third-party sensors (High precision temperature and sound velocity as well as inclination) and are compatible with any Sonardyne 6G equipment, including Ultra-Short BaseLine (USBL) systems and modems.
Why invest
General
Well suited for USV data harvesting

Can be configured with a wide range of sensors

Different deployment and recovery options provide flexibility for your operations
Design
Neutral buoyancy in water for easy recovery

Anti trawl frame option available

Glass sphere, duplex s/steel guard, PVC shell, titanium ports construction
Performance
3,000 m and 6,000 m depth rated versions

MF and LMF operating frequency options

Up to 10 year battery life

Self-calibrating pressure sensor
Support
Work side-by-side with our Projects Group from concept to deployment

Systems are manufactured and tested before delivery at our world-class in-house facilities

Work with our experienced team about our USV data harvesting service

24-hour support, whenever and wherever you are in the world
Resources
| Feature | | Type 8306 |
| --- | --- | --- |
| Depth Rating | | 3,000 m |
| Operating Frequency | | MF (20–34 kHz) |
| Transducer Beam Shape | | Directional/omni-directional |
| Transmit Source Level (dB re 1 µPa @ 1 m) | | 190–202/187–196 dB |
| Receive Sensitivity (dB re 1 µPa) | | <85 dB |
| Communications | | Acoustic modem & Bluetooth wireless |
| Battery Life (Lithium) | | 10 years typical, (504 Ah) (dependent on sensors and sampling interval) |
| Mechanical Construction | | Glass sphere, duplex s/steel guard, PVC shell and titanium ports |
| Operating Temperature | | -5 to +35°C |
| Storage Temperature | With Batteries | 0 to +30°C |
| | Without Batteries | -5 to +35°C |
| Mass | With Stand | 145 kg |
| | Without Stand | 62 kg |
| Weight in Water | With Stand | 830 N |
| | Without Stand | 25 N (negative buoyancy) |
| Sensors and Options | | |
| AZA In-situ Self-Calibration Mechanism | | Standard |
| High Precision Temperature Sensor (±0.015°C) | | Standard |
| Transfer Pressure Sensor | Quartz, (±0.01%) | Standard |
| | 2nd Quartz | Option |
| Ambient Pressure Sensor | Strain Gauge, (±0.01%) | Standard |
| | Strain Gauge, (±0.19%) | Option |
| Low-Range Pressure Sensor (Strain Gauge, 2 bar (±0.01%)) | | Standard |
| Sound Velocity Sensor ±0.02 m/s Accuracy Under Calibration Conditions | | Option |
| MEMS Inclinometer (±1°) | | Standard |
| High Precision Inclinometer (±0.05°) | | Option |
| Acoustic Baseline Ranging1 | | Option |
| Release Mechanism (Screw-off) | | Option |
| Battery Disconnect Fob | | Standard |
| Stand/Mud Feet | | Option |
Manuals and quick start guides
Datasheets
Software and firmware
Low cost in-situ ocean surveillance