IT 6
Acoustic initiation transponder for UXO / EOD mine neutralisers
Engineered for: Diver, ROV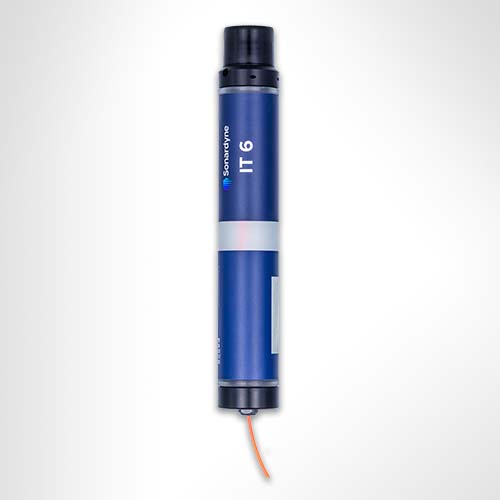 Underwater mine clearance operations put your people, assets, projects and missions at risk. Our new Initiation Transponder 6 helps mitigate this risk; enabling mine neutralisers to be efficiently, securely and wirelessly activated from a safe distance.
---
At a glance
357 mm tall by 55 mm in diameter; 0.10 kg weight in water; designed to be carried by clearance divers or small ROVs
Secure; over 250,000 unique identity codes available
Works with industry standard 3 mm diameter shock tube
Controlled using IP67-rated Deck Topside and cabled acoustic dunker
Safe; automatic time-outs, hydrostatic switch, independent circuits for acoustics and firing
Built using 6G hardware and Wideband 2 digital signal architecture; track with our Ranger 2 family of USBL tracking systems
Efficient, secure, safe
Want to find out more?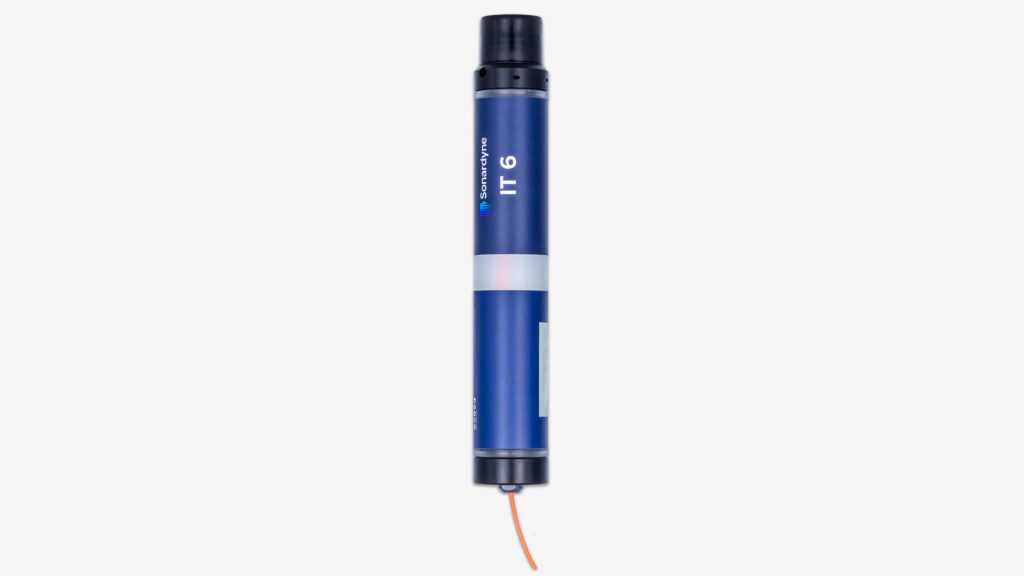 Secure acoustic signals; thousands of unique IDs
See-through housing shows device status LEDs
Designed to accept 3 mm industry-standard shock tube
Multiple layers of safety including hydrostatic switch
Benefits of IT 6 for your operations
It's wireless
Underwater acoustic command and control is a core capability of ours, so IT 6 can be considered as reliable and as secure as traditional methods involving shock tubes and a lot safer than electrical detonation lines.
For energy
With any offshore energy development, there's the potential to encounter UXOs. IT 6 improves the safety and efficiency of clearance operations, keeping your personnel away from risk and your project on track.
For defence
An important new addition to the MCM and underwater ordnance playbook, IT 6 helps your clearance divers and robotic platforms dispose of modern day and historical ordnance, quickly and effectively.
Overview
Initiation Transponder 6 (IT 6) is designed to be connected directly to a remotely deployed, non-electric mine neutralisation device, such as a Viper from ECS Special Projects. This allows commercial and naval EOD teams to send a wireless, acoustic command from their vessel to initiate a shock tube.
IT 6 is based on our field-proven Wideband 2 digital signal technology, which offers a reliable and long-range underwater wireless communications link. With IT 6, your personnel no longer need to hard wire mine neutralisers up to signal relay buoys on the surface and can set up an initiation operation in bad weather and outside of daylight hours.
Divers and underwater vehicles are constrained by the equipment and payload they can carry so we've designed IT 6 to be small, lightweight yet tough enough to withstand everyday operational situations.
It can be placed directly by a clearance diver or remotely operated vehicles (ROVs) like Valor from Seatronics which is equipped with a dedicated skid which can carry and deploy multiple IT 6s and Viper neutralisers.
With use cases from offshore renewable energy to government and defence, IT 6 transponders are suitable for high order detonation and low order deflagration scenarios.
Safety
Safety and simplicity are key with the IT 6 and it features several fixed and user-configurable safety features.
Firstly, the IT 6 comes complete with a hydrostatic switch, which means the unit cannot be put into an armed state when shallower than the fixed hydrostatic switch depth. If recovered back to deck the IT 6 will also render itself impossible to arm when it goes below the minimum allowed depth.
Configurable off-deck delays and seabed timeouts mean fixed arming and firing windows can be set. The internal circuitry of the IT 6 also means that no power is applied to the independent detonation circuitry until the operator chooses to fire/initiate the NONEL output from the IT 6.
The novel clear housing on the IT 6 contains three status LEDs which allow the operator to quickly assess the state of the transponder and thus its safety. A magnetic 'remove before use' pin also means the IT 6 has a long operational battery life and can be powered down completely when not in use.
IT 6 is controlled using our new rugged Deck Topside and cabled dunker. Environmentally rated to IP67, the topside features a daylight readable 7-inch resistive touch screen, physical initiate/arm buttons and rechargeable battery – perfect for operating from small craft with no external power.
A further operational benefit of IT 6 is that its location can be tracked using any our Ranger 2 USBL systems which are installed on hundreds of energy, defence and science vessels globally.
Why invest
General
Improves the efficiency and safety of improve the safety and efficiency of UXO, MCM and EOD operations

Wireless; replaces need for a hard-wired surface-to-seafloor connection

Size and weight optimised; perfect for divers and small vehicles

Low risk; engineered using COTS acoustic technologies in use globally
Performance
MF operating frequency (20-34 kHz)

Depth rated to 300 m

Operating range > 1,000 m

11-pin Size-A CRE connectors x 2. Custom connectors on request

Accepts 3 mm shock tube

Alkaline battery

0 m, 2 m and 8 m hydrostatic switch options
Design
357 x 55 mm, 0.1 kg weight in water

Acetal housing construction, clear

Magnetic on/off switch

External mounting point

Integrated inclinometer for monitoring orientation

High brightness internal status LEDs

262,144 unique addresses available
Ownership
What's in the box: IT 6

Accessories: Float, pressure test kit

Warranty: 1 year return to Sonardyne service centre

ITAR Controlled: No

UK Export License: Yes PL8001.a.3.
Resources
| Feature | | |
| --- | --- | --- |
| Depth Rating | 300 m | |
| Operating Frequency | MF (23–31 kHz) | |
| Transducer Beam shape | Hemispherical | |
| Transmit Source Level (dB re 1 µPa @1 m) | 184 dB | |
| Operating Range | >1000 m | |
| Hydrostatic switch | 0 m, 2 m and 8 m options available | |
| Subsea status indicators | LEDs and acoustic communication | |
| Shock tube outer diameter accepted | 3 mm | |
| Operational Battery Life (Alkaline) | >45 days in not ready to arm state, >22.5 days in ready to arm state | |
| Storage battery life | >3 years | |
| Repeat Firings with firing pin | >10 | |
| Mechanical Construction | Acetal | |
| Operating Temperature | -20 to 55ºC | |
| Storage Temperature | -20 to 55ºC | |
| Maximum Dimensions (Length x Diameter) | 357 x 55 mm | |
| Weight in Air/Water | 0.85 kg / 0.10 kg | |
| Export Status | Controlled under PL8001.a.3 | |
| Standards | UKCA | |
Manuals and quick start guides
Datasheets
STP files
Built for your UXO, MCM and EOD missions