Deck Topside
Command and control unit for RT 6 and IT 6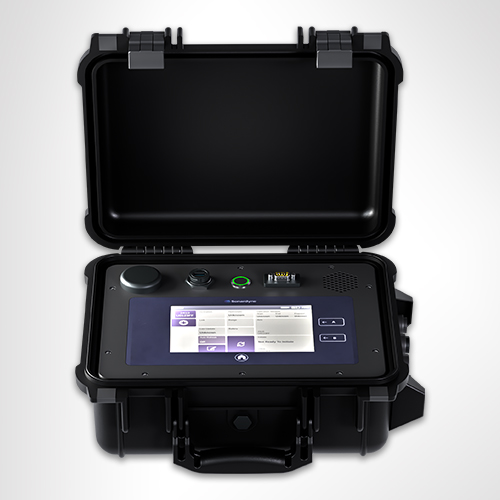 Deck Topside is our new generation of command and control topside for RT 6 and IT 6 transponders. Designed for use in the workshop and on the back deck, it's packed with innovative design features to keep you working in any weather, on any type of boat, all day long.
---
At a glance
Provides full configuration, testing and control of all RT 6s and IT 6
Use it in the workshop, back-deck or from a small boat
Engineered using industry standard ruggedised case; IP67 rated
Rechargeable battery provides 8 hours of use; supports external power input
7-inch full colour touchscreen display; daylight readable
Physical buttons for safety critical operational sequences
Supplied with 10 m cabled Nano dunker
Portable, rugged, secure
Want to find out more?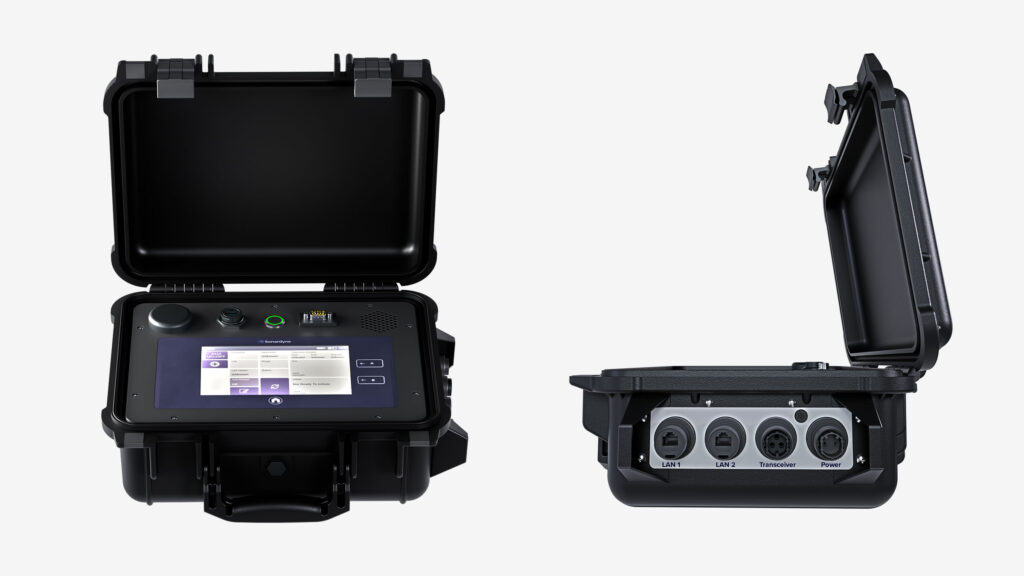 Daylight-readable touchscreen with additional physical buttons for release and initiation sequences
Simply plug in the Nano dunker, lower it over the side, and your operations can commence
Dock Topside is IP67 rated so you use it from any type of boat and for up to 8 hours
Future in-field upgrades will unlock a host of additional capabilities
Benefits of Deck Topside for your operations
It's simple to use
Power up and choose which mode you want Deck Topside to work in; RT 6 or IT 6. The UIs are easy to use and require no special knowledge of underwater acoustics.
It works all day
With a battery life of 8 hours, you can be out on the water all day, working from a small boat with no power, deploying, initiating or releasing your transponder inventory.
It's expandable
There's a host of optional features built-in to the Deck Topside that will soon be available including speaker for environmental monitoring.
Overview
Deck Topside is a rugged and portable solution for commanding and controlling RT 6 Release Transponder and IT 6 Initiation Transponder 6, a device developed to allow non-electric mine neutralisers to be wirelessly initiated from the surface.
Built tough for where you work
Deck Topside is completely portable and perfectly at home working in harsh marine environments.
It features a high brightness, full colour 7-inch resistive touch screen display and an easy-to-use user interface which allow a host of parameters to be set, including environmental. The unit is IP67 rated when closed and IP66 when open and being operated.
As touch screens are not suitable for every stage of a marine operation, physical buttons are used for critical tasks such as arming, initiating and releasing.
Use it anywhere, all day long
Power comes from an 12/24 V dc external input, and for those situations when you're operating from a boat with no external power, a Lithium-Ion  rechargeable battery provides up to 8 hours of continuous operation.
A cabled Nano dunker for the system provides the secure acoustic communication link between the surface and seabed. It simply plugs into the transceiver port on the side of Deck Topside and is suspended (via its own cable) over the side of your vessel. It is supplied as standard with 10 metres of cable. A 20-metre extension cable is also available. Depending on which RT6 you have, there are different deck kits available, from shallow to deep.
After a successful operation, it is common for users to want to export logfiles and reports of operations. Deck Topside can export a complete set of activity logs for all activities, and for releases can export a PDF for presentation to a client.
Pick your kit, operate at any depth
Deck Topside is paired with small dunking transceivers to enable command and control at any water depth and over any range. The Shallow Water Deck Kit is a workhorse for all operations that require an operational ranges of less that 1, 000 m, so perfect with RT 6-100. For operations deeper than this, our Mid Water and Deep Water deck kits are perfect. Use the Mid Water kit with RT 6-3000.The Deep Water deck kit utilises our long range, LMF-frequency band for use with RT 6 HD.
Expandable capabilities
Deck Topside has been engineered with valuable features that will become available via in-field software upgrades, protecting your investment in Sonardyne underwater technology.
Why invest
General
One-box solution for the command and control of RT 6s and IT 6s deployed for equipment mooring, recovery and UXO operations

Wireless; built using secure and robust digital acoustics communications suitable for any environment

Small and rugged case engineered for use on the back deck

Embedded, bespoke user interface for each mode – no special training needed
Interfaces
2 x Ethernet connectors

1 x RS232/RS485 (to Sonardyne dunker, including power out)

1 x 12/24 V dc power input connector

1 x USB for data offload

1 x RS232 DB9 port

Physical buttons: Power, Home, Safety Critical (x2)
Design
7" resistive touch screen 1000cd/m2

340 x 295 x 152 mm, 4.8 kg weight in air

IP rating: IP67 closed, IP66 open

Power: 12/24 V dc input /8-hour lithium-ion battery (66 Wh)

Built-in GNSS receiver and speaker (functionality currently not enabled)
Ownership
What's in the box: Deck Topside box, Nano dunker, 10 m deck cable

Accessories: 20m deck extension cable, DC charging cable

Warranty: 1 year return to Sonardyne service centre

ITAR Controlled: No

UK Export License: No
Resources
| Feature | |
| --- | --- |
| Screen | 7" resistive touch screen 1000cd/m2 |
| Interfaces | 2 x Ethernet connectors, 1 x RS232/RS485 (to Sonardyne transceivers, including power out), 1 x 12/24 V dc power input connector, 1 x USB for data export, 1 x RS232 DB9 port |
| Buttons | Power, Home, 2 x multi-function safety critical keys |
| Positioning | Built in GNSS |
| Sound | Built in speaker |
| Power | 12/24 V dc input 81 W max, 24 W charging, 8 W on external power, >8-hour lithium-ion battery (66 Wh)12/24 V dc input, >8-hour lithium-ion battery (66 Wh) |
| IP rating | IP67 closed, IP66 open |
| Dunker cable | 10 m |
| Operating temperature | -20°C to +55°C |
| Storage temperature | -20°C to +60°C |
| Additional tests | Salt fog testing |
| Dimensions (length x width x depth) | 340 x 295 x 152 mm |
| Weight | 4.8 kg |
Manuals and quick start guides
Built for your equipment mooring, UXO and MCM missions