Micro-Ranger 2 USBL
Portable underwater tracking system
Engineered for: AUV, Diver, ROV, Vessel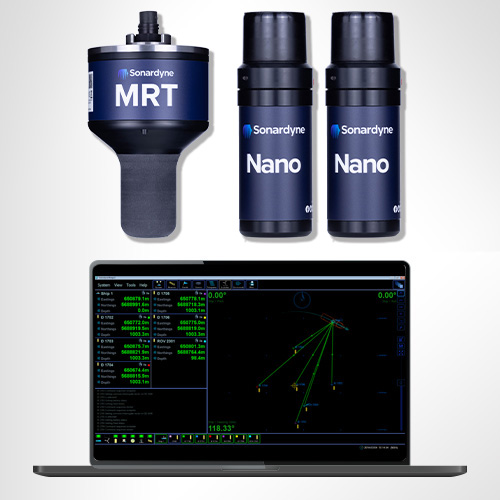 Need to know where your targets are? Micro-Ranger 2 USBL has them covered. Precision, ease of use and versatility come as standard – and it's small enough to use with divers and the smallest ROVs.
---
At a glance
Tracks divers and underwater robots as they explore rivers, lakes, reservoirs, harbours and coastal waters
Never used a USBL system before? No problem. Micro-Ranger 2 is simple to setup and use
Deploy it from a dockside, RIB or even from unmanned surface vessel; no special hardware needed
Up to 995 m range; no need for an export license to transport internationally
Operate anywhere, track anything
Want to know more?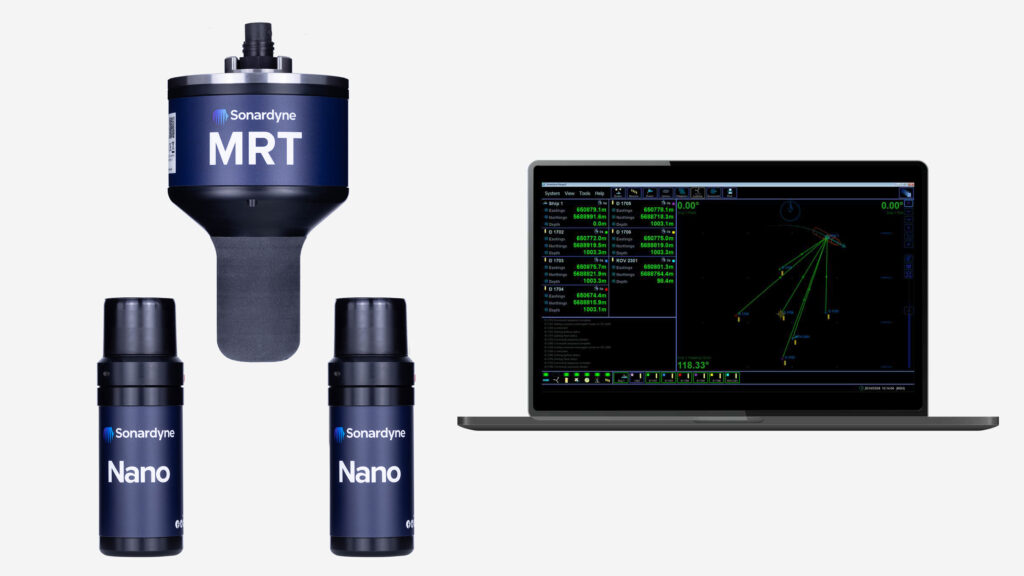 MRT; a small and easy to deploy USBL transceiver
Two Nano transponders are included as standard; option for externally powered
Micro-Ranger software is simple to use and quick to learn
Software is designed for Windows 10 (laptop not supplied)
Benefits of of Micro-Ranger 2 for your operations
For energy
Portable and quick to mobilise, it can be deployed from any waterside location (pontoon) or vessel-of-opportunity, including small survey vessels.
For defence
Micro-Ranger can be operated from a small RIBs and even configured for installation on a uncrewed surface vessel for remote missions.
For science
Its small and portable size makes it ideal for supporting science operations conducted in rivers, lakes and coastal waters.
Overview
Portable and quick to mobilise, Micro-Ranger 2 USBL can be used from any waterside location or vessel, including RHIBs and small survey vessels, to track divers, underwater vehicles and equipment.
It may be our smallest ever underwater tracking system, but Micro-Ranger 2 will have a big impact upon your search and rescue, inspection and survey operations.
It's built around the same market-leading 6G hardware and Wideband 2 digital acoustic technology you'll find in our family of deep water USBL systems, Mini-Ranger 2 and Ranger 2, but for significantly less cost and complexity.
We've engineered everything to fit in one medium-sized IP67-rated ruggedised carry case; power supply, command unit, GNSS antenna, transceiver, 10 metres of cable, two Nano transponders, charger and ancillary cables. Apart from your laptop to run the software, nothing else is needed and the size is so small, you can carry it on a plane with you.
If you're a first time user of USBL technology, you'll find Micro-Ranger 2 incredibly easy to use. Simply connect your computer, external GNSS and transceiver to the system's common interface unit, then attach one of the included transponders to a target you want to track the position of. With the transceiver lowered into the water and your laptop linked via WiFi to the carry case, you're ready to start tracking at up to ranges of 995 m.
A built-in battery provides more than 10 hours of continuous use, enough for a full day of activity out on the water. The case can also accept external power from a boat or shore supply.
The Micro-Ranger Transceiver (MRT) is extremely small and light and can be deployed from the side of a vessel, pontoon using its cable, or on the sensor spar of a USV. Its design provides omni-directional acoustic tracking coverage, so is ideal for tracking targets in shallow water to the surface.
Micro-Ranger 2 software comes with a lot of advanced and powerful features selected from our Mini-Ranger 2 and Ranger 2 USBL systems to ensure you have everything you need to track underwater targets. If you need to track and also communicate with small AUVs and drones, an optional Marine Robotics feature pack is available.
Transponders
Nano transponders are the perfect size and weight for divers, small towfish and micro ROVs. The two that come in the case are second generation units offering extended battery life and depth rating. A connector-equipped Nano is also available allowing it to operate continuously via an external power source. Simply choose the type of Nano transponder that comes with your system at the time of ordering.
The system can also be used with other Sonardyne 6G transponders including WSM 6+ and WMT.
Integrator Kit
If you're an AUV developer who needs to both track and communicate with targets,  the Micro-Ranger 2 integrator system kit is available. It comes complete with our add-on Marine Robotics software pack and AvTrak 6 Nano, which support two-way messaging, vehicle control and tracking in one small instrument.
Why invest
Design
Portable; everything fits in one rugged case - literally

Quick to connect up and deploy

Easy to use; no training needed

Shares common software and 6G platform with other Sonardyne USBLs
Performance
Up to 5% of slant range system accuracy

Up 10 targets tracked, sequentially

995 m maximum tracking range

10 hours+ battery life (command unit)
Acoustic
MF frequency (19–34 kHz)

Sonardyne Wideband 2 Acoustic for reliable Performance in shallow water

Supports Sonardyne Messaging Service for data exchange (200 to 9,000 bps)

Omni-directional coverage for wide area tracking
Ownership
What's in the box: MRT with 10 m of cable, command unit, 2 x Nanos (gen 2), charger, ancillary cables, external GNSS antenna, software (PC not supplied)

Warranty: 1 year return to Sonardyne service centre

ITAR Controlled: No

UK Export License: Not required
Resources
| Feature | Specification |
| --- | --- |
| Design | Portable, everything you need comes in one box |
| | Quick to connect up and deploy |
| | Easy to use, no training needed |
| | Shares common platform with other Sonardyne USBLs |
| Performance | Up to 5% of slant range system accuracy |
| | Up 10 targets tracked, sequentially |
| | 995 m maximum tracking range |
| | 3 Hz position update rate |
| Acoustics | MF frequency (19–34 kHz) |
| | Sonardyne Wideband 2 acoustics for reliable performance in shallow water |
| | Supports Sonardyne Messaging Service for data exchange (200 to 9,000 bps) |
| | Omni-directional coverage for wide area tracking |
Operate anywhere, track anything