Marksman LUSBL
DP reference, underwater tracking and telemetry system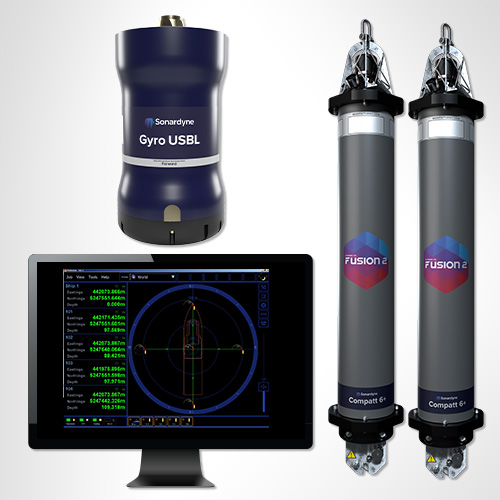 Marksman is an acoustic DP reference and underwater vehicle tracking system developed to meet the requirements of vessels undertaking critical station keeping activities such as drillships, FPSOs and heavy lift vessels.
---
At a glance
Combines USBL and LBL acoustic techniques for optimum performance
Compatible with all makes of DP system ( Class 2/3 ops)
Highly repeatable positioning helps save fuel
Dual redundant and inertial aiding redundancy options
Global track on all types of vessel and water depth
Suitable for
Ultimate precision in any water depth
Want to know more?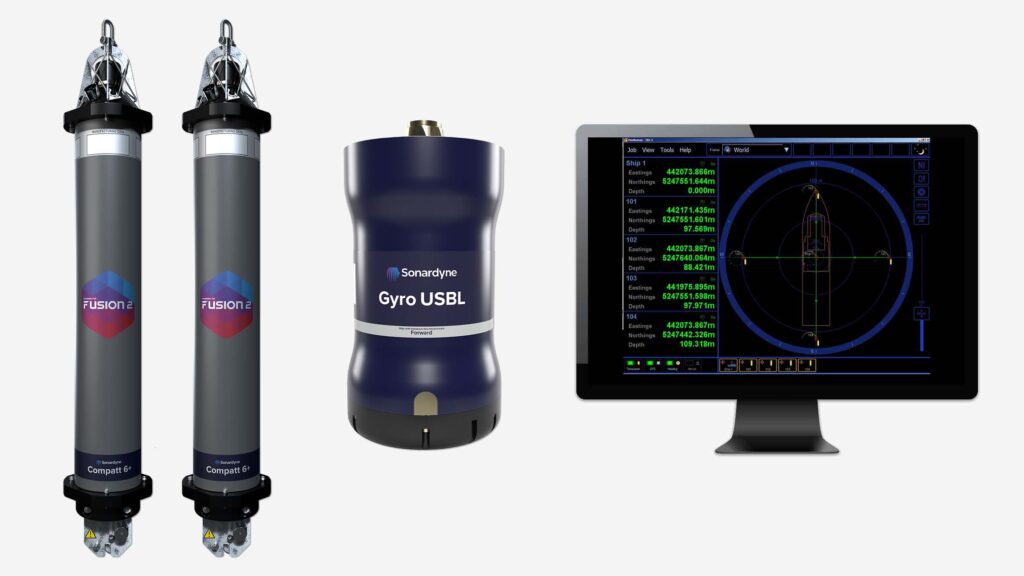 Wide of transponder options including Compatt 6+ and DPT+
GyroUSBL is a pre-calibrated transceiver saving vessel time on installation
Marksman software is easy for DPOs to learn and become comfortable with
Benefits of Marksman for your operations
Precise
LUSBL exploits the greater precision and acoustic range redundancy offered by Long BaseLine (LBL) seabed transponder arrays.
Compatible
Acoustic position reference system that you can interface with any DP system including GE, Kongsberg, MT, Navis, Rolls-Royce and Wärtsilä.
Integrated
Tightly integrated acoustic and inertial positioning benefits your DP system by improving the accuracy, update rate and reliability of the position.
Overview
The system integrates USBL and LBL acoustic positioning techniques to provide an accurate and highly repeatable position reference for dynamically positioned (DP) vessels.
The configuration is known as LUSBL (Long and Ultra-Short Baseline) and uses a seabed network of transponders to offer enhanced levels of system integrity. With LUSBL, more acoustic ranges mean more redundancy in the solution for the DP desk.
Marksman is highly configurable and offers features which has made it the primary reference on many installations, particularly in fields in the Gulf of Mexico, Brazil and West Africa.
Redundancy
Dual independent hardware configurations allow subsea operations to continue if any part of the acoustic hardware on the vessel becomes unavailable. There is also option of operating in triple redundancy configuration through the augmentation of our inertial navigation technology – known as DP-INS.
DP-INS
DP-INS has been developed to meet regulatory requirements which state that deep water drilling units must be equipped with three independent positioning reference inputs to their DP system. Traditionally, an acoustic positioning system and two separate GNSS systems are used. However, vulnerability remains should the acoustics be affected by aeration and noise and both GNSS systems simultaneously affected by signal disruption. The latter is particularly common around equatorial regions and during periods of high solar radiation.
Emergency BOP control and tracking
Marksman also supports acoustic riser angle monitoring, back-up acoustic control of blow out preventers (BOP) and acoustic command, control and data recovery for instruments used to monitor riser integrity. It can also and simultaneously track ROVs working in the vicinity of the vessel.
6G and Wideband 2
Marksman is engineered around our Wideband 2 and 6G technology platforms, providing valuable benefits for your operations. The digital acoustic signal architecture of Wideband 2 offers fast, robust transmission of data, precise ranging and greater immunity to vessel and ROV noise and interference from other acoustic systems.
6G hardware is simple and intuitive to operate allowing users to quickly gain confidence and thereby reducing risk. Transponders are easier to set up and enable faster and more efficient solutions for applications such as structure tracking, BOP control and autonomous monitoring. Long battery life enables seabed reference transponders to be semi-permanently deployed, reducing the need for intervention to replace batteries.
Why invest
Design
Works with all makes of DP system; GE, Kongsberg, MT, Navis and Wärtsilä

Can be configured for DP2 and DP3 class vessels

Dual and triple (INS) independent equipment configurations available

Suitable for new build and retrofit installations; drillships, semi-subs, heavy lift, well intervention
Performance
7,000 m operating range

1 second position update rate (dependent upon water depth)

Supports tracking of one surface and multiple subsea targets

DP telegrams; all industry standard supported
Technology
Compatible with all 6G vessel and subsea transceivers and transponder

Wideband 2 signal processing ensures robust acoustic performance in noisy environments

Long battery life; 6G transponders use low power electronics to extend battery life

Hundreds of unique operating channels enable simultaneous operations in busy offshore areas
Additional capabilities
Riser profiling (requires additional hardware and software)

Riser angle monitoring (requires additional hardware and software)

Recovery of data from Sonardyne seafloor sensors
Resources
| Marksman System Performance | | LUSBL Tracking | USBL Tracking |
| --- | --- | --- | --- |
| Water Depth | LBL Array Radius | Expected Repeatability | Expected Repeatability |
| 1000 m | 175 m | 0.16 m | 1.5 m |
| 2000 m | 350 m | 0.17 m | 2.9 m |
| 3000 m | 525 m | 0.39 m | 5.1 m |
| Expected repeatability values are 1 drms assuming quiet vessel (84 dB//μPa.m) with standard size USBL transceiver at centre of an array of 5 directional beacons, correct sound speed, rigid deployment and Lodestar AHRS. | | | |
| Number of Targets Tracked | 1 surface, unlimited subsea | | |
| Position Update Rate | 1 second, dependent upon water depth | | |
| Gyro Data Formats | NMEA HDT, SG Brown (ASCII, BIN), Robertson SKR82 | | |
| VRU Data Formats | SON2, TSS1, TSS2, EM1000, EM3000, PRDID | | |
| GPS Data Formats | GPGGA, GPGLL | | |
Manuals and quick start guides
Software and firmware
Technical bulletin
Ultimate precision in any water depth