Custom engineering
Reimagining the art of the possible subsea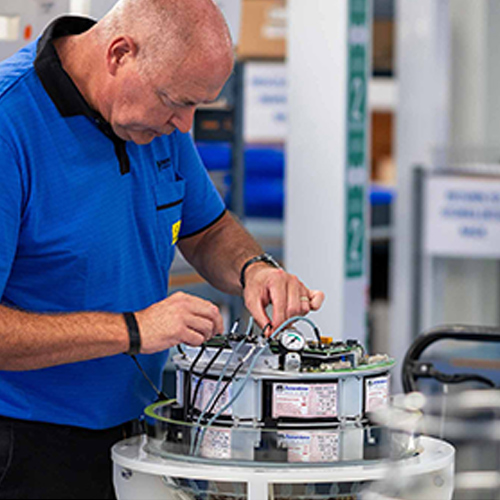 Our custom engineering division creates novel solutions for a wide variety of client problems and applications in the world's oceans and seas. No project is too big or too small.
---
At a glance
Customised solutions for those applications when a standard product isn't quite right, or doesn't even exist yet
We have everything under one roof; products, technologies and engineering capabilities
We can combine several products into much larger turnkey systems
Our expert team of engineers and qualified project managers mean your project is in very safe hands
We are ISO9001:2015 for Quality Management certified
Our services add value to your operations
Find out more about how we can help you
Our capabilities for your markets
For energy
From monitoring pipeline movement, through measuring parameters in oil wells, to detecting when a wind turbine mooring cable has broken, we provide custom engineered solutions that span the offshore energy.
For defence
We create custom solutions that help protect ports and harbours from underwater threats, that can scan the seabed for mines, and enable autonomous surface and subsea robots to carry out your mission.
For science
Bespoke configurations of our trusted solutions can help you understand critical oceanographic processes, from measuring seabed displacement at subduction zones, to detecting life-threatening tsunamis and delivering science data on demand.
Overview
Not every offshore application or problem can be resolved with the same solution. We know that sometimes to solve a subsea challenge, standard off-the-shelf products are not quite right – you need a customised approach.
Maybe you also need to integrate multiple devices together or work with third-party suppliers to create a life-of-project system and accompanying support services?
Over our 50-year history, Sonardyne has always provided custom engineering services to address our client's specific needs. Building on this knowhow, for the last decade, we've continually invested in developing and transforming our capabilities and working methods in system engineering, product design, custom solution delivery and service provision. We're now a fully agile organisation and all parts of the company have been touched by this process, from how we capture users' specific requirements to through-life project management, materials control and custom manufacturing.
From the simple to the complex
Our team of highly experienced project managers and expert engineers love to find new ways to solve problems and deliver custom engineered systems and solutions that meet your precise requirements. They have tried and tested technologies at their fingertips, with access to a proven portfolio of hardware and software products.
We actively work on projects of all sizes, from the very simple such as a modifying a positioning and communications transponder to suit a specific underwater vehicle, to the complex which could entail a complete monitoring and wireless seabed to shore data harvesting system for tectonic plate motion studies.
Whatever your application, big or small, our custom engineering specialists are available to advise you on the technologies that best fit your goals and then build, deliver, install and support a solution that is safe, low-risk, cost-effective and compliant.
Why this service
Our experience
50 years of providing effective solutions to customer challenges

A dedicated team with hundreds of years of combined experience in project delivery

We work in all environments from the shallowest seas to the deepest oceans

Generate turn-key engineered systems from initial concept to deployment, operation and insight generation

Our engineers support your offshore projects globally; in-person or remotely located
Our specialisms
Through water wireless acoustic and optical communications

Interfacing to a wide variety of sensors including chemical, environmental, motion, current,

Customising products to suit individual needs

Bringing many components together into a larger system

Remote monitoring, control and data access, often using autonomy
Why trust us?
We collaborate with you to obtain the best result

Demonstrated passion for engineering excellence

Backed by significant global service and support network

We are ISO9001:2015 for Quality Management certified

We don't just supply equipment, we help you to generate actionable insights
Example track record
Tectonic plate motion monitoring in the Pacific Ring of Fire

Subsidence monitoring at offshore oil and gas reservoirs

Tsunami detection and remote alarm monitoring to protect the Indian coastline

Custom transponders for marine seismic nodes

Marine robotics systems for USVs and AUVs

Towfish based sonar imaging systems for mine hunting

Catenary monitoring system for offshore transport of 7 km long pipeline bundles
Our services add value to your operations