Syrinx DVL
Doppler Velocity Log with integrated ADCP
Engineered for: AUV, ROV, Vessel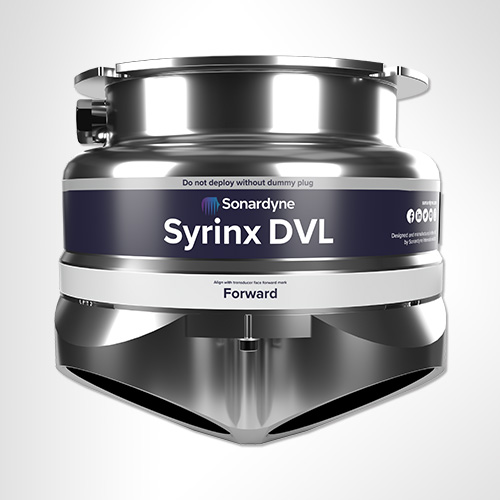 Use Syrinx as a standalone DVL or ADCP, as part of an integrated navigation system, or perform all these functions at once. Built in the UK for easy export, it maintains bottom lock at up to 230 m, support dual outputs and is 4,000 m rated as standard.


---
At a glance
Combines high altitude and high resolution with 400 kHz and 600 kHz versions;
Adaptive bottom lock provides reliable vehicle navigation over different seabed types
ADCP mode with dedicated software; Echo Observer for Syrinx
4,000 m, 6,000 m and OEM versions
Available as an integrated DVL-INS solution; SPRINT-Nav
Syrinx - fly higher, navigate further
Want to find out more?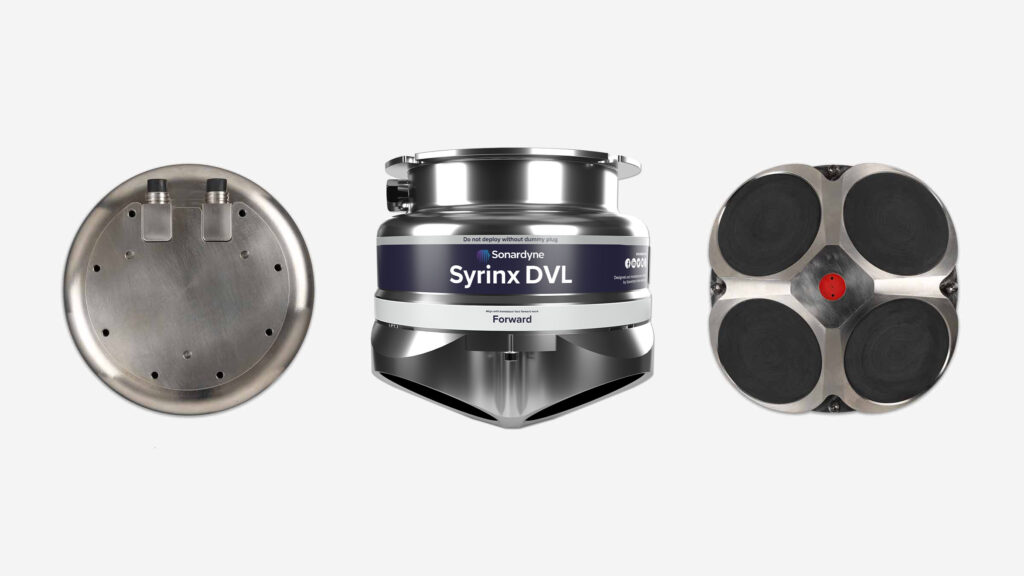 Syrinx can output data of different formats simultaneously; this reduces the requirement of more than one DVL on the ROV, saving on weight and costs.
Syrinx uses an industry standard mounting hole arrangement to make upgrading to Syrinx straightforward
Syrinx is available in two frequencies: 600 kHz or 400 kHz for higher altitude tracking
Overview
Syrinx is a class leading Doppler velocity log (DVL) for surface and subsea vehicles, available in two frequencies; 600 kHz or 400 kHz for higher altitude tracking up to 230 m.
Syrinx variants combine high resolution and high altitude tracking, in a single, easy to install navigation instruments. The adaptive bottom lock technology inside Syrinx provides consistency and reliability over challenging and changing topography and works at an altitude higher than 85% of the world's subsea infrastructure. This reduces the amount of time a vehicle has to dive on free inertial.
If water profiling is a mission requirement, Syrinx's highly capable ADCP mode enables navigation and profiling without the need for separate instrument, saving you cost and payload.
When tightly integrated with Sonardyne's INS, SPRINT, unmatched DVL-aided navigation can be achieved. This allows for enhanced performance through optimisation of beam-level data passed between Syrinx and SPRINT to aid velocity prediction and outlier rejection, with positioning able to continue even if one or two DVL beams are unavailable.
For the ultimate integration Syrinx and SPRINT are also available as a single combined unit with integral pressure sensor. SPRINT-Nav is one of the smallest inertial DVL instruments available on the market suitable for almost any ROV and survey task.
Syrinx runs an embedded System Manager using a web browser, eliminating the need to install dedicated PC software. This allows configuration and testing of Syrinx prior to deployment, control of Syrinx during subsea operations, and visualisation of the navigation data.
The hardware and vehicle interfacing has been designed to be easy to install, set up and use and is compatible with DVL/ADCP mounting arrangements from other vendors. With similar dimensions to existing DVLs and ADCPs, there should be no need for modifications to subsea vehicles in order to upgrade to Syrinx. PD0, PD3, PD4, PD6, PD13 telegrams are supported for integration to third party navigation systems.
A 4,000 m rated titanium housing is supplied as standard to meet the requirements of Work-class ROVs. 6,000 m and OEM (no housing) versions are also available.
Syrinx's transducers have been designed, built and tested in-house to provide maximum performance, and can be individually replaced, reducing ownership costs and repair time. The entire array is water blocked meaning that should damage occur to the transducer array, the unit's electronics are isolated from water ingress.
Syrinx is designed and manufactured entirely in the UK. This means it can be exported to countries within the European Union and selected others (including the USA) without the need for a specific export licence.
Echo Observer for Syrinx (EOS)
EOS is a software application for Syrinx and SPRINT-Nav systems which allows Acoustic Doppler Current Profiling (ADCP) data to be viewed, quality controlled, logged, and then exported. This standalone application is compatible with Windows 7 or 10 and requires only modest processing resources.
EOS provides an intuitive interface to Syrinx, allowing the device to be configured over Serial port or Ethernet with a quick setup procedure for ADCP measurements. Users can immediately view the profile data and make any necessary adjustments before committing to a long-term deployment.
Once initial data inspection has been completed, EOS provides the link to the onward data processing chain: Industry-standard PD0 data can be exported as comma-separated variable (CSV) files, ideal for importing into Excel or Matlab for analysis and post-processing. The exported PD0 data can be tailored to match your analysis needs, such as specific portions of the water column, or a favoured frame of reference.
Specific sections of the PD0 data can be omitted in CSV export if they are not relevant to your analysis, reducing on file size and therefore processing time. Echo Observer for Syrinx is included with the ADCP functionality upgrade for both Syrinx and SPRINT-Nav.

Why invest
Acoustic
400 or 600 kHz frequency

4-beam array @ 30 degree angles

Up to 25 kHz DVL ping rate

Up to 4 Hz ADCP ping rate (optional mode)
Performance
0.4 /230 m min/max altitude

0.4–120 m ADCP profile range

>10 m/s velocity range (DVL)

0.01 cm/s velocity resolution (DVL)

Up to ±11.2 m/s ±0.4% of measured value (ADCP along-beam)
Design
Max 204 mm x 225 mm, 8.2 kg weight in water (6,000 m version)

Titanium housing as standard; OEM option

Replaceable transducers; water block array

Onboard web UI for setup and configuration. Dedicate software for ADCP features
Ownership
What's in the box: Syrinx DVL/ADCP and QuickStart guide, EOS software (optional)

Warranty: 1 year return to Sonardyne service centre

ITAR Controlled: No

UK Export License: Not required
Resources
| Feature | | 8275-4531/6531 600 kHz | 8275-4561 400 kHz |
| --- | --- | --- | --- |
| Operating Frequency | | 600 kHz | 400 kHz |
| Bottom Velocity – Single Ping Precision (Standard Deviation @ 1 m/s) | | ±0.22 cm/s | ±0.28 cm/s |
| Long Term Accuracy | | ±0.12% ±0.1 cm/s | ±0.22% ±0.1 cm/s |
| Minimum/Maximum Altitude | | 0.4/175 m | 0.4/230 m |
| Velocity Range | | >10 m/s | >10 m/s |
| Velocity Resolution | | 0.01 cm/s | 0.01 cm/s |
| Data Output Rate | | 25 Hz maximum | 25 Hz maximum |
| Water Reference Velocity | Accuracy | ±0.2% ±0.1 cm/s | ±0.2% ±0.1 cm/s |
| | Layer Size | Selectable | Selectable |
| | Minimum/Maximum Range | 0.4/80 m | 0.4/120 m |
| ADCP | Profiling Range | 0.4–80 m | 0.4–120 m |
| | Velocity Range & RMS (Along Beam) | Up to ±11.2 m/s ±0.4% of measured value | Up to ±11.2 m/s ±0.4% of measured value |
| | Maximum Number of Cells | 255 | 255 |
| | Maximum Ping Rate ADCP | 4 Hz | 4 Hz |
| | Maximum Ping Rate DVL + ADCP | 2.5 Hz | 2.5 Hz |
| Beam Width | | ±1.0° | ±1.0° |
| Beam Angle | | 30° | 30° |
| Transmit Source Level (dB re 1 µPa @ 1 m) | | 217 dB (maximum) | 217 dB (maximum) |
| Sensors | Temperature | -5 to 40°C | -5 to 40°C |
| | Pitch/Roll (Optional) | ±0.5° | ±0.5° |
| | Pressure (Optional) | ±0.1% full scale | ±0.1% full scale |
| Configuration (Array) | | 4-beam array @ 30° beam angles | 4-beam array @ 30° beam angles |
| Communication and Logging | Communications | Dual RS232, multi-port Ethernet (TCP & UDP) | Dual RS232, multi-port Ethernet (TCP & UDP) |
| | Trigger Inputs | 3–12 V rising or falling edge configurable | 3–12 V rising or falling edge configurable |
| | Internal Logging | 32 GB internal memory | 32 GB internal memory |
| Output Telegrams | | Sonardyne proprietary, PD0, PD3, PD4, PD6, PD13, SDDBT Simultaneous telegram output | Sonardyne proprietary, PD0, PD3, PD4, PD6, PD13, SDDBT Simultaneous telegram output |
| Voltage (dc Input) | | 24 V (±10%) | 24 V (±10%) |
| Average Power (Typical) | | 10 W nominal | 10 W nominal |
| Depth Rating | | 4,000 or 6,000 m array | 4,000 or 6,000 m array |
| Operating Temperature | | -5 to 55°C | -5 to 55°C |
| Storage Temperature | | -20 to 55°C | -20 to 55°C |
| Mechanical Construction | | Titanium | Titanium |
| Connector Type | | Subconn | Subconn |
| Dimensions (Height x Diameter) | 4000 m | 189 x 225 mm | 189 x 225 mm |
| | 6000 m | 204 x 225 mm | n/a |
| Weight in Air/Water | 4000 m | 12.0/9.1 kg | 11.3/8.5 kg |
| | 6000 m | 14.4/10.9 kg | n/a |
Syrinx - fly higher, navigate further