RT 6-1000
Acoustic release transponder
Engineered for: Seabed, Structure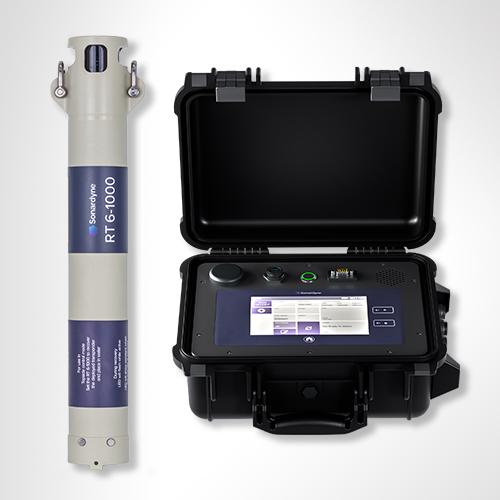 Deploy it. Track it. Locate it. Recover it. RT 6-1000 does it all. Our new entry-level acoustic release transponder has features that are far from entry-level. Such as 1,000 metre depth rating, battery life of over a year and release mechanism that won't let you down.
---
At a glance
The reliable choice to deploy, leave and recover seafloor equipment and sensors
1,000 metre depth rating; twice that of similar low-cost acoustic release transponders
Tested, loaded, commanded and released using Deck Topside
Also works with any Ranger 2 USBL to track it and activate it
>13-month battery life means less time servicing it and more time using it
150 kg Working Load Limit to support your sensors and instruments
Recovering seafloor equipment? Fit the optional rope canister and it will do all the heavy lifting for you
Deploy, moor and recover equipment
Want to know more?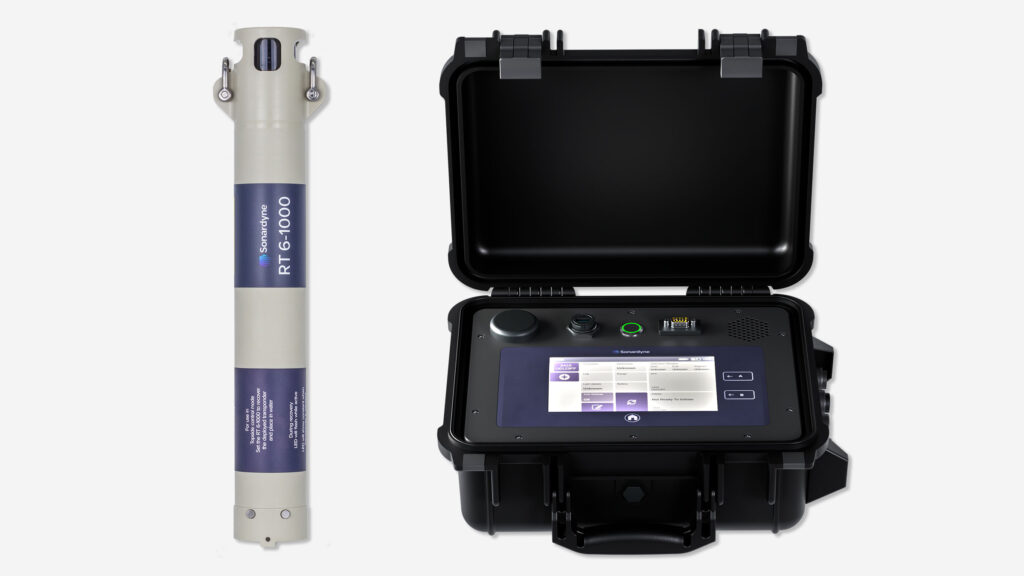 RT 6s work in the MF band so compatible with our family of Ranger 2 USBLs
Dock Topside is IP67 rated so you use it from any type of boat and for up to 8 hours
RT 6-1000s use a highly reliable, screw-off release mechanism proven over many years
Daylight-readable touchscreen with additional physical buttons for release and initiation sequences
Benefits of RT 6-1000 for your operations
Topside
There's a range of ways to command your transponder; Deck Topside, Android app, or any Ranger 2 USBL; Micro, Mini and Standard.
Versatile
RT 6-1000 is more than just an acoustic release. It can be tracked with a Sonardyne USBL system making relocating and recovering it fast and simple.
Deep and heavy
RT 6-1000s are depth rated to 1,000 m and have a 150 kg WLL - deeper and heavier than the Sonardyne LRTs they supersede.
Overview
If you're a scientist, surveyor or in the military, you'll know how essential an acoustic release transponder is when deploying and recovering seabed equipment and ocean sensors.
Reliability, endurance, payload and ease-of-use are all must-have features; everything you'll find that comes as standard in the RT 6-1000.
For a start, it works with our family of Ranger 2 USBL tracking systems. So you can now deploy, track, locate and retrieve your moorings with topside equipment you'll find installed on hundreds of survey vessels around the world.
If you don't have access to Ranger 2, no problem. The RT 6-1000's NFC capability means that it can be set up and controlled via our Android app or using an NFC reader connected to our Deck Topside. Then Android app can be used to configure a second RT 6-1000 which stays with you on the surface. For small boat operations, what could be simpler?
Alternatively, you can use our rugged and lightweight Shallow Water Deck Kit, comprising a Deck Topside with cabled Nano dunker.
And talking of moorings, the RT 6-1000 work down at 1,000 metres, twice that of many other release transponders available on the market. As well as going deeper, RT 6-1000 also operates for longer – around 13 months – perfect for year-long surveys so you can deploy it and forget about it. When it's time to recover it to the surface – and the valuable equipment it's attached to – its screw-off release mechanism won't let you down.
An optional attachment for the RT 6-1000 is a rope canister that allows items left on the seabed, for example; tools, cables and salvage, to be quickly and easily hauled up. It works by mooring one end of the rope to the item on the seabed and the other end to the RT 6-1000 via the attached canister of rope. As the transponder ascends to the surface, high strength rope is deployed from the canister. This line can then be used to pull up the item directly or retrieve heavier tag lines.
Why invest
Acoustic
Medium Frequency (19-34 kHz) band.

Omni-directional transducer. Track it all the way to the surface

Sonardyne Wideband 2 signal architecture supporting over 300 unique addresses. Perfect for very large surveys involving multiple moorings close to each other
Performance
1,000 m depth rated

>13 months battery life; alkaline battery

150 kg Working Load Limit

Compatible with Ranger 2 USBL systems

Secure and robust two-way acoustic Communications. Only release what you want to release
Design
450 mm x 65 mm (max dia. 100 mm), 500 grams weight in water

Plastic, super duplex stainless steel and anodised aluminium construction. ROHS compliant

Field proven screw-off release mechanism

NFC for setup using Android app

Optional rope canister for lifting heavy items
Ownership
What's in the box: RT 6-1000, shackles, release nuts (x10), manual on USB

Warranty: one year return to Sonardyne service centre

ITAR Controlled: No

UK Export License: Not required
Resources
| Feature | | Type 8327 |
| --- | --- | --- |
| Depth Rating | | 1,000 m |
| Operating Frequency | | MF 20–34 kHz |
| Transducer Beam Shape | | Hemispherical |
| Transmit Source Level (dB re 1 µPa @ 1 m) | | 187 dB |
| Tone Equivalent Energy (TEE) | | 193 dB |
| Receive Threshold (dB re 1 µPa) | | <100 dB |
| Working Load Limit (4:1) | | 150 kg |
| Proof Load | | 300 kg |
| Breaking Load | | 600 kg |
| Maximum Safe Release Load | | 150 kg |
| Battery Life (Alkaline) | | >13 months |
| Inclinometer Accuracy | | ±5° |
| Mechanical Construction | | Anodised aluminium alloy, plastic and super duplex stainless steel |
| Operating Temperature | | -5 to 40ºC |
| Storage Temperature | | -20 to 55ºC |
| Maximum Dimensions (Length x Diameter) | | 450 x 65 mm |
| Weight in Air/Water | | 2.0/0.5 kg |
| Standards | | CE Marked to EN-60945, EN-61010 |
| Options | Shallow Water Deck Kit (Deck Topside) | 602-0175 |
| | Rope Canister (longer lengths available) | 70 m (250 kg WLL), 120 m (250 kg WLL), 160 m (125 kg WLL) |
| | Release Nut | Part No. 830-0048 (note: 10 nuts supplied with each new RT 6-1000) |
Deploy, moor and recover equipment