Fetch
Subsea sensor logging node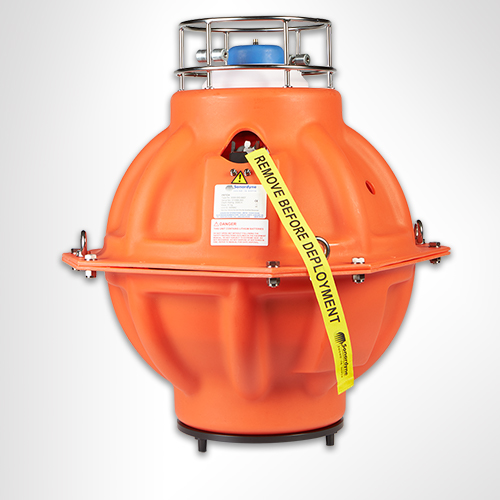 Fetch supports demanding long-term seabed monitoring projects. You can add the sensors of your choice, they can be deployed for up to 10 years and data can even be harvested using uncrewed systems. You need the versatility of Fetch on your next monitoring project.
---
At a glance
Popular for seabed monitoring
Long life – up to 10 years battery life
Easy to deploy, easy to recover
Can be configured with a wide range of sensors
Harvesting your data using uncrewed systems
Go and fetch your subsea data
Want to know more?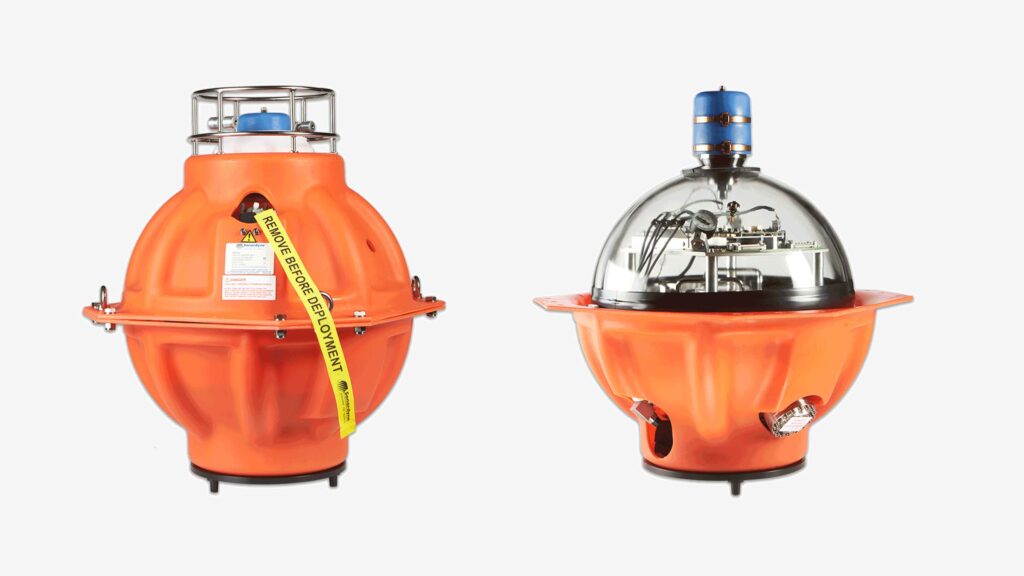 Use industry standard glass pressure sphere with a global track record
Integrated acoustic release mechanism for easy recovery
Supports data transfer rates of up to 9,000 bps
High capacity battery packs enable 10 year deployments without servicing
Why Fetch is perfect for your operations
For energy
Long term deployment and the ability to harvest data remotely reduce costs of operation and emissions during operations
For defence
Fetch is the underwater gateway to you your sensors. Integrate any sensor, deploy it and remotely harvest your data
For science
It supports the most demanding long-term seabed geodesy projects and you can use our Ranger 2 system to harvest the data
Overview
Fetch is a long-life subsea sensor logging node that enables data to be wirelessly extracted via its integrated high speed acoustic modem with a battery life option of up to 10 years.
It can be free fall deployed to the seabed and will land in an upright position. This reduces deployment time and cost.
Fetch can be configured with an array of different sensors dependent on the monitoring application. Standard sensors include high accuracy pressure, temperature and sound velocity as well as inclination. Other sensors can be integrated internally or externally as required.
The ultra-low power subsea sensor logging node powers up sensors only when required and logs and timestamps the data to an SD memory card.
The sampling regime can be configured serially before deployment and via the acoustic modem which is also used to recover the data to the surface. The 9,000 bits per second modem transfer rate enables data to be extracted in minimal vessel time so reducing operational costs.
High capacity primary lithium battery packs enable deployments of many years, dependent on sensor selection and sampling rate.
Fetch is compatible with our Ultra-Short BaseLine (USBL) positioning systems for positioning during deployment/recovery. When the mission is complete, Fetch can be acoustically commanded to release from its stand and return to the surface under its own buoyancy ready for collection.
Why invest
Acoustic
Integrated modem with data rates ranging from 100 to 9000 bps

> 500 Unique addresses, ideal for large array deployments

Sonardyne Wideband®1,2, 2+and HPR 400 USBL mode compatible
Design
Integrated modem with data rates ranging from 100 to 9000 bps

Easy to set up with configuration and sampling period programmable via telemetry link

Glass sphere, titanium parts (except duplex s/steel guard), polypropylene shell

Customisable sensor payloads
Performance
3,000 or 6,000 m depth rated

Up to 10 year deployment life

Vessel, USV or AUV data harvesting options

Anti-trawl fame option available
Set Up
Warranty: 1-year return to Sonardyne service centre

ITAR Controlled: No

UK Export License: Not required
Resources
| Feature | | Type 8306-3873 |
| --- | --- | --- |
| Depth Rating | | 3,000 or 6,000 m |
| Operating Frequency | | MF (20–34 kHz) |
| Transducer Beam Shape | | Directional |
| Transmit Source Level (dB re 1 µPa @ 1 m) | | 190-202 dB (4 levels) |
| Receive Sensitivity (dB re 1 µPa) | | 90-120 dB (7 levels) |
| Battery Life (Capacity) | | 5 years typical (10 years option) (dependent on sensors and sampling interval (180 Ah)) |
| Mechanical Construction | | Glass sphere, galvanised stand and duplex stainless steel guards and connectors |
| Operating Temperature | | -5 to +35°C |
| Storage Temperature | With Batteries | 0 to +30°C |
| | Without Batteries | -5 to +35°C |
| Weight in Air/Water1 | Fetch | 40/10 kg (upthrust buoyancy) |
| | Stand | 60/52 kg |
| Sensors and Options | | |
| Temperature (±0.1°C) | | Optional |
| Tilt Switch (±30–45°) | | Standard |
| Paroscientific DigiQuartz Pressure Sensor (±0.01%) 1,350 m, 2,000 m, 4,130 m, 6,800 m | | Optional |
| Strain Gauge Pressure Sensor (±0.1%) | | Standard |
| High Precision Strain Gauge (±0.01%) Keller or Presens | | Optional |
| Sound Velocity Sensor ±0.02 m/s Accuracy Under Calibration Conditions | | Optional |
| High Accuracy Inclinometer Range: ±90°, Accuracy: ±0.05° over 0 - ±15°; ±0.2° over 0 - ±45° | | Optional |
| Release Mechanism (Screw-off) | | Standard |
| Connector Type | | Impulse MCIL-8-MP |
| | | |
Manuals and quick start guides
Software and firmware
Go and fetch your subsea data