Equinox
Towed multi-aperture side scan sonar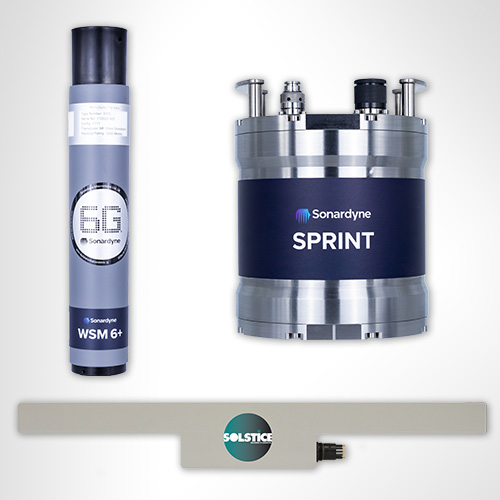 Equinox is an integrated, towed multi aperture sonar that delivers improved area coverage rates for mine countermeasures (MCM) and hydrographic operations. It offers unrivalled stability, position accuracy and results in real-time. At its core, is our Solstice multiple aperture sonar delivering imagery of the highest quality possible from side-scan sonar enabling detection and classification of seafloor objects across the whole swath.
---
At a glance
Mission ready; designed to support Search, Classify and Map (SCM) and Hydrographic operations
Survey more ground in a single pass; effective area coverage rate (ACR) of up to 1.6 km2/hr
Along track resolution of 0.15°; best in class delivering maximum detection rates
Co-located side-scan image and bathy improves your situational awareness
Real-time motion compensation and positioning accuracies better than 1 m DRMS
Automatically follows terrain and avoids obstacles
Suitable for
For high tempo MCM missions
Want to know more?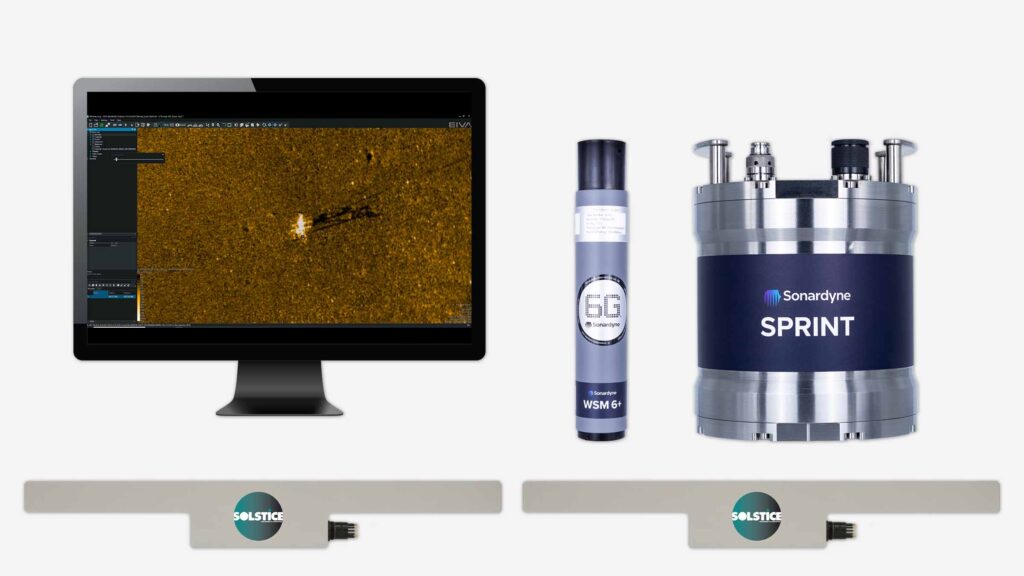 EIVA's NaviSuite Kuda software for mission control
Solstice side scan sonar for incredible imagery
WSM 6+ USBL beacon for fast position updates
SPRINT acoustically-aided inertial navigation
Why Equinox is perfect for your operations
Energy
Low logistics and high coverage rates make Equinox the perfect choice for UXO and site surveys pre-installation of renewable energy sites
Defence
High-quality data provides you with confidence during your MCM surveys, ensuring actionable insights are at your fingertips
Science
Never miss any details again with crystal clear data swaths that grant you unrivalled imagery for your research missions
Overview
Equinox combines our state-of-the-art SPRINT INS, Mini-Ranger 2 USBL and Solstice Multi Aperture Sonar (MAS) mounted on EIVA's (a Sonardyne Group company) renowned ScanFish 3D, a steerable remotely operated towed vehicle (ROTV). EIVA's NaviSuite Kuda user interface is used to plan, autopilot and display the data in real-time.
Producing stunning accurate pictures, it's ideally suited for vessels of opportunities or unmanned surface vessels delivering hydrographic, archaeological, search, salvage, unexploded ordnance, and mine countermeasure missions.
The ScanFish 3D is a trusted ROTV and thanks to its inherent stability the ideal platform to operate Solstice from. At a total weight of 220 kg in air, Equinox can be easily mobilised.
Unlike towed Synthetic Aperture Sonar (SAS) systems, Equinox offers an affordable lower-logistics alternative still capable of providing high area coverage rates. By combining leading navigation and positioning using our Mini-Ranger 2 USBL and SPRINT INS, imaging data is geo-referenced with an accuracy that's unrivalled for these types of applications at this price.
Planning a mission is easy. Using NaviSuite Kuda software you can define your sailing route and run-lines by simply selecting the area you would like to cover. During the mission, NaviSuite Kuda continuously updates the vessel and ScanFish 3D position in real-time.
Equinox also provides real-time geo-rectified waterfall, mosaics and DTM maps and the user interface tools that enable an operator to mark and process objects, including automatic target recognition using AI.
That's not all, ScanFish 3D can carry heavier payloads and there is room in the fibre cable to include additional payload sensors such as gap fillers. Equinox users can count on improved Probability of Detection and decreased Probability of False Alarms improving the efficiency of your mine counter-measures, archaeological, search and salvage missions.
Why invest
General
All-in-one, rapidly mobilised solution for MCM, SCM and hydrography

High stability platform with automatic terrain following

NaviSuite Kuda software reduces planning times and improves processing times

Everything supplied, including winch and 1Gbps cable
Performance
Depth rated to 300 m

Across track resolution 37.5 mm

Along-track resolution 0.15°

Geo-rectified waterfall display

Image resolution 30 mm x 30 mm

Co-located 200m swath side-scan and bathy

Real-time CAD/CAC option
Design (SCANFISH)
1210 mm x 1858 mm x 1049 mm, 220 kg in air (73 kg in water)

Survey speeds 3 to 6 knots

Pitch and roll stabilised

Automatic altitude following
Ownership
What's in the box: ScanFish 3D, NaviSuite Kuda software, cable and winch, Solstice MAS, Mini-Ranger 2 USBL, WSM 6+, SPRINT 500 INS, DVL

Warranty: 1 year return to Sonardyne/EIVA service centre

ITAR Controlled: No

UK Export License: TBD
Resources
| Feature | Specification |
| --- | --- |
| Operational Depth Rating | 300 metres |
| Swath | 200 m |
| Bathymetry | Yes |
| Output Formats | .SWF8 and .XTF |
| Position Accuracy | Better than 1 m (DRMS) |
| Pitch & Roll Stabilisation | Auto |
| Altitude Following | Auto (Fixed 7.5 m from seafloor) |
| Survey Speeds | 3-6 knots |
| Typical Tether Out | Constant at 3-5 x depth (depending on the environment) |
| Fibre Telemetry | 1 Gb/s |
| Payload | Other sensors can also be mounted |
| Software | NaviSuite Kuda (autopilot, runlines, real-time display and mosaics) |
| CAD/CAC | NaviSuite Deep Learning |
| Physical | Specification |
| Dimensions (Length x Width x Height) | 1210 x 1858 x 1049 mm |
| Weight in Air/Water* | 220/73 kg |
You may also be interested in
For high tempo MCM missions