Products
Instruments & Software
WSM 6+
USBL transponder and responder
Engineered for: AUV, ROV, Towfish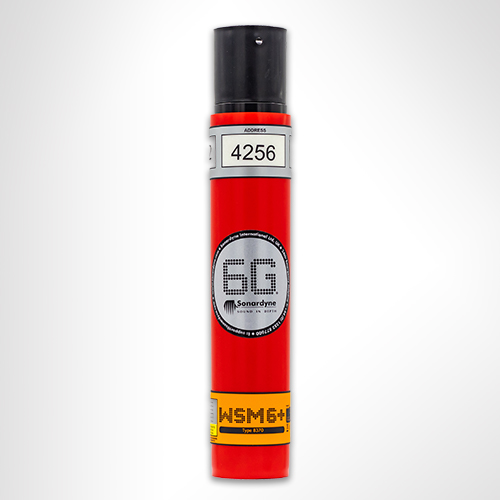 Small, rugged, versatile. WSM 6+ is a popular choice of transponder for tracking a mobile underwater target such as a towfish, crane wire, ROV and manned submersible. 2-way wideband signals ensure reliable acoustic performance in all conditions. Available in two depth ratings.
---
At a glance
Rechargeable USBL transponder designed for tracking ROVs, towfish and equipment
Choice of 1,000 m (omni-directional) and 4,000 m (directional) depth ratings
Compatible with our family of Ranger 2 USBL systems; Micro, Mini and Standard
Transponder or responder operating modes
Depth sensor for improved USBL positioning performance
External on/off switch for battery saving
Small in size, big in performance
Want to find out more?
Overview
WSM 6+ is one our most popular USBL transponders, selected by customers for its small size, value and dependable performance in all environments, shallow or deep.
It's the perfect choice for fitting to observation and work-class ROVs, towfish, submersibles and equipment being deployed onto the seabed for short durations.
WSM 6+ is compatible with all of our Ranger 2 USBL systems – we even include one with every Ranger 2 Standard – as standard.
The compact and rugged design is based on the field proven mechanics from previous generation designs and is available with omni-directional or directional transducers. The omni version is depth rated to 1,000 m; the directional is depth rated to 4,000 m.
Both versions support transponder and responder operating mode if an external trigger from your platform is available. Responder mode provides significantly faster position updates than transponder mode.
WSM 6+ supports Wideband 2 acoustic signals and legacy Wideband 1 and HPR 400. The configuration is programmable using supplied software and a serial link or it can be configured acoustically via our back deck handheld test unit, iWand. This allows the WSM 6+ to be configured for use with all of the popular MF frequency acoustic navigation systems.
Both types of WSM 6+ are also fitted with a depth sensor fitted as standard to aid USBL positioning accuracy and an external on/off switch to save the battery when not in use.
WSM 6+ variants are available with acoustically controlled output lines suitable for external motor drive, burnwire or contact closure releases.
Resources
| Feature | Type 8370-1111 | Type 8370-4112 |
| --- | --- | --- |
| Depth Rating | 1,000 Metres | 4,000 Metres |
| Operational Frequency | MF (19–34 kHz) | MF (19–34 kHz) |
| Transceiver Beamshape | Omni-Directional | Directional |
| Transmit Source Level (External Power) (re. 1 µPa @ 1 m) (Battery) | 187 dB 184 dB | 196 dB 193 dB |
| Tone Equivalent Energy (TEE*) (External Power) | 193 dB | 202 dB |
| Receive Sensitivity (dB re 1 μPa) | <85 dB | <80 dB |
| Power Supply | Rechargeable NiMH battery or 
ext. 24 V via ROV umbilical | Rechargeable NiMH battery or ext. 24 V via ROV umbilical |
| Operating Channels | All Sonardyne Wideband 
HPR 400 Channels | All Sonardyne Wideband HPR 400 Channels |
| Depth Sensor | ±0.5% Full Scale (100 Bar) | ±0.5% Full Scale (400 Bar) |
| Operating life ( 1 s update rate, max. power, WB2 ) | >6 days | >3 days |
| Maximum Update Rate | >2 Hz | >2 Hz |
| Quiescent Life (Battery) | >35 Days | >35 Days |
| Connector 5-Way (Standard) 8-Way (Burnwire/Motor Release ) | Subconn MCBH5M Subconn MCBH8F | Subconn MCBH5M Subconn MCBH8F |
| Operating Temperature | -5 to 40ºC | -5 to 40ºC |
| Storage Temperature | -20 to 55ºC | -20 to 55ºC |
| Mechanical Construction | Aluminium Alloy, Anodised | Aluminium Alloy, Anodised |
| Dimensions (Length x Diameter) | 420 x 79 mm | 429 x 96.5 mm |
| Weight in Air/Water | 3.2 kg/1.3 Kg | 5.5 Kg/3.2Kg |
| Battery Charger | 8370-011-01 | 8370-011-01 |
Small in size, big in performance