Products
Instruments & Software
Nano
USBL transponder (Second generation)
Engineered for: AUV, Diver, ROV, Towfish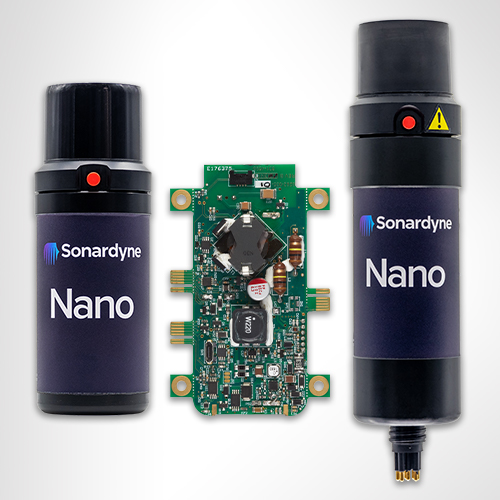 Think our transponders are too big to fit your micro ROV, AUV or diver? You might need to think again. Meet Nano, our smallest ever family of 6G-enabled positioning transponder.
---
At a glance
2nd generation design; extended battery life and 500 m depth rating
NFC, connector and OEM housing options
NFC version is just 160 mm long by 55 mm in diameter; USBL transponders don't get much smaller than this.
Easy to fit to divers, ROVs, equipment and AUVs
Small in size, big in performance
Want to know more?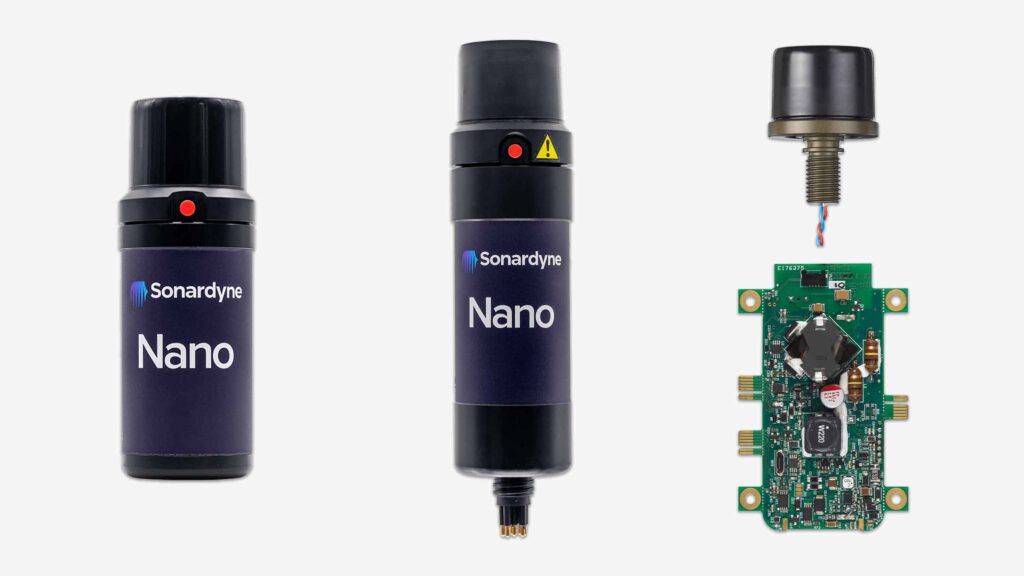 Connector version for when external power is required
All Nanos use the MF band to communicate
OEM version for custom integration applications
Benefit of Nano for your applications
For energy
Nano is perfect for use on coastal and inshore survey and inspection operations which frequently require targets to be tracked at high elevation.
For defence
Its small size means it is ideal for tracking divers during training missions whilst the OEM version is perfect for use onboard specialist platforms.
For science
Nano is a low-cost way to keep track of your valuable scientific equipment inventory; AUVs, gliders, ROVs and instruments. Fit it and start tracking it.
Overview
Nano is our smallest ever USBL transponder, designed to let you know where your divers, man-portable AUVs, towed platforms, underwater drones and ROVs are throughout their mission.
Nano operates in the Medium Frequency (MF) band, so is compatible with our family of Ranger 2 USBL topside systems; Micro, Mini and Standard.
Measuring in around 160 mm In length, 55mm in diameter and weighing in at under 200 grams in water – depending on the exact version you're using – Nano is small enough to fit on the smallest of vehicles and light enough for a diver to barely know they're carrying one.
Nano's built using the same signal technology platform you'll find in our award-winning 6G product line – Wideband 2. So you can expect reliable acoustic communications in all operating environments, accurate position fixes and a continuous stream of location updates.
Nano features a 90-day quiescent battery life, ideal for long-term deployments and recovering lost assets. Nano's battery lasts up to 12 hours, even when being actively tracked with one second position update rate.
The NFC Nano features a unique connector-less design that is recharged and programmed via the Nano Docking Station. The NFC technology allows full configuration of the Nano whilst maintaining its rugged "strap on and go" form factor.
The cabled Nano features an industry standard Subconn connector allowing the Nano to be permanently powered and can also be used in Responder mode.
When purchasing a Micro-Ranger 2 USBL system, we include two Nanos as standard. You're available to choose between the NFC or connector version at no additional cost.
For vehicle programs and integrators, the Nano OEM when paired with an OEM transducer provides all the functionality of the housed transponders, in a form factor that can be mounted in any system.
Nano has an inbuilt depth sensor and is a 500 m depth rated unit.
Why invest
Acoustic
Sonardyne Wideband 2 keeps you connected with your subsea target wirelessly and effortlessly.

Support over 300 addresses. Perfect for busy crowded environments.

19-34kHz frequency band. Compatible with Ranger 2 MF USBL systems.

Omni-directional beampattern. Suitable for high elevation tracking.
Performance
500m depth rated

995 m slant range

12 hours battery life (at 1 second update rates)

90-day listening life
Design
160 mm x 55 mm, 149 grams weight in water (NFC version)

192 mm x 55 mm, 162 grams weight in water (connector version)

Credit card sized OEM version available

Polymer housing construction. Lightweight and robust. ROHS compliant
Ownership
What's in the box: Nano and cable tail

Warranty: 1 year return to Sonardyne service centre

ITAR Controlled: No

UK Export License: Not required
Resources
| Feature | | Type 8262 Nano NFC | Type 8262 Cabled | Type 8262 Nano OEM |
| --- | --- | --- | --- | --- |
| Operating Range | | 995 m | 995 m | 995 m |
| Depth Rating | | 500 m | 500 m | n/a |
| Transducer Depth Rating | | n/a | n/a | 500 m |
| Operating Frequency | | MF (20–34 kHz) | MF (20–34 kHz) | MF (20–34 kHz) |
| Transducer Beam Shape | | Omni-directional ±130º | Omni-directional ±130º | Omni-directional ±130º |
| Source Level (re 1 µPa @ 1 m) | | 184/175 dB | 184/175 dB | 184/175 dB |
| Range Precision | | Better than 15 mm | Better than 15 mm | Better than 15 mm |
| Communication Interface | | USB in dock | RS232, 3V3 TTL | RS232, 3V3 TTL |
| Depth Sensor | | 50 bar abs +/-0.7% FS | 50 bar abs +/-0.7% FS | 50 bar abs +/-0.7% FS |
| Power Supply | | USB dock | 12–28 V dc | 12–28 V dc |
| Power Consumption | Wideband Listening (Battery) | n/a | 5 mW | 5 mW |
| | Wideband Listening (Ext. Power) | n/a | 20 mW (including trickle charge) | 20 mW (including trickle charge) |
| | Battery Charging | n/a | 60 mW to 2.5 W (depending on battery charge state) | 60 mW to 2.5 W (depending on battery charge state) |
| | Peak (During Transmission) | n/a | <30 W SMS, <20 W Modem | <30 W SMS, <20 W Modem |
| Battery Life | Quiescent Listening | >90 days | >90 days | >90 days |
| | 1 Sec Ping Rate | >12 hours | >12 hours | >12 hours |
| Battery Charge Time | | 12 Hours | 12 Hours | 12 Hours |
| External Connections | | n/a | Subconn MCIL8M | Molex Microfit |
| Mechanical Construction | | Polymer | Polymer | n/a |
| Transducer Wire Length | | n/a | n/a | 150 mm (6") |
| Operating Temperature | | -10 to 45°C | -10 to 45°C | -10 to 45°C |
| Storage Temperature | | -20 to 55°C | -20 to 55°C | -20 to 55°C |
| Dimensions | Length x Diameter | 160 x 55 mm | 192 x 55 mm | n/a |
| | Transducer (Length x Diameter) | n/a | n/a | 72 x 49 mm |
| | PCB Board Assembly (Length x Width x Height) | n/a | n/a | 95 x 43 x 42.5 mm |
| | Hole Centres (M2 clearance – Length x Width) | n/a | n/a | 71.5 x 35 mm |
| Weight in Air/Water | | 486/149 g | 584/162 g | n/a |
| Weight (OEM) | PCB in Air | n/a | n/a | 138 g PCB + 12 g cable |
| | Transducer in Air/Water (Estimated) | n/a | n/a | 200/150 g |
You may also be interested in
Small in size, big in performance