Products
Instruments & Software
MRT
Micro-Ranger 2 USBL transceiver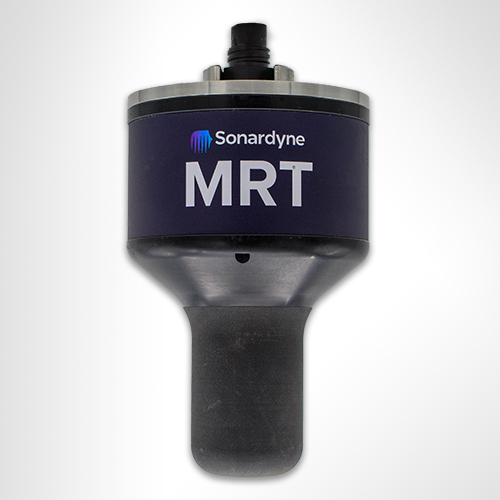 Lightweight, portable and easy-to-use, Micro-Ranger Transceiver (MRT) forms part of our Micro-Ranger 2 USBL system developed to track divers and small underwater drones in lakes, rivers and coastal waters.
---
At a glance
Easy to deploy off a pontoon or RHIB
Optimised for high elevation tracking in shallow water
Internal magnetic compass for instantaneous and calibration free motion compensation.
Built in health checks including array and electronics diagnostics
Supplied with 10 m of deck cable
Arrive, deploy and start tracking
Want to know more?
Overview
MRT is one of the smallest USBL transceivers on the market providing you with complete flexibility with where you use, how you deploy it and what you track with it.
It's supplied as part of our Micro-Ranger 2 USBL system, a complete one-box underwater diver, ROV, AUV and equipment tracking solution. Everything you need, including two transponders, is supplied in a battery-powered IP-67 rated carry case for portable, go-anywhere marine operations.
MRT is supplied with a moulded 10 m underwater cable that is connected up to your Micro-Ranger 2 command case. The cable provides both power and comms to the MRT
Deployment is as simple as it gets. Off a pontoon, over the side of your RHIB or even fixed to a USV. It can be suspended using its cable or on a simple pole arrangement. We even offer a lightweight carbon fibre pole with fixation clamp and a top bracket to mount the system's included GNSS antenna.
MRT uses an integral AHRS sensor which provides pitch, roll and heading data that automatically compensates for the dynamic motion of the vessel, removing the need for an external sensor and pre-use calibration. It's multi-element processing enables transponders to be accurately positioned at ranges of 995 metres.
Resources
| Feature | Type 8243 |
| --- | --- |
| Operational Frequency | MF (20–34 kHz) |
| Operating Range | Up to 995 m |
| Depth Rating | 25 m |
| Acoustic Coverage | Greater than 200° |
| Range Accuracy | Better than 15 mm |
| Angular Accuracy | ±3° |
| Transmit Source Level (dB re 1 µPa @ 1 m) | 184 dB |
| Electrical | 48 V dc (±10%) typical 1.5 W, maximum 25.5 W |
| Communication | Ethernet 100 Mbps |
| Operating Temperature | -5 to 40°C |
| Storage Temperature | -20 to 55°C |
| Mechanical Construction | Stainless steel 316, PVC and polyurethane |
| Dimensions (Height x Diameter) | 177 x 106 mm (excluding connector) |
| Weight in Air/Water | 1.84/0.99 kg |
Manuals and quick start guides
Datasheets
STP files
You may also be interested in
Arrive, deploy and start tracking