Products
Instruments & Software
Marine Computer
Industrial PC (Rack mountable)
Engineered for: USV, Vessel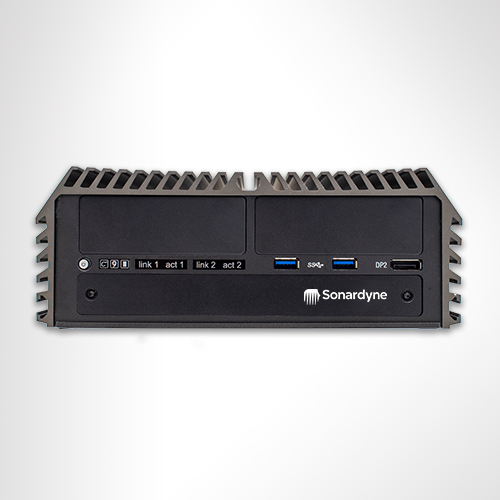 Marine Computer is our most powerful computer yet, designed to effortlessly run all of your Sonardyne software applications and those from third parties. Use it in a survey shack, install it in the bridge or rack mount it, Marine Computer works wherever you need it to.
---
At a glance
Choice of desktop or 2U rack mount configurations
Fanless and temperature tolerant design withstands harsh marine operating environments
Certified to EN 60945 and DNVGL-CG-0339; use it on your bridge
Intel 8th generation CPU runs intensive applications with ease
Desk, console and rack mounting options
Wide operating temperature range
The power driving our software
Want to know more?
Overview
Using a superfast processor to handle intensive workloads, Marine Computer is designed and configured to provide you with the best possible experience when using our suite of navigation, positioning and imaging software products, leaving you to concentrate on the job in hand.
However, you don't have to be using Sonardyne software to use one. If you're in the market for a robust and easily configured computer to run third-party software applications onboard your ship, survey boat or unmanned craft, Marine Computer is the perfect choice.
That's because it's certified to EN60945 and DNVGL-CG-0339 standards which means it meets regulatory requirements use on ships' bridges and is able to withstand harsh operating environments and constant high temperatures are present.
Fanless computers like the Marine Computer are perfect for use in dirty or dusty marine environments where actively cooled systems could quickly clog up, overheat and fail. Inside is an Intel 8th generation processor and 512 GB wide operating temperature solid state disk. SSDs have no moving parts so are faster and more reliable that traditional hard disk drives. Temperature tolerant components contribute to its impressive wide operating temperature range.
All this makes the Marine Computer an extremely versatile and reliable tool in virtually any marine installation condition: desk mounted, in a small survey boat; within a ship's bridge console; or, when supplied with a custom 2U chassis, mounted in a server room rack.
Resources
| Feature | | Specification |
| --- | --- | --- |
| Processor | | Intel i7 8700T Hexacore 2.4 GHz |
| RAM | | 8 GB 2666 MHz DDR4 RAM (non-ECC, un-buffered) |
| Hard Disk | | Single 512 GB wide operating temperature SSD |
| Drives | | Additional 2.5" SATA drive bay |
| Ports | | 1x DVI, 2 x display port, 2x USB 3.1 Gen2, 4x USB 3.0, 2x USB 2.0, 4 x RS232/422/485 serial ports (with auto flow control), 1 x PS2 port, 1 x Line in, 1 x Mic in, 1 x Phone jack 3.5mm, External Fan port, external power port, external reset port |
| Network | | 2 x 1 Gbps Ethernet |
| Power In | | Auto sensing ac voltage: 115/230 V, 60/50 Hz Max power input: 221 W Input current: 2 A @ 230 V |
| Audio | | Realtek® ALC888 high definition audio |
| Video | | Supports triple independent display |
| Environmental Specifications | Operating Temperature Storage Temperature Relative Humidity Vibration Shock | -15 to 70ºC (5 to 158°F) -15 to 70ºC (5 to 158°F) 95% @ 70°C (non-condensing) 5 Grms, 5–500 Hz, 3 axes according to IEC60068-2-64 50 Grms, half-sine 11 ms duration according to IEC60068-2-27 |
| Intended Use | | Indoor use (including bridge), altitude up to 2,000 m, continuous operation |
| EMC | | Immunity & Emission EN 60945 & DNVGL-CG-0339 compliant |
| Dimensions (WxDxH) | Unmounted | 227 x 261 x 88 mm (8.9 x 10.3 x 3.5") |
| | Shelf Mounted | 482 x 423 x 88 mm (19.0 x 16.7 x 3.5") |
| Weight | Unmounted | 4.3 kg |
| | Shelf Mounted | 10.5 kg |
| Options | 265-5831 | 512 GB SSD hard drive |
| | 650-0219 | Connector pack (1x dc power terminator, 1 x SW reset terminator, 1 x reset terminator, 1 x fan terminator) |
Manuals and quick start guides
Datasheets
Technical bulletin
The power driving our software