Gyro USBL
Pre-calibrated USBL and telemetry transceiver (2nd generation)
Engineered for: USV, Vessel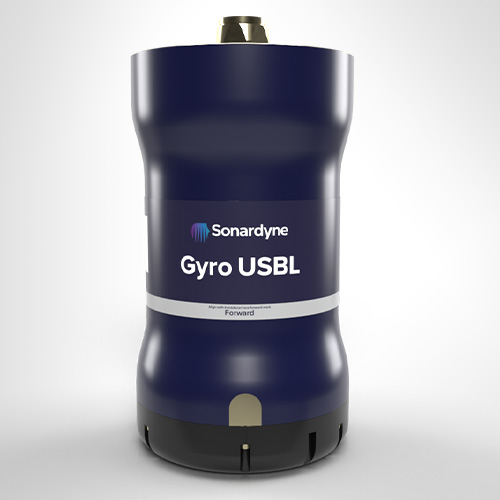 Lighter, smaller and just as capable, meet our second-generation Gyro USBL transceiver. It works seamlessly with Ranger 2 to track the position of a subsea target from a USV, vessel of opportunity or from a pipelay vessel's stinger over extreme ranges. Gyro USBL delivers the highest precision available and is now pre-calibrated direct from us, saving you precious operational time.
---
At a glance
All-in-one instrument; combined 6G acoustic transceiver and AHRS
Choose between standard or 'plus' variants to suit your project's specifications
Optimises the performance of Ranger 2; eliminates lever arm offsets, pole bending and ship flexing errors
Up to 20% shorter and 19 kg lighter than previous version; perfect for over-the-side poles, stingers and confined spaces
Calibrated in-water before delivery; install it and go to work
Calibration free offering rapid mobilisation
Want to know more?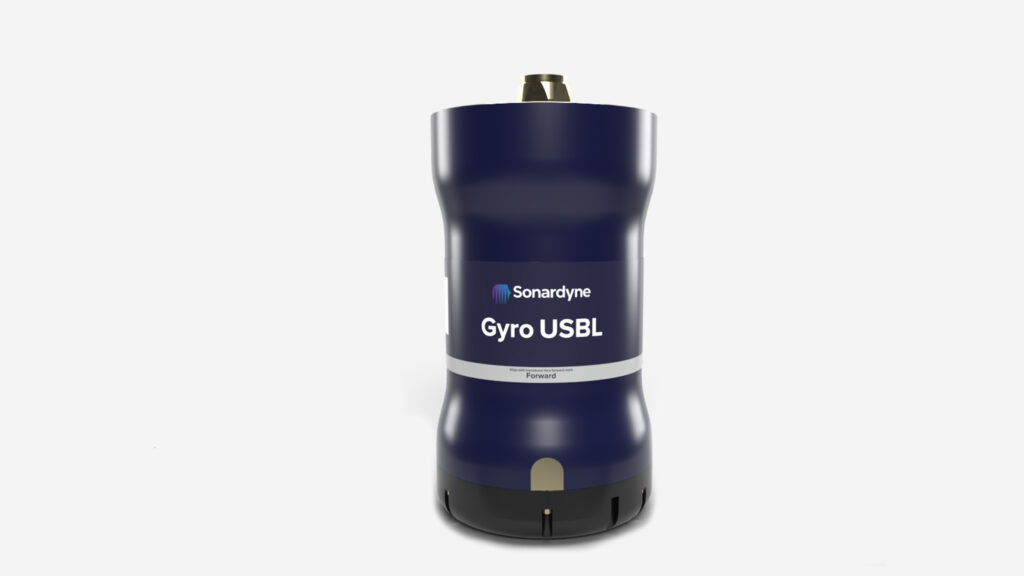 Aluminium-bronze and plastic construction. ROHS compliant
Calibration free offering rapid mobilisation
Works with Ranger 2 USBL and Marksman LUSBL
Pitch and roll accuracy 0.01°
Why Gyro USBL is perfect for your operations
For energy
It's perfect for vessels-of-opportunity or even the tip of pipelay vessel stingers, offering huge flexibility and speed of deployment.
For defence
Integration with a USVs provides a reliable and accurate system to track and communicate with targets below the surface.
For science
Gyro USBL pushes the boundaries of going deeper and further with your ocean research, it provides extreme range and precision.
Overview
Designed for Ranger 2, Gyro USBL is an all-in-one instrument that combines our 6th generation (6G) High Precision Acoustic Positioning (HPT) acoustic transceiver and Lodestar Attitude and Heading Reference System (AHRS) in the same unit. This combination eliminates alignment errors seen in conventional USBL systems that are dependent upon a vessel's own attitude and heading sensors.
Our latest generation design is supplied in-water pre-calibrated meaning that you can get to work as soon as it's fitted, saving you valuable vessel time. Gyro USBL has always been available in two different array designs, optimised for deep water and long layback operations. Now additionally, you can choose between standard and 'plus' AHRS performance grades. Depending on the array type and AHRS grade, Gyro USBL can offer precision of better than 0.1% of slant range out of the box.
Gyro USBL has always been a popular choice for installations on vessels-of-opportunity using through-hull or over-the-side deployment arrangements, or even the tip of pipelay vessel stingers, where Ranger 2 is being used to track the vessel's own ROV as it conducts touchdown monitoring – often at extreme lay backs.
Now that Gyro USBL is significantly smaller and lighter than its predecessor, smaller vessels, including unmanned surface vessel (USVs), can now gain the best performance possible from their Ranger 2 system. The new design is also still be manufactured in corrosion-resistance aluminium-bronze, so ideally suited to use in any waters.
Why invest
Acoustic & AHRS
Heading accuracy 0.1° for 'plus' variant

7000 expected system slant range accuracy 1 DRMS (20 dB) 0.04°

Pitch and roll accuracy 0.01°

Heave accuracy (real time) 5 cm or 5% (whichever the greater)
Performance
Calibration free offering rapid mobilisation

7000 tested to better than 0.07% of slant range 1 Drms

Pitch and roll accuracy 0.01°

Heave accuracy (real time) 5 cm or 5% (whichever the greater)
Design
Works with Ranger 2 USBL and Marksman LUSBL systems

439 x 225 mm (5000 variant); 508 x 310 mm (7000 variant)

9 to 19 kg weight saving in air; 15 to 40% lighter than previous models

Aluminium-bronze and plastic construction. ROHS compliant

Calibration free offering rapid mobilisation
Ownership
What's in the box: Gyro USBL and manual

Warranty: 1 year return to Sonardyne service centre

ITAR Controlled: No

UK Export License: required; US Export License: covered under de minimis
Resources
| Feature | | Gyro USBL 5000 Type 8084-0425 & Gyro USBL 5000+ Type 8084-0455 | Gyro USBL 7000 Type 8084-0427 & Gyro USBL 7000+ Type 8084-0457 |
| --- | --- | --- | --- |
| Operational Frequency | | MF (20–34 kHz) | MF (20–34 kHz) |
| Transceiver Performance | Operating Range | Up to 7,000 m | Up to 7,000 m |
| | Acoustic Coverage | Up to ± 90° | Up to ±90° optimised for deepwater (dependant on frequency of operation) |
| | Range Accuracy | Better than 15 mm | Better than 15 mm |
| | Expected System Slant Range Accuracy 1 drms (20 dB) | 0.07% | 0.04% |
| Transmit Source Level (dB re 1 µPa @ 1 m) | | 200 dB | 200 dB |
| Tone Equivalent Energy (TEE) | | 206 dB | 206 dB |
| Heading | Accuracy Plus Variant | 0.1° secant latitude | 0.1° secant latitude |
| | Accuracy Standard Variant | 0.2° secant latitude | 0.2° secant latitude |
| | Settle Time | <5 minutes in dynamic conditions | <5 minutes in dynamic conditions |
| Pitch & Roll (Accuracy) | | 0.01° | 0.01° |
| Heave | Range | ±99 m | ±99 m |
| | Accuracy (Real Time) | 5 cm or 5% (whichever the greater) | 5 cm or 5% (whichever the greater) |
| Electrical | | +48 V dc maximum 160 W | +48 V dc maximum 160 W |
| Connector | | AGP-2716 | AGP-2716 |
| Communication | | RS485, baud rate switchable, Ethernet 100 Mbps | RS485, baud rate switchable, Ethernet 100 Mbps |
| Operating Temperature | | -5 to 40°C | -5 to 40°C |
| Storage Temperature | | -20 to 45°C | -20 to 45°C |
| Dimensions (Length x Diameter) | | 439 x 225 mm | 508 x 310 mm |
| Weight in Air/Water | | 35.7/21.6 kg | 55.9/35.3 kg |
| Note: The absolute accuracy of the system is dependent upon the beacon source level, vessel noise, water depth, mechanical rigidity of the transceiver deployment machine, SV knowledge and proper calibration of the total system using CASIUS | | | |
Calibration free offering rapid mobilisation