Products
Instruments & Software
Gyro iUSBL
Inverted USBL transceiver with gyro
Engineered for: AUV, Towfish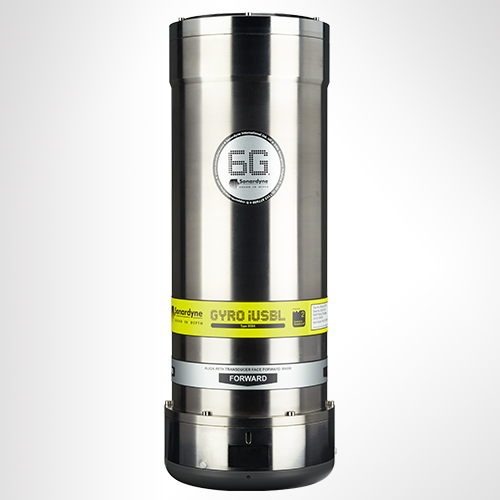 Gyro iUSBL turns a conventional USBL setup on its head. It combines a USBL transceiver and AHRS in a single subsea housing, and is designed to be mounted on a towed body so it can be tracked at laybacks in excess of 10,000 m.
---
At a glance
Designed to work with Ranger 2 USBL
Tracks your deep tow vehicle beyond 10,000 m
Integrated USBL transceiver and SPRINT INS
Offers 10x improvement in positioning precision
Built for deep, long layback tracking
Want to know more?
Overview
Gyro iUSBL combines our generation high performance HPT Inverted USBL transceiver and a Lodestar Attitude and Heading Reference System (AHRS) / Inertial Navigation System (INS) in the same titanium pressure rated mechanical assembly capable of operating at depths of 7000 m.
With the AHRS / INS in fixed mechanical alignment to the iUSBL's pressure balanced acoustic array, the Gyro iUSBL can be quickly deployed without need for a calibration to determine the alignment of the ship's motion sensors to the acoustic transceiver. For many applications, this can enable significant time savings and operational costs.
Resources
| Features | | Type 8084-000-7535 |
| --- | --- | --- |
| Operational Frequency | | MF (19–34 kHz) |
| Transceiver Performance | Operating Range | Up to 7,000 m |
| | Pressure Rating | Up to 7,000 m |
| | Acoustic Coverage | Up to ± 90° |
| | Range Accuracy Positioning Repeatability | Better than 15 mm All transceivers tested to Better Than 0.1% of Slant Range 1 drms |
| Transmit Source Level (dB re 1 µPa @ 1 m) | | 200 dB |
| Tone Equivalent Energy (TEE) | | 206 dB |
| Heading | Range | 0–360° |
| | Accuracy | 0.04 to 0.1° secant latitude |
| | Settle Time | <5 minutes |
| | Follow Up Speed | 500° / second |
| | Resolution | 0.01° |
| Pitch & Roll | Range | ±180º (No physical limit) |
| | Accuracy | 0.01° |
| | Resolution | 0.01° |
| Heave | Range | ±99 m |
| | Accuracy (Real Time) | 5 cm or 5% (whichever the greater) |
| | Resolution | 0.01 m |
| Electrical | | +48 V dc maximum 160 W |
| Communication | | RS485, baud rate switchable, ethernet 100 Mbps |
| Operating Temperature | | -5 to 40°C |
| Storage Temperature | | -20 to 55°C |
| Dimensions (Length x Diameter) | | 640 mm x 240 mm (without end connector) |
| Weight in Air/Water | | 56.4/32 kg |
Built for deep, long layback tracking