Products
Instruments & Software
Marker 6
USBL transponder
Engineered for: ROV, Seabed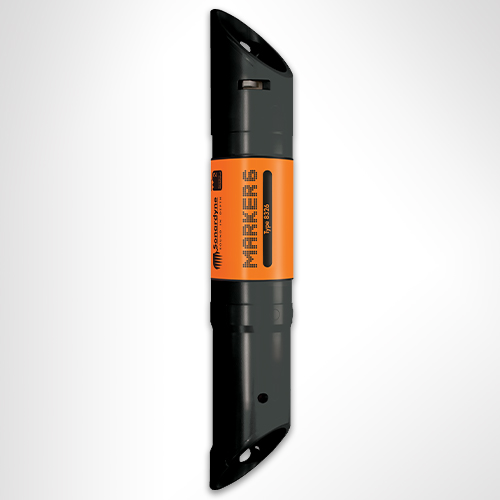 Marker 6 is a low-cost, Ranger 2 USBL compatible acoustic positioning transponder designed for simple target marking applications in water depths up to 7,000 m.
---
At a glance
Mark and relocate underwater equipment, vehicles and points of interest
Compatible with all Ranger 2 USBL systems
Depth rated up to 7,000 m
More than 30 months listening life (lithium battery option)
Over 200 unique acoustic addresses
Suitable for
Deploy, mark and locate your targets
Want to know more?
Overview
Marker 6 is a low cost acoustic positioning transponder for when a compact design and deep operating capability are important operational factors. It enables  targets such as underwater structures, vehicles or instrumentation packages to be marked, located or tracked using a Ranger 2 USBL system; micro, mini or standard.
The instrument incorporates Near Field Communications (NFC) allowing for fast setup. Its acoustic address can be selected from over 200 unique identities meaning that multiple Marker 6s can be deployed in close proximity to each other without causing interference.
On the backdeck, the address can be quickly programmed into each transponder using a suitable NFC enabled handset (including an NFC enabled Android™ handset with the Sonardyne NFC App) or a dedicated HF Radio Frequency Identification (RFID) reader.
Sonardyne Wideband signal encoding reduces the interference both on and by adjacent Sonardyne and other acoustic positioning systems.
The NFC link provides the ability to enter Marker 6 into a storage mode when not in use, thereby significantly increasing the overall battery endurance.
Resources
| Feature | | Type 8326-4311 | Type 8326-7511 |
| --- | --- | --- | --- |
| Depth Rating | | 4,000 m | 7,000 m |
| Operating Frequency | | MF (19–34 kHz) | MF (19–34 kHz) |
| Transducer Beam Shape | | Omni-directional ±130º | Omni-directional ±130º |
| Transmit Source Level (re 1 µPa @1 m) | | 187 dB | 187 dB |
| Inclinometer Sensor | | ±5° | ±5° |
| Battery Life (Continuously Listening) | Alkaline | >9.5 months | >9.5 months |
| | Lithium | >30 months | >30 months |
| Storage Mode (Battery Disconnect via NFC) | Alkaline | 5 years (battery self-discharge limited) | 5 years (battery self-discharge limited) |
| | Lithium | >10 years (battery self-discharge limited) | >10 years (battery self-discharge limited) |
| Operating Temperature Range | | -5 to 40°C | -5 to 40°C |
| Storage Temperature Range | | -20 to 55°C | -20 to 55°C |
| Mechanical Construction | Outer Housing | Polypropylene | Polypropylene |
| | Inner Housing | Duplex stainless steel | Titanium grade 5 |
| Dimensions (Length x Diameter) | | 383.0 x 63.0 mm (15.1 x 2.5") | 383.0 x 63.0 mm (15.1 x 2.5") |
| Weight in Air/Water | | 2.0/1.3 kg | 1.5/0.7 kg |
Manuals and quick start guides
Datasheets
Deploy, mark and locate your targets