Origin 600 ADCP
Acoustic Doppler Current Profiler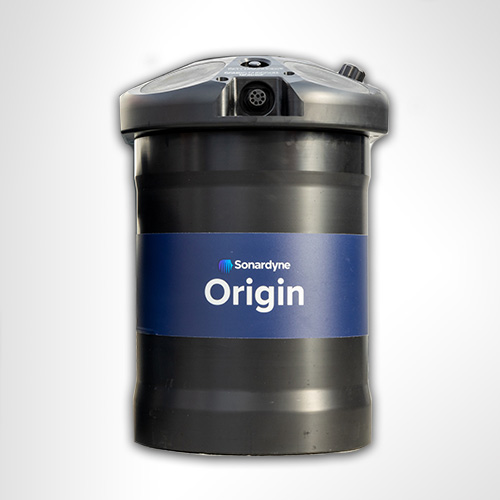 Origin rewrites the story of your relationship with an ADCP. With a 50-metre current profiling range, on-board Edge data processing and an integrated acoustic modem, Origin 600 provides in-situ, high resolution measurements with on-demand data retrieval – reducing survey costs, risk and time. Choose between industry standard data formats, or our new and exclusive proprietary format which offers up to ten times greater spatial resolution.
---
At a glance
625 kHz, 1.2 to 50 m profiling range, 150 m operational depth rating
All-in-one design; compact and easy to install from small vessels
Deploy and forget; integrated MF frequency modem offers in-situ data recovery, remote re-configuration and survey QC
Internal rechargeable battery allows for deployments of three months. Dual battery and external power options
Onboard data storage and processing, 1 TB onboard storage as standard
Optional seafloor stand with integrated Sonardyne acoustic release for recovery using Ranger family of USBL systems
Discover our Origin story
Want to find out more?
Remote control
The integrated acoustic modem enables actions with the ADCP already in the water, delivering in-field flexibility and data assurance.
Near real-time data
Origin 600 can support time-critical decision making.
Expanded functionality
ADCP data can be supplemented by and Edge-fused with data from external sensors so you can really get the most out of a single device deployment and the data generated.
Overview
Origin 600 has a five-beam configuration, with a central vertical beam. This geometry, paired with a maximum sampling frequency of 4 Hz on all beams, is suitable for waves and turbulence applications, as well as mean currents. All beams also act as echosounders, providing high resolution backscatter intensity measurements.
Origin 600 possesses power efficient electronics that, combined with its 55 Ah internal rechargeable battery, allow for deployments of three months and more depending on measurement schedule. A dual battery option allows for even longer or energy demanding deployments. This long battery life reduces the need for risky and costly device retrieval. External power can be supplied by PoE, allowing the user to program and download data without a separate power supply.
Origin 600 delivers conventional PD0 data as standard, whilst optionally logging proprietary formats with up to ten times greater spatial resolution than PD0. These allow users to probe structure in the velocity and backscatter intensity data at an order of magnitude finer detail than previously possible. Data is logged to the onboard storage unit with 1 TB capacity as standard.
A suite of intuitive software tools are available for Origin 600. Schedules can be configured using the Origin Scheduler PC application, enabling operations to be de-risked prior to deployment. The Origin Portal Web UI facilitates device configuration in operational conditions, including modification of the sampling schedule. Two schedules can be run together, allowing dual monitoring tasks to be performed with a single device. File data can be inspected using the Origin Viewer software package.
An MF acoustic modem is integrated as standard and facilitates remote actions using an accompanying topside modem (sold separately) and the Origin Topside PC software. This enables data inspection and QC, battery and storage checks, schedule reconfiguration, and data offload; all core features of the ADCP can be accessed acoustically once deployed.
Origin 600 is compatible with the Sonardyne Edge computing environment. This permits users to upload processing apps to Origin 600 that optimise the data for their specific application. Apps can be uploaded via Origin Portal or Topside and resulting data exported over the acoustic modem, supporting post-capture data harvesting and near real-time topside monitoring.
Finally, Origin 600 is compatible with standard mounting infrastructure, reducing risk and cost for upgrading to this device. For a complete solution, we provide a dedicated, rugged stand with space for dual redundant releases.
Resources
| Features | | Type 8382 (-0457 single battery; -0427 dual battery) |
| --- | --- | --- |
| ADCP | Operating frequency | 625 kHz |
| | Maximum profiling range | Up to 50 m (depending on water environment) |
| | Minimum cell size | 12 mm |
| | Minimum blanking distance | 1.2 m |
| | Velocity range (along beam) | Up to ±2 m/s or 3.75 m/s user selectable |
| | Velocity RMS | 0.5% of measured value |
| | Maximum number of cells | 2500 |
| | Maximum ping rate | 4 Hz (5 beams) |
| | Beam width/ angle | ±1 degrees / 25 degrees |
| Acoustic modem | Operating frequency | MF (20–34 kHz) |
| | Typical operating range | 500 m |
| Sensors | Temperature | -5° to 40°C |
| | Heading accuracy/ resolution | ±1°/0.1° |
| | Pitch & roll accuracy/ resolution & range | ±1°/0.1° & ±90° (pitch), ±180° (roll) |
| | Pressure | ±0.01% full scale; inquire for options |
| Communication and logging | Communications | RS232, Ethernet and acoustic modem |
| | Internal logging | 1 TB internal memory |
| Output | Output telegrams | PD0, A gram, and B gram; simultaneous output |
| Electrical | External power | 18-48 V power by external cable; PoE+, adapter includedPoE+; adapter included |
| | Power | 15 mW (sleep), 600 mW (pinging), 3.5 W (fully active) |
| | Internal battery capacity | 55 Ah rechargeable (dual battery option available); charger included |
| | Internal battery recharge | 4 hours fast charge (8 hours for dual battery option) |
| | Full/ scheduled/ standby lifespan | 1 week/ 3 months/ 2 years |
| Environmental | Depth rating | 300 m survivable/ 150 m operational |
| | Operating/ storage temperature | -5 to 55°C/ -20 to 55°C |
| Mechanical | Construction | Plastic |
| | Connector type | Subconn: 8-way for power and comms; 6-way for fast-charge |
| | Dimensions (height x max diameter) | 308 x 290 mm (dual battery height 388 mm) |
| | Weight in air/ water | 19.2/ 7.2 kg (dual battery option 23.9/ 7.9 kg) |
| Software | Origin Portal | Embedded Web UI for control & configuration |
| | Origin Scheduler | Schedule planning & configuration tool |
| | Origin Viewer | File data inspection |
| | Origin Topside | Remote configuration & control over acoustic modem |
Manuals and quick start guides
Datasheets
Discover our Origin story