---
SPRINT-Nav Maintenance Schedule
21 June 2021
---
To ensure the SPRINT-Nav provides long and effective service, it is important to carry out general scheduled maintenance.
Cleaning
Thoroughly wash the instrument in warm clean fresh water to remove accumulations of salt, sand or silt and marine growth, paying particular attention to the electrical connectors.
Remove any attached cabling or dummy plugs/protective caps and clean the external socket.
The Seacon connectors are dry mating and do not require lubrication on the connector pins/sockets.
Dry the instrument and any attached cabling with a clean lint free cloth.
Replace any attached dummy plugs/protective caps.
Inspection
Regularly inspect the instrument for the following:
Inspect the pressure relief vent valve.
Inspect the housing for signs of damage (at full working depth, the instrument housing is at risk of failure if damage is not repaired). The housing is manufactured from titanium and is
highly resistant to corrosion. Under normal use, the housing should not show any signs of corrosion (maintenance is not necessary).
Inspect the connectors and cables for signs of abrasion, damage or corrosion and that o-rings are fitted and are in good condition.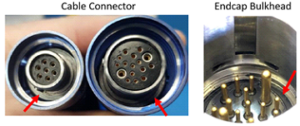 Pressure Relief Vent Valve
Check the pressure relief vent valve is flush with the endcap. If the pressure relief vent valve is not flush it could indicate a pressure build-up during previous operations due to a fault developing in the backup battery pack.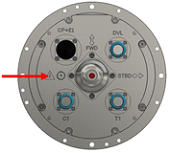 Pressure Sensor
It is important that the SPRINT-Nav pressure sensor module is recalibrated annually by returning it to one of Sonardyne's regional or head offices.
The pressure sensor can be returned separately to accommodate customer operations by following the removal and replacement procedure detailed in the latest SPRINT-Nav user manual. The pressure sensor can be replaced with the supplied blanking plate or another Sonardyne pressure sensor module.
Inertial Sensors
The SPRINT-Nav uses rugged and durable high quality inertial sensors of unrivalled and thoroughly field proven reliability. The sensors are used in systems qualified for the most demanding and safety critical applications and are standard fit for use in the main navigation systems of the majority of today's commercial and business aircraft. The inertial sensors are maintenance free.
SPRINT-Nav based products do not require re-calibration (excluding the pressure sensor) subsequent to initial factory calibrations unless:
The unit has been subjected to excessive shock beyond quoted specification.
Performance re-verification is requested by the customer.
Performance re-verification is often possible in the field without return to factory, contact Sonardyne Support for more information.
Syrinx DVL
The Syrinx DVL integrated into the SPRINT-Nav has a built in self test feature within the WebUI.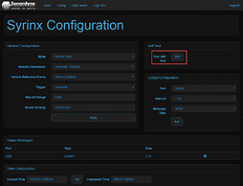 If the self test fails for any reason, contact Sonardyne Support.
Scheduled Maintenance
Maintenance Schedule
Task
Before/After each Deployment
6 Monthly
Annually
Clean and inspect
✔
–
–
Syrinx DVL – Run Self Test
–
✔
–
Pressure Sensor Calibration
–
–
✔
---
Looking for more content?
Find more product support in our Knowledgebase
Haven't found what you're looking for?
Then speak to one of our team for expert help