Meeting the demands of Brazil's upstream
Brazil's offshore is riding on a high that looks set to continue for some years to come. It can be a demanding place to work, but rewarding if you can meet those demands. Andre Moura, Sonardyne's Head of Sales – South America, looks at how C-Innovation are doing just that and the role our USBL and INS systems play.
Brazil has always been a standout market. It has huge, technically challenging deepwater reserves that drive innovation in underwater technology. It's a place where oil companies set a high standard for their suppliers, in terms of delivering high-quality projects, efficiently and on time.
For those that are up for the challenge, it's a rewarding place to work. It looks like that will continue for some years to come, with Petrobras last year announcing $68 billion worth of investments in the five years up to 2026.
Last week, Rio Oil & Gas, reflected the positive mood. It was very much about getting all the work that Petrobras and others want done – and getting it done quickly, cost-effectively and to the highest standards.
C-Innovation in Brazil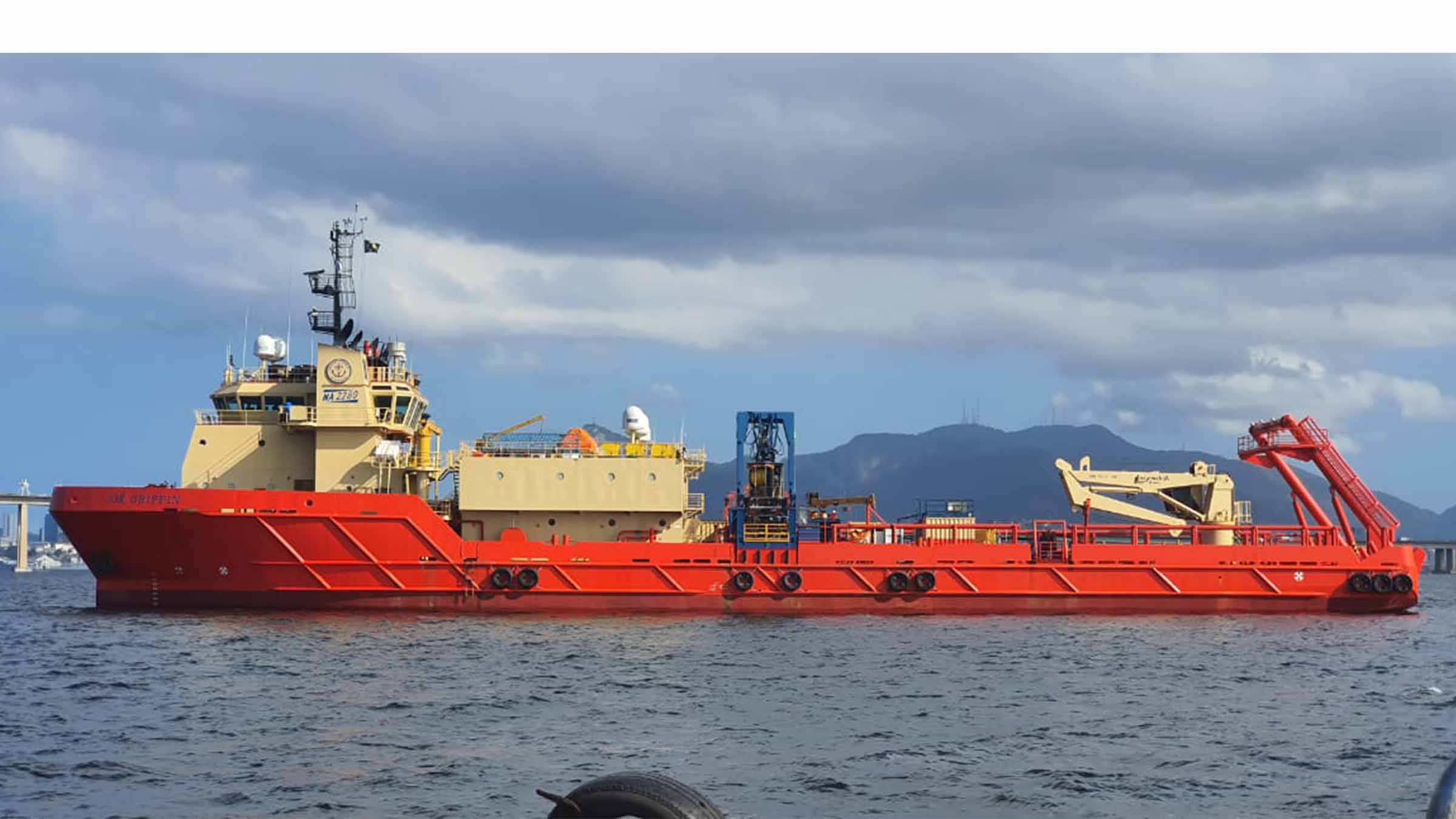 C-Innovation's Joe Griffin – operating in Brazil since 2011.
One of those making it happen is C-Innovation. C-Innovation, an affiliate of Edison Chouest Offshore (ECO) and its family of companies, is a global, integrated marine services company. It specializes in advanced subsea solutions, including ROVs, AUVs, subsea construction, fleet services, survey and positioning and tooling services.
The company was founded in 2007, to meet a growing demand for advanced ROV operations in the Gulf of Mexico, but it soon expanded. Survey Manager Tomás Peixoto has been with the company since 2011, when it started its first Survey contract in Brazil, with Petrobras.
Since then, C-Innovation has continued to grow in Brazil, adding many other clients, including Shell, Chevron, ExxonMobil, BP, PetroRio and Karoon Energy, all mostly for light subsea construction and inspection, repair and maintenance (IMR) operations.
More customers and work have meant it has needed more vessels. After starting with just two vessels – the Joe Griffin and Olin Conqueror – C-Innovation currently have 15 vessels operating in Brazil.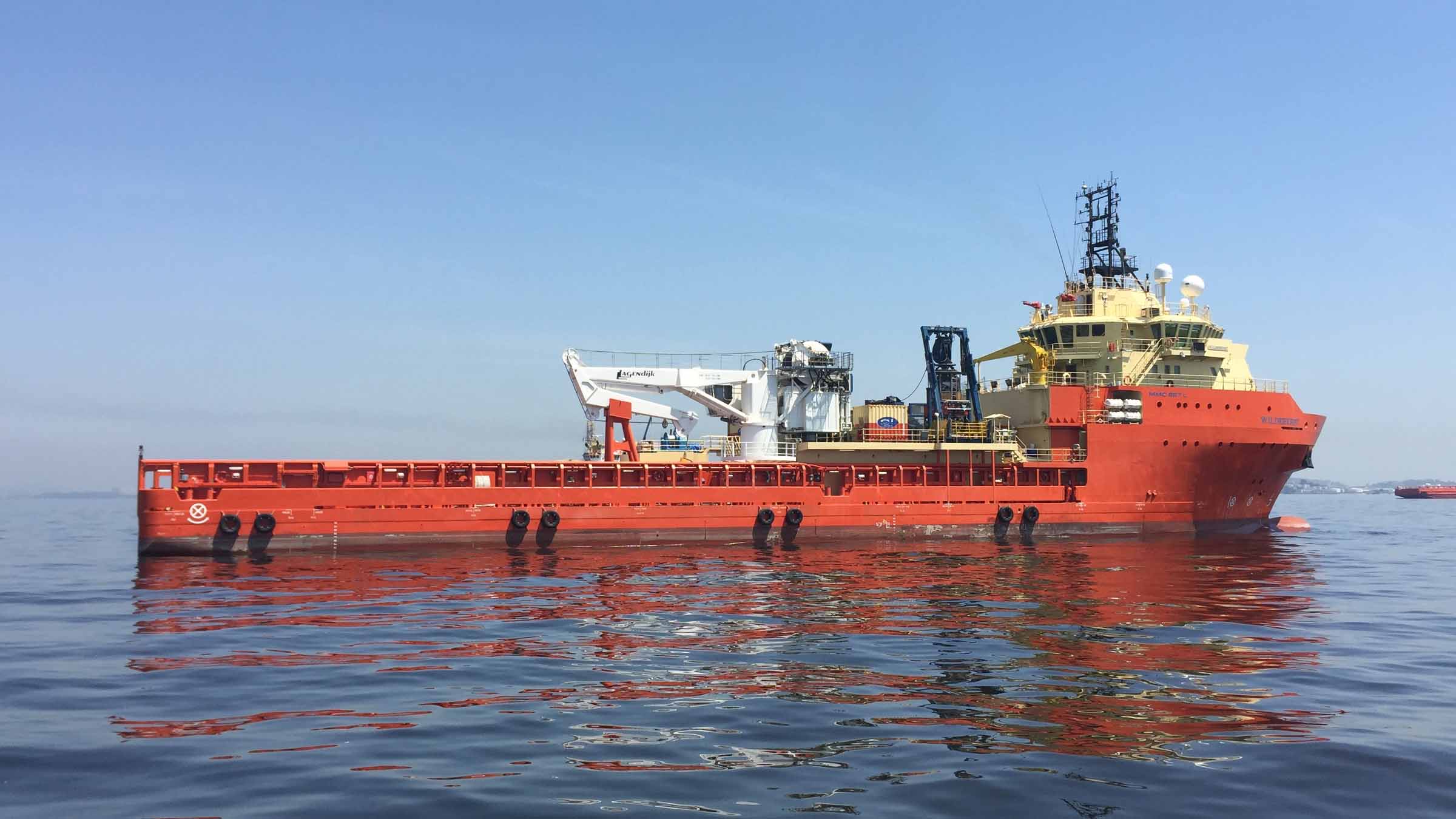 The Wildebeest 11
A mark of success in deepwater offshore Brazil
To do well in Brazil you need to deliver projects on time, efficiently and accurately, says Tomás.
"It's really important that we don't have down time and that we're efficient. So our equipment – ROVs, sensors and survey equipment – has to be reliable and high quality," he says.
"There are also high specifications that we need to meet. For example, that could be to achieve 95% of the positioning data out of a USBL system to an accuracy of 0.5% of water depth, including while the vessel is in motion during acceptance tests." For example, in 1000 m water depth, the error has to be below 5 m – 95% of the time.
Choosing Ranger 2 for underwater positioning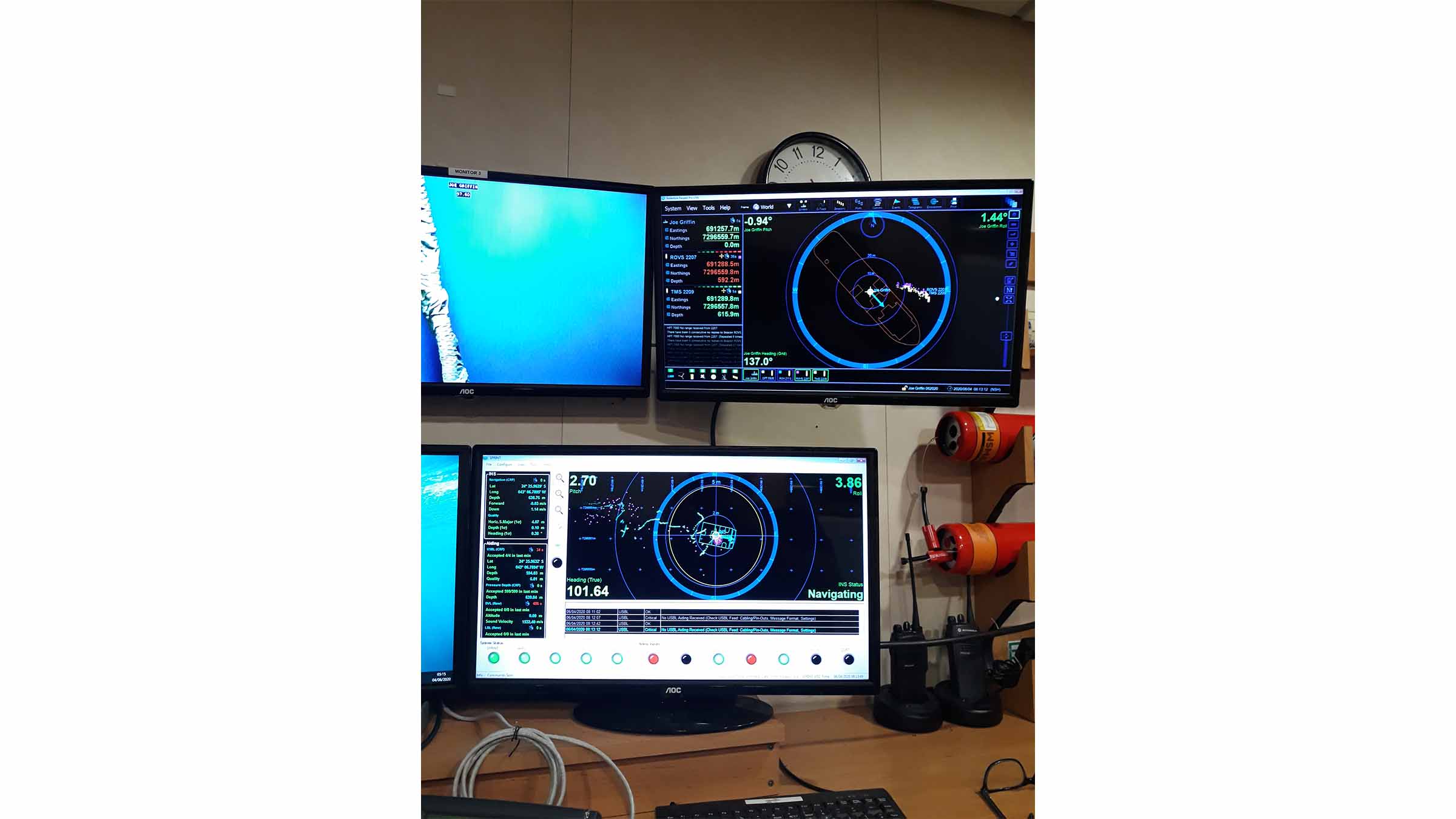 Tracking, onboard the Joe Griffin.
To meet these requirements, including those specifications, we need high quality, reliable equipment, says Tomás. That's why C-Innovation uses our Optimised Ranger 2 USBL system across its fleet since day one.
The Optimised Ranger 2 setup has our Lodestar AHRS co-located with the USBL transceiver, which achieves accuracy of up to 0.1% of slant range. Thanks to our Wideband 2 digital acoustic architecture, it has reliable performance in shallow and deepwater environments, which means consistent and uninterrupted tracking, even in noisy environments.
C-Innovation have also opted for high performance work class ROVs. They've always chosen Schilling UHD ROVs. Since 2016, it's been fitting these with our SPRINT INS coupled with our Syrinx Doppler velocity logs (DVL).
Extending the limits of USBL operations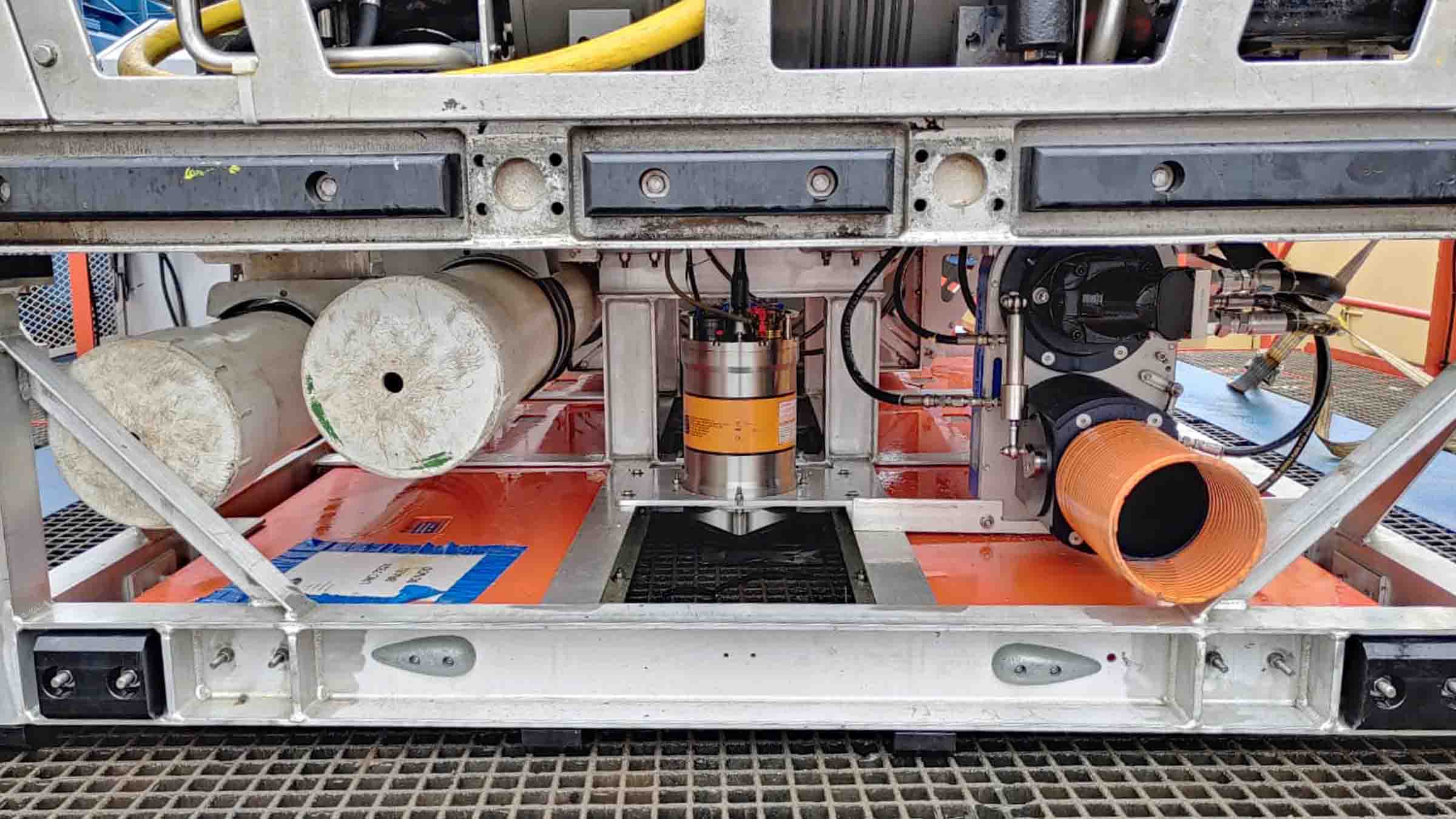 SPRINT extends the operating limits of their USBL and ROV systems, by compensating for unfavourable conditions when working at high elevation long laybacks or smoothing out any USBL dropouts. With SPRINT, they also spend less time in preparation before getting their ROVs to work, thanks to its quick INS to DVL calibration routine, says Tomás.
More recently, they've also been adding our SPRINT-Nav hybrid navigation instruments.  SPRINT-Nav combines our SPRINT INS, Syrinx DVL and a high accuracy intelligent pressure sensor – all packaged in a single compact deep-rated housing that's simple to integrate on both remote and autonomous underwater platforms. When using this system, the time saved is even higher, because it comes pre-calibrated.
The tight integration of inertial sensor and raw acoustic aiding data also enables SPRINT-Nav to regularly exceed the most stringent of positioning specifications, making it an ideal choice for vehicle guidance, station keeping and long endurance navigation with no positioning aiding.
Time-saving with Sparse LBL – and now SLAM calibration
SPRINT and SPRINT-Nav also help unlock another time-saving capability. By using either instrument, alongside our ROVNav ranging LBL ROV transceiver and our Fusion LBL software, C-Innovation has been able to perform sparse LBL operations.
Sparse LBL reduces the number of Compatts they have to deploy and box-in, saving time and money. With our latest Fusion 2 software, SLAM calibrations can be done real time and, if planned well, simultaneously to other operations. Now that's real time savings.
In fact, C-Innovation was one of the first companies to do sparse LBL operations in Brazil in 2016-17. "Now more companies are requiring it because it is quicker and you need fewer Compatts," says Tomás. "So we will see more of this happening as more customers see the benefit."
Local support for Brazil's deepwater
But there's also another ingredient to making offshore operations in Brazil tick all the right boxes. That's support. Not everything runs smoothly all the time – there are always unknowns. So that's why in-country support is one of Tomás' key ingredients to success here in Brazil.
"Having access to a Sonardyne technician when we need support or assistance is really important," he says. "During Covid, this was a huge challenge, for everyone, but Sonardyne was able to support us remotely. This was done with local staff and was really important to us also. We employ a lot of Portuguese-only speakers, so having support from people who speak Portuguese is very helpful."
Local support has been important to us at Sonardyne Brasil since we opened our first office here more than 20 years ago. Offshore technical support, repair, training and sales support are all handled by us in country.
Both through the pandemic and previous downturns, we've maintained our operations in country when many others closed their doors. That's because we saw how important local support was to our customers. That has meant we've been able to build and strengthen relationships with companies like C-Innovation, who are also here for the long haul.
So yes, it can be a tough environment, with the most stringent technical demands. But we agree with Tomás, it's challenging, but also a great place to work.
Get in touch to find out how we can help you.
Want to find out more about this article?
Speak to an expert