Riser profiling system
Production riser monitoring
Engineered for: Structure, Vessel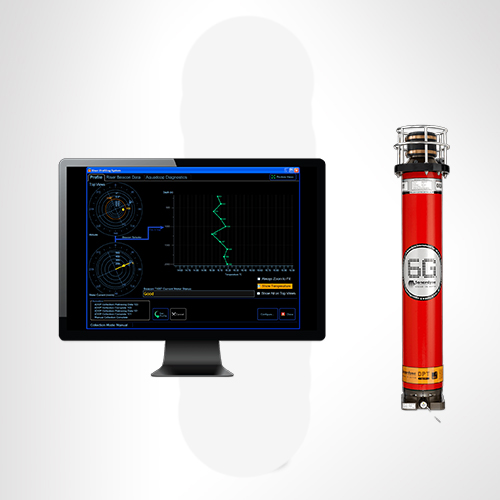 Our Riser profiling system provides operators with a wireless real-time vertical profile of current speed and direction, temperature and inclination of risers deployed from drilling or production vessels.
---
At a glance
Designed for monitoring your riser's integrity
Helps prevent critical damage during operations
Removes need for expensive cables
6G hardware and Wideband 2 acoustic delivers robust performance during operations
User configurable update rates
Suitable for
Real-time subsea asset monitoring
Want to know more?
Overview
RPS provides a wireless real-time vertical profile of water current speed and direction, and the temperature and inclination of risers deployed from drilling or production vessels.
The system can be used standalone, integrated within a Marksman LUSBL acoustic position reference system, or with a third-party integrated monitoring system.
Using SMART or DPTi 6 transponders wirelessly mounted along the length of the riser, current profiling, high accuracy pressure and temperature data and control inputs for local strain gauge sensors can be provided. Topside software makes changing monitoring regimes easy. When SMARTs are being used, onboard processed data can be efficiently and wirelessly transmitted to a surface transceiver.
Riser sensor data is measured by 6th Generation (6G®) DPTi transponders clamped onto the riser during deployment, or installed via ROV. The information is transmitted wirelessly using proven acoustic telemetry up to a transceiver on the vessel, eliminating the need for expensive umbilical cables to fitted up each riser.
Up to 10 DPTi transponders are deployed up the riser. Each transponder is fitted with the following sensors:
High-resolution dual axis inclinometer
Water temperature
Pressure and depth
Optional single point Doppler current meter (speed, direction)
At a user-defined update rate, inclination, current speed and direction, pressure, temperature measurements are requested from each transponder. The transponders reply using our Wideband 2 acoustic signals to the vessel's acoustic transceiver. All data is processed, logged and displayed graphically and numerically on the topside computer software for instant analysis by the operator. The operator can also set an alarm to activate when the calculated riser angle exceeds a predefined limit.
Why invest
Design
Operating depth range 3,000 m (5,000 m)

Robust two-way communications

Compatible with all makes of DP system
Hardware overview
Compatt 6 DPTi riser transponder

Riser Profiling software

HPT Transceiver

Marine Computer

Ethernet Serial Hub (ESH)

Riser mounting buckets available
DPTi 6 at a glance
High accuracy inclinometer range: ±90°

Accuracy: 0° to ±15° = ±0.05°; 0° to ±45° = ±0.2°

Temperature ±0.1°C

Tilt switch ±30-45°

Strain gauge pressure sensor ±0.01%

High precision strain gauge (Optional) ±0.01%
Support
Custom configured to meet your exact operational requirements

Systems are manufactured and tested before delivery at our world-class in-house facilities

Comprehensive and flexible training for system operators

24-hour support, whenever and wherever you are in the world
Resources
| Rider Profiling System | | Equipment Required |
| --- | --- | --- |
| Topside Computer Hardware | | Sonardyne Navigation PC (marine approved) |
| Operating System | | Windows®10 |
| Acoustic Sensor Interfacing and Time Sync | | Sonardyne Type 8098 Navigation Sensor Hub (NSH) |
| Vessel Transceiver | | Sonardyne Type 8142 HPT (LMF band) |
| Riser Transponders | | Sonardyne Type 8300 DPTi 6 (LMF band) |
| Sensor Accuracies | Temperature (PRT) | ±0.1°C |
| | Pressure/Depth (Strain Gauge) | ±0.01% |
| | Dual Axis Inclinometer (Pitch/Roll) | ±0.05° over 0 - ±15°; ±0.2° over 0 - ±45° |
| | Current/Water Velocity (Single Point Doppler) | 1% of measured value ± 0.5 cm/s |
Real-time subsea asset monitoring