The future underwater threat is autonomous
Developing the tools that enable us to "turn the lights on" underwater and to project those lights far from our own shores will underpin the use of autonomy in the defence domain, says Ioseba Tena, our new Head of Defence. 
The world's navies are facing up increasingly to challenges posed by robots. On the one hand, developing this new generation technology requires that we perform at our innovative best. On the other hand, our near-peer adversaries are developing their own systems which we need to counter. To further complicate matters, the world is fighting a global pandemic. Many defence budgets have been frozen or cut. How do we do more with less?
When I joined Sonardyne almost five years ago, my focus was on underwater robotics and to help us become a significant part of the marine robotics revolution. But throughout that period, I have spent increasingly more time engaging with military customers and these are the challenges they are facing. This is not an accident.
I am now excited to take on the role of Head of Defence at Sonardyne. 
For me, the answer has always been to take sailors out of the battlespace. It will take a while. It is easier said than done. But that is undoubtedly the goal. In fact, that has been my goal throughout my professional career. I have worked alongside colleagues who share that goal. Sometimes it felt like a lonely place. Not everybody expects that outcome.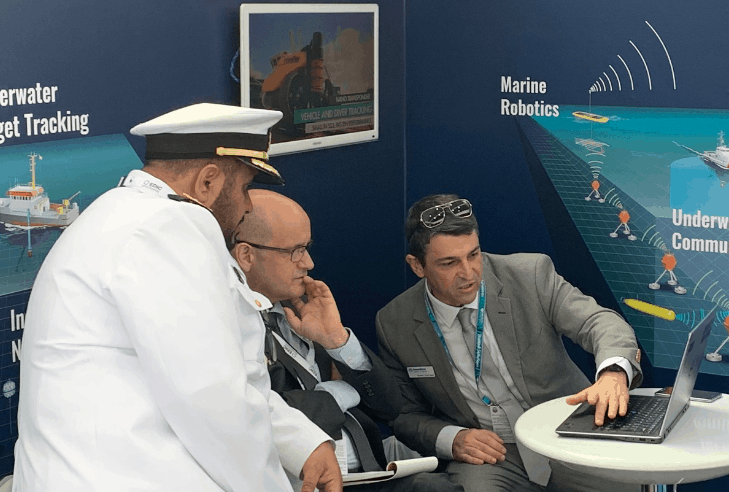 This sounds like I am a right geek, but I often ask myself, "Will I live to see a truly autonomous force projecting our interests abroad while being operated from a home office by a new generation of sailors?" Air drones do so routinely now. Maybe in the surface and sub-surface maritime domain it won't happen in my lifetime. However, I am convinced that we will see an increasing number of subsea robots, uncrewed vessels and drones.
THE INTEGRATED REVIEW OF SECURITY DEFENCE, DEVELOPMENT AND FOREIGN POLICY
The new integrated review from the UK Government is helping me feel a lot more confident that we are moving in the right direction. It's not just us ocean robot technologists banging on. The United Kingdom's Prime Minister Boris Johnson sees technology at the forefront of what we do. "Our aim is to have secured our status as a Science and Tech Superpower by 2030," he said. Which in turn elicited the following response from the Royal Navy's First Sea Lord Admiral Tony Radakin: "Our fleet will become more automated and lethal. We will start to replace our crewed minehunting ships with drones that find mines 5-10 times faster." Music to my ears.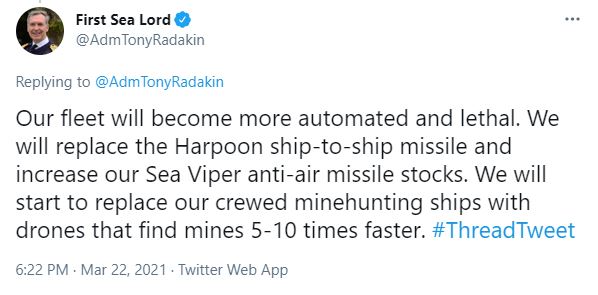 The UK is not the only country embracing autonomous solutions. The US Navy has always been on the side of innovation, just listen to what Thomas W. Harker, Secretary of the Navy (Acting), stated as part of the Unmanned Campaign Framework: "To compete and win in an era of great power competition, the Department is committed to investing in advanced autonomy, robust networks, and unmanned systems to create true integrated human-machine teaming that is ubiquitous across the fleet."
WHERE IS THE FUN AT? UNDERWATER.
What will these autonomous robot warriors need to do? The mission has evolved. Alongside the threat from terrorism, piracy and rogue states over the last decade, we find ourselves facing up to challenges from advanced adversaries who can deliver similar capability to our own. I believe our focus must be to develop tools that enable us to "turn the lights on" underwater and to project those lights far from our own shores.
We still need to be able to detect, track and communicate the presence of combat swimmers and boats. We now also now need to be able to detect, track and communicate the presence of unmanned systems.
At Sonardyne we are in the privileged position of being able to deliver the sensors which will enable autonomous and increasingly remote systems sense and communicate. In my new role I look forward to working alongside my colleagues, our industry partners, and our navy customers to make a significant impact helping make the oceans safer for all.
Want to find out more about this article?
Speak to an expert