Survey vessel charter and trials support
Plymouth-based marine assets and personnel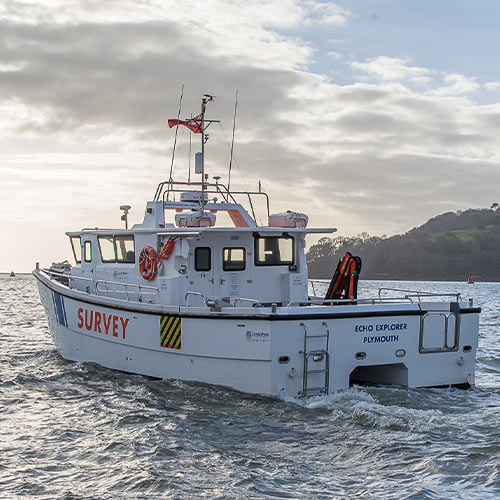 If you need to evaluate new technology at sea, rehearse maritime missions or conduct important demonstrations, our trials vessels and facilities based in Plymouth are at your service.
---
At a glance
World-class testing facilities, competitively priced to lower your R&D costs
Daily or weekly charters available
Choice of modern, high specification survey vessels
Help from highly experienced crews and marine engineers
Wide range of marine environments within a short transit
Access to Sonardyne equipment; e.g. acoustic tracking system
Our services add value to your operations
Find out more about how we can help you
Benefits of this service for your operations
For energy
Trying out new equipment, rehearsing new operational procedures and getting your team comfortable with the technology being used, helps identify problems and reduce risk before heading offshore to doing it for real.
For defence
The success of your underwater mission relies on technology and personal operating in synchronicity. Our vessels provide the perfect platform to practice and make perfect in a controlled environment.
For science
You've worked hard to secure research vessel time so a vessel charter with us ahead of your cruise can simulate different environments, data logging regimes and harvesting methods.
Overview
We have decades of combined experience operating vessels and testing equipment in the waters around Plymouth and beyond. We have intimate knowledge of the rules and regulations affecting marine operations close to the local naval bases, and we know all the best places to test equipment. Whether you need shallow water, open water away from recreational craft to run autonomous surface vessels, or interesting wrecks to evaluate the capabilities of side-scan sonars, we know where to take you.
Technology integration
In support of our own activities within energy, defence and science have extensive experience integrating third-party surface and subsea technologies – and even land-based position reference systems. This has enabled us to develop trials plans and procedures to accommodate non-specific Sonardyne equipment, such as surface navigation equipment,
towfish, uncrewed surface vehicles and seafloor sensors.
We can tailor your charter to your precise needs, assist with planning, coordinate the logistics and manage your safety.
Working with you
Mobilising equipment and personnel to undertake operations on the water is expensive, time consuming and not without risk. That's why when you charter one of our Plymouth-based survey vessels or facilities, you get more than just a boat or floating classroom. You get the knowledge and experience of our marine engineers and qualified local skippers who are fully committed to ensuring your charter with us is a complete success and meets all of your objectives.
Why this service
Echo Explorer
Coded for operations out to 60 miles offshore

Can accommodate up to 12 personnel

Four moonpools; various sizes

Survey equipment mounting brackets on bow

On-board WiFi/ 4G connectivity/ UPS
Sound Surveyor
Coded for operations out to 60 miles offshore

Can accommodate up to 12 personnel

500 kg WWL deck crane for equipment deployment

Spacious cabin and open back deck

Port and starboard inboard moonpools
Pier House
Flexible classroom and client meeting space

AV and guess wifi included

Fully equipped boathouse and workshop

Private slipway for launching vessels

Onsite accommodation and private parking
RHIB and ROV
7 m Tornado RHIB, 80 hp motor

Perfect trails safety and support vessel

300 m rated Falcon ROV

14 kg payload

Can carry numerous Sonardyne sensors
Our services add value to your operations