Meet Mike – the (Re)new(able) guy
We've had some new starters in our business development team here at Sonardyne over the past couple of months. They've joined to help us further support the global energy transition, to further ocean science and support advanced underwater robotics. We thought it was time we introduce them. First up is Mike Ellis, our new Business Development Manager for Offshore Renewables.
Well, it's only been a few weeks, but it already feels like longer – in a good way!
I didn't have to give joining Sonardyne too much thought, especially in a role that is going to help me play a part in the energy transition, changing how we use our planet's resources. It's a subject that's become increasingly close to my heart in recent years, as it's become clear that we need to transform our energy system, for us and future generations. The proliferation of offshore renewable projects, and the change that comes with that, brings about new and evolutionary technological requirements, such as autonomous platforms and the harvesting and automation of big data. It's a critical, but also exciting space and one that's set to grow immensely over the coming decades.
Much of my adult life has always been in and around marine activities. It all started after I got into diving while backpacking in my early 20s. Seeing the Great Barrier Reef, sites in Southeast Asia and the Red Sea got me hooked on the ocean. I wanted to work in an industry based around oceanic activity, but also give me a relatively good income. So, I became a hydrographic surveyor and I've never looked back.
It's a career that has taken me around the world, including wreck hunting using advanced multi-beam systems and technologies like the Hugin autonomous underwater vehicle, when it was still a new piece of kit in the surveyor's toolbox. After several years focused on survey operations with Fugro and Gardline, I joined EMGS in the late 2000s; a Norwegian company that made big waves in the oil and gas exploration sector with their advanced marine electromagnetics proposition. In more recent years I have taken on more business-focused roles, working with younger companies, including the implementation of automated data acquisition using robotics into the offshore renewable sector.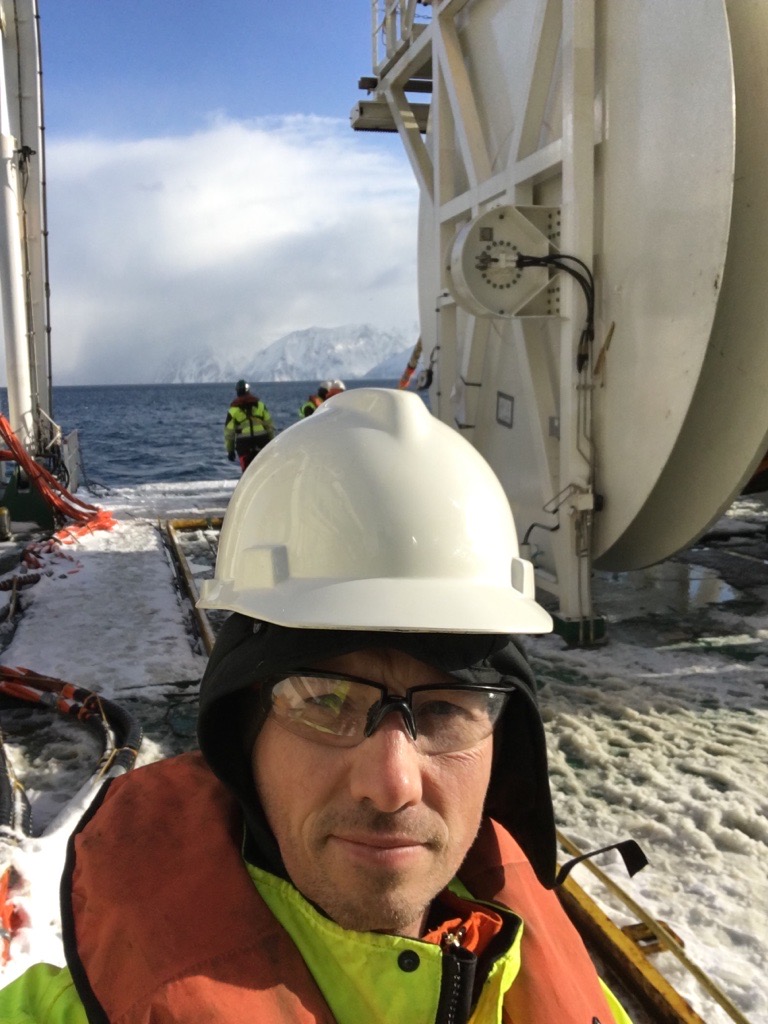 For a while now, I have wanted to make a bigger impact in renewables, not least offshore wind. Sonardyne has been ubiquitous throughout my professional career and while a large part of that has been oil and gas focused, Sonardyne's systems are omnipresent in supporting work in offshore renewables. Whether that's in navigation and positioning systems for survey, construction, and inspection operations; sensing, imaging and monitoring during consenting and operations and maintenance phases; or wireless communications and remote operations, for data-harvesting or communicating between autonomous platforms. Now that I'm part of the team, I'm enthusiastic to see that the renewables industry is increasingly investing in these technologies as key ways to help improve reliability, efficiency, mitigate HSE and operational risks, and reduce levelized cost of energy (LCOE).
I also see some particular challenges the industry has to face, both across fixed bottom wind farms and, as it emerges to a commercial offering, floating. For example, cables and their protection systems have challenges. Ensuring cables remain in useable condition over 25-30 years is all about understanding how they're effected by the dynamic environments they're in. We need to acquire bigger data sets, yet gain more value from analysis tools, including digital twins.
These are just a few of the discussions I've been hearing in my first few weeks at Sonardyne. It's been a bit of a whirlwind since my start in late September. I've visited both Global Offshore Wind event in London, chatting to developers and the supply chain about their needs, and Ocean Business, where I met customers and industry colleagues. I've also been able to enjoy a week at our training and testing facilities in Plymouth, getting on the water and getting hands on some of the latest Sonardyne systems.
I'm also looking forward to working with our sister Covelya Group companies – EIVA, Voyis and Wavefront. All these companies harness multi-application marine products, including advanced survey and processing software and underwater imaging. Integrating these with our positioning and navigation technologies has already proven to be hugely advantageous, creating enhanced solutions – reducing integration complexity while improving data – and I can only see further opportunities for these.
What's most exciting is that, for a majority of the subsea challenges out there in the offshore renewable sector, we at Sonardyne, and the wider Covelya Group, will have the solutions.
Want to find out more about this article?
Speak to an expert