Big things can come in small packages – bolt on navigation for AUVs and ROVs
As the world's smallest hybrid underwater vehicle navigator, SPRINT-Nav Mini is bringing a new level of performance to man-portable AUV/UUVs, ROVs and even hybrid surface and subsea vehicles.
Marine Robotics Business Development Manager Aidan Thorn explains how you can unlock more automation and ocean data with less when you add our ROV navigation capability – and then lets our robotics customers do the talking.
Access to our ocean is getting easier and simpler than ever. Small, portable remotely operated vehicles (ROVs) and autonomous or unmanned underwater vehicles (AUVs/UUVs) are now relatively low cost and easy to deploy, almost anywhere. They can be deployed from the beach, dockside and even from uncrewed surface vessels (USVs), allowing real-time control over the horizon. They're even easy to control, through simple browser-based interfaces on your laptop.
But how effective are your results? How much more could you do with your ROV or AUV with an ROV navigation system onboard? How much easier would it be to control and automate? How much better could your data be, if only you could know precisely both when and where it's gathering the data you need? How much more intelligence could you build into your marine robotic platform with more precise underwater navigation data?
Unlock your underwater robotics platforms
Many are finding out exactly these benefits and unlocking the capabilities of their smaller marine robotic platforms by adopting SPRINT-Nav Mini Navigator, the latest and smallest instrument in our SPRINT-Nav hybrid navigation family.
Launched late last year, SPRINT-Nav Mini Navigator is the world's smallest hybrid acoustic-inertial navigation instrument and it's already being used across multiple AUV and ROV platforms, from man-portable UUVs to inspection ROVs and even USVs.
By providing navigation capability, it's allowing users to turn their vehicles into far more controllable and precise inspection, survey and manipulation platforms. It's being used across the globe, from Asia to the Americas to Europe, and the energy, defence and science domains from mine countermeasures to offshore renewable energy survey and inspection.
A low-power, turn-key ROV navigation tool
Why? SPRINT-Nav Mini Navigator packs four of our instruments (INS, DVL, AHRS and depth) into one compact sensor. That means that's it's not only a third smaller than competing systems in the market, but it also benefits from our tight integration, so you get precision; an impressive 0.05% of distance travelled accuracy on a typical survey. It also makes it far easier to integrate than separates. You don't need to worry about choosing and integrating a separate IMU, DVL and depth sensor.
Stats:
213 mm tall by 149 mm in diameter
700 g in air
200 m bottom lock altitude
It also comes pre-calibrated, so you can get running straight out of the box, and has a web user interface, so you don't even need separate software to run it. And, to simplify your mounting configuration, it comes with connectors either on top of the unit or to the side, which can be particularly helpful for compact AUVs.
For shallower water operations (up to 300 m), it adds a mere 700 grams to your payload. If you want to go down to 4,000 m, it's still only 4.2 kg with our titanium housed variant.
SPRINT-Nav Mini Navigator – what our users think
University of Southampton – AUV navigation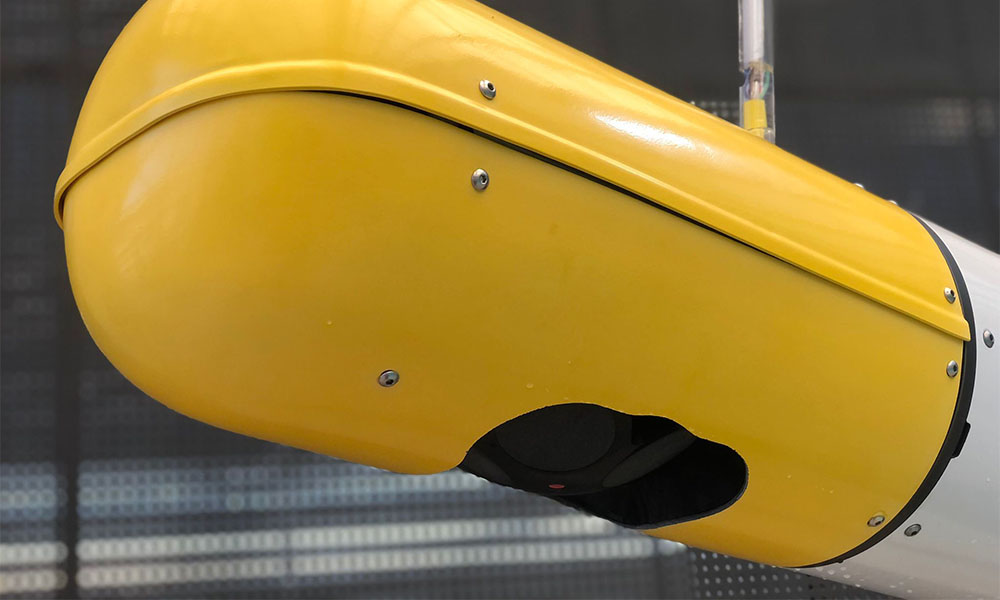 A team of marine researchers at the University of Southampton are integrating a SPRINT-Nav Mini and one of our AvTrak navigation and communications transponders into a SPARUS II AUV, built by Iqua Robotics in Spain. The vehicle also has a Voyis Recon LS laser and stills high-resolution 3D visual mapping system. The combined system will allow millimetre-resolution 3D visual reconstructions of underwater scenes to generated and accurately georeferenced.
Blair Thornton, Professor of Marine Autonomy at the University of Southampton says: "Combining precise self-localisation, high-resolution mapping and underwater communication capabilities has typically only been possible on platforms weighing several hundreds of kilograms. The large size of these platforms makes them reliant on large and expensive research vessels for deployment and recovery.
"Being able to pack this capability onto a compact AUV weighing <100kg is exciting because it makes advanced mapping significantly more accessible, not only for research, but also local conservation and educational initiatives that would not otherwise be possible."
Funded by the Engineering and Physical Sciences Research Council and Higher Education Innovation Fund, the team at the University of Southampton will use the platform for both fundamental robotics research and applied research in offshore infrastructure inspection and marine conservation.
The platform's capabilities will be a focal point for interdisciplinary and cross-sector collaboration, bringing researchers from the University of Southampton's In Situ and Remote Intelligent Sensing Centre of Excellence, Southampton Marine & Maritime Institute and the Intelligent & Resilient Ocean Engineering Centre of Excellence, together will local industry, regional authorities and overseas research organisations.
Seatronics – ROV navigation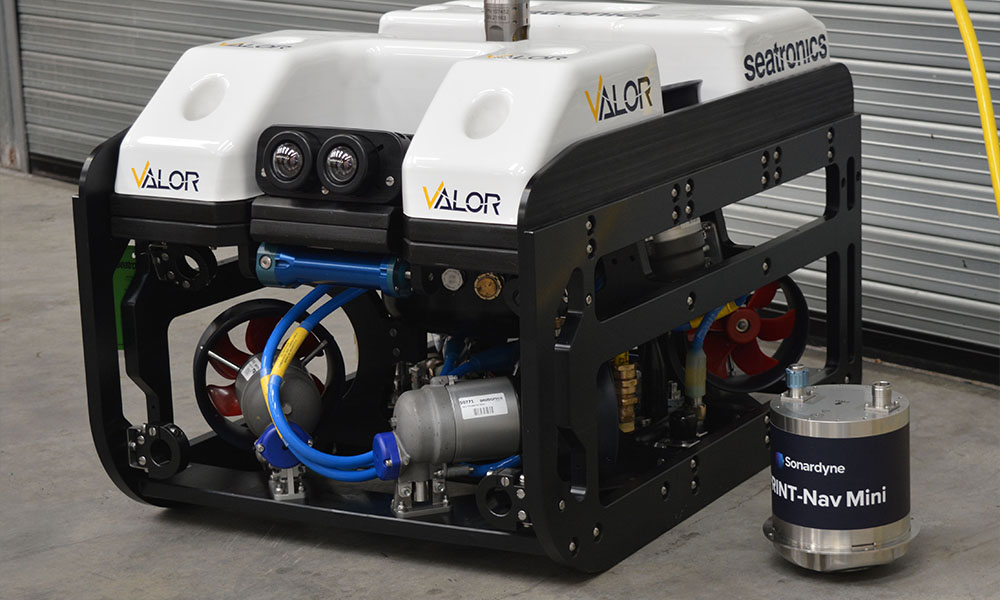 Acteon Group company Seatronics is integrating SPRINT-Nav Mini Navigator onto its VALOR ROV, a vehicle designed to be the smallest, most powerful and capable inspection class ROV in its category.
SPRINT-Nav Mini Navigator will provide VALOR with accurate, precise and robust ROV navigation and control, supporting Seatronics in its goals to further extend the boundaries of remote operations with tasks ranging from underwater inspection in lieu of dry-docking (UWILD) through to mine identification and destruction.
"Specifying payload sensors for a vehicle like VALOR often requires a trade-off between accuracy, performance, price and ownership. SPRINT-Nav Mini offers both the survey positional accuracy our clients are looking for, and a small form factor that we can fit and put straight to work.
"Another key reason for investing in SPRINT-Nav Mini is our ongoing relationship with Sonardyne. We knew that we would be fully supported in our concept to push the boundaries of remote operations from a small ROV solution by the Sonardyne team. This is critical when adopting new technology for a new platform," Derek Donaldson, Seatronics' Group Managing Director.
SEAMOR Marine – ROV navigation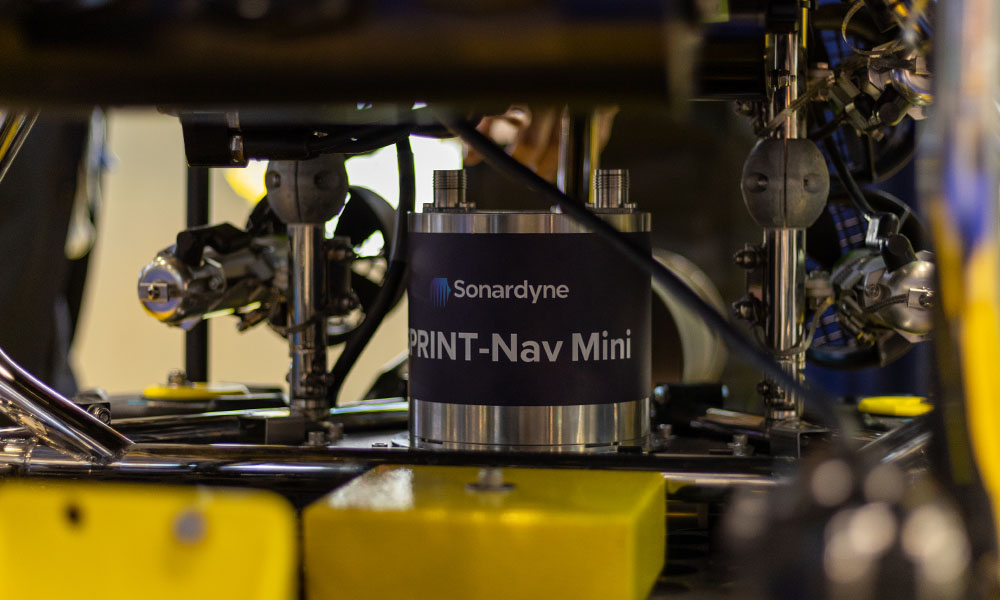 Canadian ROV company SEAMOR Marine is integrating a SPRINT-Nav Mini Navigator on to its newest ROV, the Mako. It's a small yet flexible vehicle, with eight thrusters and up to 22.5 kg payload, including multi-beam imaging sonars, making SPRINT-Nav Mini Navigator an ideal complementary sensor.
Robin Gang Li, SEAMOR Marine President, said, "We're really impressed with the capabilities of the SPRINT-Nav Mini Navigator. It's ideal in terms of size, weight and power for our Mako system and we're currently exploring with customers and the team at Sonardyne how we can create application specific turnkey solutions."
Voyis
Covelya Group company Voyis will integrate SPRINT-Nav Mini Navigator into small ROVs to demonstrate windfarm inspection capability from USVs as part of the Autonomous Remote Offshore Wind Inspection, Navigation and Deployment (AROWIND) Project.
This Ontario-led project, supported with Canadian Ocean Super Cluster funding, will develop a USV-based subsea inspection solution for offshore windfarms. Deep Trekker, HydroSurv Unmanned Survey and ourselves and EIVA, also from the Covelya Group, are partners on the project.
"We chose SPRINT-Nav Mini for the AROWIND project for its compact size, which makes it really well suited for small ROV integration. Also, the fact that the INS, DVL and depth sensor functionalities all come pre-calibrated, in a single housing, drastically reduces integration complexity and risk," says Chris Gilson, CEO at Voyis.
SPRINT-Nav Mini Navigator is also making waves in the US defence space. Defence technology companies there are using SPRINT-Nav Mini Navigator as their ROV navigation system on vehicles including an ROV and UUVs.
If you want to know how our SPRINT-Nav Mini Navigator could support your underwater robotics, drop us a line. We'll be happy to help.
Want to find out more about this article?
Speak to an expert