UK Met Office selects Sonardyne acoustic releases for mooring weather buoys
Acoustic release transponders from ocean science technology company Sonardyne have been chosen by the UK's Met Office to secure its network of moored buoy Marine Automatic Weather Stations (MAWS) in the North Sea and Atlantic Ocean.
Under a call-off agreement, Sonardyne's RT 6s and deck topside command units will be used to support deployment and retrieval of the MAWS buoys from their locations as far north as the Faroe-Shetland Channel and down to the southwestern approaches and the English Channel in the south.
The Met Office's MAWS buoys are a key part of its Marine Observing Network, which gathers essential observations, including wind speed, air and water temperature, and wave height and period.
They contribute to an international network of World Meteorological Organisation (WMO) and the International Maritime Organisation (IMO) coordinated marine observations, which provide critical data for weather forecasting, atmospheric modelling and work on climate science, by the Met Office and other organisations.
Because many of the buoys are moored in more harsh North Atlantic waters, they have to be designed to withstand extreme conditions, including significant wave heights recorded at above 18 m. They also have to be serviced every two years, so the Met Office needs a safe and reliable mechanism to allow for easy release from and then redeployment to their seabed moorings.
Sonardyne's RT 6 family of release transponders, operate using a secure acoustic signal from the sea surface, to activate a release mechanism connected to a seabed anchor. Moored instrument strings and oceanographic buoys can then be retrieved onboard a vessel for servicing or redeployment.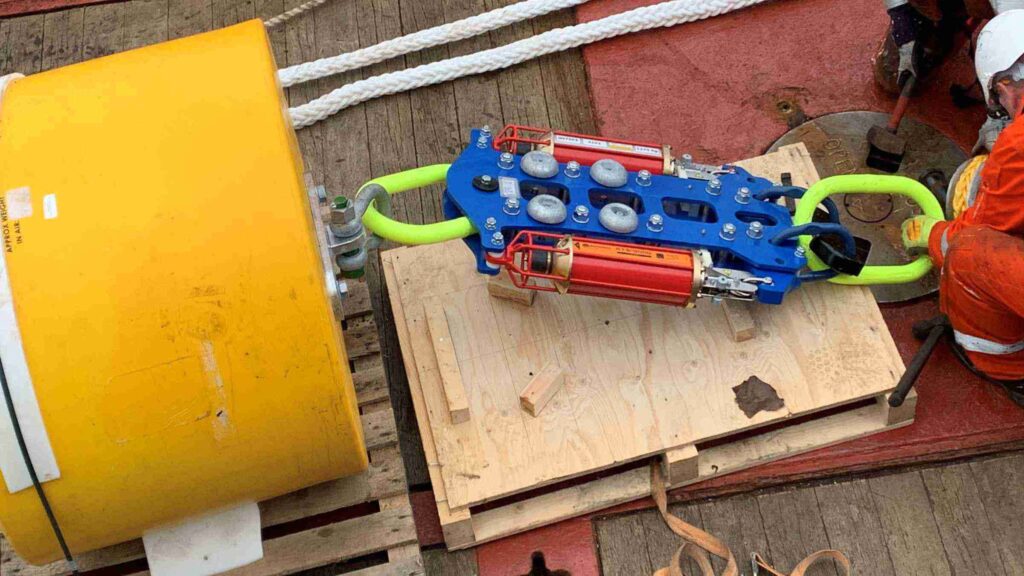 Photo courtesy Mark Hemnell, UK Met Office, Aug 2022
To support the MAWS deployments, each buoy will be fitted with two releases installed in a load amplification frame, providing a working load limit (WLL) of 15 tonnes. This configuration provides both equipment redundancy and the WLL needed to withstand harsh ocean conditions. Operators will command and control their RT 6s using Sonardyne's newly developed Deck Topside. Rugged and portable, Deck Topside features a high brightness screen, inbuilt GPS receiver for recording deployment locations and a battery life of eight hours. A cabled, over-the-side dunker provides the secure acoustic communication link between the surface and RT 6s.
The Met Office expects the first deployment using their new Sonardyne equipment to be on the 'K7' buoy, which will be reinstalled about 150 km west of the Shetland Islands in 700 m water depth by the Northern Lighthouse Board's lighthouse tender NLV Pharos.
Met Office buoy moorings are designed to withstand the worst that the Atlantic can throw at them for deployments of four to six years.

Mark Hemnell, Marine Engineering Manager at the Met Office
"The Met Office open ocean buoy network is often where forecast weather systems meet our measurement systems," says Mark Hemnell, Marine Engineering Manager at the Met Office. "Data from the buoys are used along with observations from many other sources to initiate model runs from which the UK's weather forecasts are derived.
"Met Office buoy moorings are designed to withstand the worst that the Atlantic can throw at them for deployments of four to six years. They take advantage of the properties of synthetic materials to do this, and it is our intention to remove all these materials from the ocean at the end of a deployment. Tandem release assemblies will ensure that this can be done reliable and safely, reducing our impact on the marine environment."
"Deployed far from shore in deep water, at significant operational cost, and exposed to some of the severest weather that the North Atlantic can generate, it's vital that the Met Office's buoys are moored securely for years at a time. Consequently, the selection of our RT 6 acoustic releases is a significant vote of confidence our technology," adds Geraint West, Head of Science at Sonardyne.
"Acoustic release transponders have featured in Sonardyne's product portfolio throughout our 50 years, so we're delighted that, in our 50th year as a company, the UK's national weather service has invested in UK technology, manufacturing and through-life support to help deliver their vital services."
Header photo courtesy of Plymouth Marine Laboratory.
Want to find out more about this article?
Speak to an expert