Products
Instruments & Software
HPT 2000
USBL tracking and communications transceiver (HF frequency)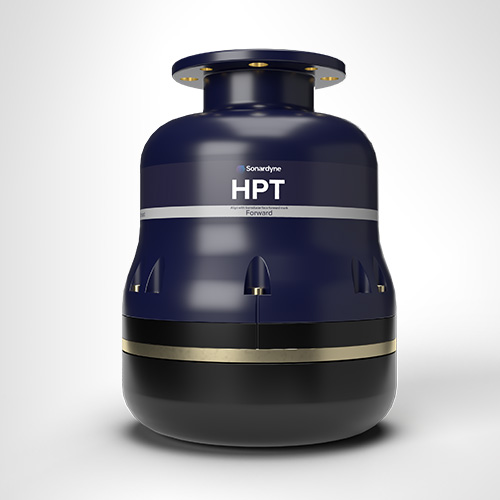 HPT 2000 is a high frequency (HF) USBL transceiver that's used as part of a Mini Ranger 2 system to position Sonardyne TZ/OBC transponders deployed during shallow water seismic cables. The design is optimised for high elevation tracking.
---
At a glance
Use it with Mini-Ranger 2 USBL
Optimised for high elevation tracking in shallow water
Easy to deploy on temporary over-the-side set up
Ethernet comms for fast position updates
Excellent corrosion resistance
Suitable for
Engineered for shallow water seismic surveys
Want to know more?
Overview
HPT 2000 offers significant advantages for survey operations in coastal and near shore regions where simultaneous positioning of transponders attached to transition zone/ ocean bottom seismic cables at high elevation tracking is required in low noise environments.
The advanced multi-element processing enables transponders to be positioned more precisely, more quickly and more robustly due to improvements in signal processing algorithms. When used as part of a complete Mini-Ranger 2 USBL system, heading and inertial navigation sensor, class leading performance is achieved.
The integral MTi-30 Xsens sensor provides pitch, roll and heading data that automatically compensates for the dynamic motion of the vessel, removing the need for an external sensor and pre-use calibration.
Manufactured in Aluminium Bronze, HPT 2000 is intended to be fitted temporarily or permanently to a vessel's through-hull or over-the-side pole.
The full hemispherical coverage optimises performance in shallow water environments boosting transmissions and receive sensitivity in the horizontal axis.
Ethernet connectivity enables the system to function over existing ship network wiring for rapid installation.
Resources
| Feature | | Type 8221 |
| --- | --- | --- |
| Operational Frequency | | HF (33 –50 kHz) |
| Transceiver Performance | Operating Range | 500 m |
| | Acoustic Coverage | Full 180° |
| | Range Precision | Better than 15 mm |
| | Positioning Repeatability External MRU | All transceivers tested to better than 0.2% of slant range 1 Drms / 0.14% 1 Sigma |
| | Positioning Repeatability Internal Xsens Pitch and Roll | All transceivers tested to better than 1.3% of slant range 1 Drms / 0.9% 1 Sigma |
| Source Level (dB re 1 µPa @ 1 m) | | 194 dB |
| Electrical | | 48 V dc (±10%), typical 15 W, maximum 120 W |
| Communication | | Ethernet 100 Mbps |
| Operating Temperature | | -5 to 40°C |
| Storage Temperature | | -20 to 45°C |
| Mechanical Construction | | Aluminium bronze |
| Dimensions (Height x Diameter) | | 310 x 234 mm |
| Weight in Air/Water | | 19.4/9.5 kg |
Manuals and quick start guides
Datasheets
Software and firmware
Engineered for shallow water seismic surveys