Exciting doesn't cut it when it comes to marine robotics
Last week we introduced Mike Ellis, our (re)new(able) guy! Now it's time to introduce the second of our recent new starters, Aidan Thorn. If you're in marine robotics, you've probably already come across him. He's joined us to help us further support the global energy transition, ocean science and defence through advanced underwater robotics as our Business Development Manager for Marine Robotics.
I've now been Sonardyne's Marine Robotics Business Development Manager for three months. It's been quite the whirlwind. I'm not long back from the Marine Autonomy and Technology Showcase at my previous haunt – the National Oceanography Centre (NOC). This was having also attended the Pathways to Autonomy event at London International Shipping Week and Ocean Business, all of which have been in person events (finally!), as well as hosting my first Sonardyne webinar. Each one reaffirmed why I took this exciting role and why now is such an exciting time for marine robotics. "Exciting" doesn't feel like a strong enough word to describe what's happening in our industry within marine robots.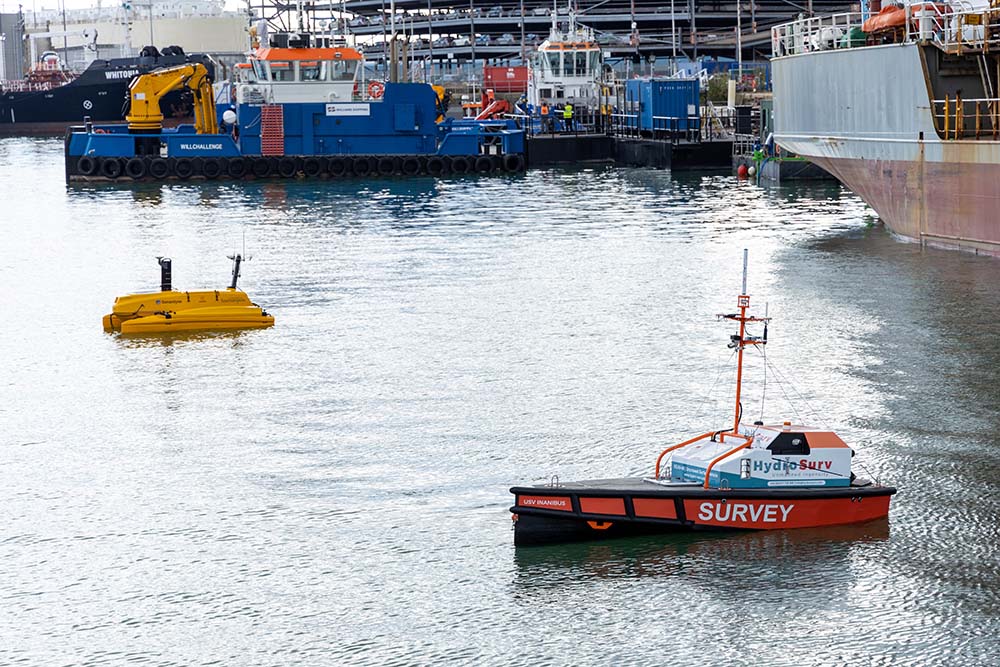 When I came into the industry, more than 20 years ago, as an apprentice at the NOC, they had one autonomous underwater vehicle (AUV), the Autosub. When I had walked around my first Oceanology International in the very early 2000s, there were a few unmanned underwater vehicles (UUVs) and not an uncrewed surface vessel (USV) in sight. Times have definitely changed.
The prevalence of marine robotics
During MATS, the NOC celebrated 25 years of Autosub science missions and we were told of their ambitious plans to deliver increasingly complex science using marine robots. When I was walking the show floor at Ocean Business last month, it was very obvious how prevalent marine robots have become in marine operations, nearly every stand either referenced or actually had some type of marine robot featured somewhere. It's also not just about AUVs, there are now "UxVs" in all shapes, sizes and capabilities on display and operating in our ocean.
One of the drivers, and a topic that no one could have missed over recent weeks, while COP26 was running in Glasgow, is climate change. It's a significant driver across ocean going sectors, to the use of marine autonomous systems towards goals of reaching net zero carbon emissions.
Where the focus for marine autonomy has historically been around getting into areas that are difficult/impossible to send humans or to remove humans from the dull, dirty and dangerous aspects of operating at sea, wider adoption is now being driven by their environmental benefits
Marine robotics no longer just exist for the experimental or difficult to reach operations. Replacement of heavy fuel burning ships for tasks like inspection, operation and maintenance of offshore infrastructure, data harvesting from subsea nodes and environmental impact assessment is increasing. Operations like autonomous logistics transportation are fast becoming a tangible reality.
So, it's definitely an exciting time to be involved in the world of marine robotics. It's great to see real-world applications of the technology, solving real challenges for users.  But there are still vast challenges to solve before we will see all of the ambitious plans and conversations at conferences and exhibitions put into practise.
Collaboration around technologies, skills and regulation is needed to enable mass adoption and scale-up, as was recognised at London International Shipping Week's Pathways to Autonomy event, and was also a theme in the questions from delegates at MATS. It's helping to solve these challenges that makes me most excited about my new role here at Sonardyne.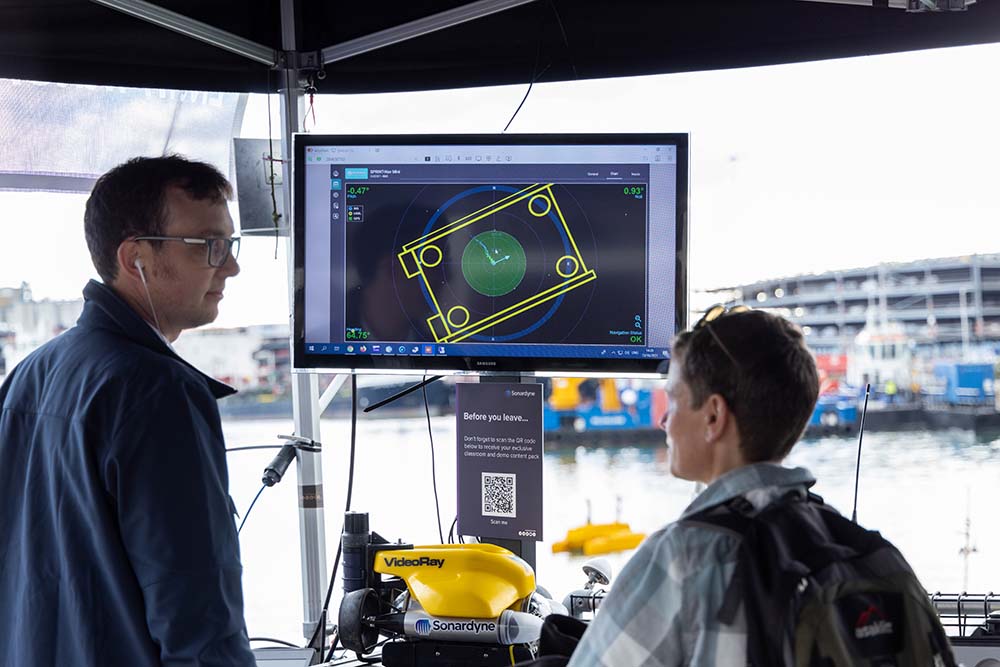 Enabling marine autonomous systems
In terms of robotics, we enable marine autonomous system tracking, navigation, command, control and communication. Our equipment and systems are key enablers for the most exciting marine robotics developments and operations happening in our waters today, and into the future. That ranges from NOC's latest under-ice AUV to Fugro's Blue Essence and Blue Volta combined USV/electric remotely operated vehicle (ROV) combination, to Ocean Infinity's Armada fleet – and that's just scratching the surface. There are so many more companies and organisations that we're engaging with on marine robotics projects that cut across our three core market areas: science, defence and energy.
As part of the wider Covelya Group, we have partnerships with incredible companies that provide imaging, machine learning and AI capabilities, ensuring that data is converted to useable information for end users.
But it's not just about our equipment and systems. In an amongst all the events and meeting customers and users, I had the privilege of spending a week in Plymouth with the Sonardyne training team. The level of detail and care the team put into training users of our equipment to ensure they have the skills to operate it in real-world environments is inspirational. We're already looking at how we can use this capability and experience to seed knowledge into the next generation of ocean technology operators. This is the generation that's going to be operating and interacting with marine robotic and autonomous systems from day one.
Providing complete MAS solutions
We're looking to provide a number of complete solutions. For wider adoption of marine autonomous systems (MAS) to take place, the market will need standardised operating methods. It's my ambition that Sonardyne's complete solutions set the standard for MAS command, control, tracking, navigation, positioning. We are not only interested in working with our group companies to achieve this, we are interested in engaging with all of you.
We want to build greater intelligence into our payloads so that they can identify and diagnosis their own faults or faults in the wider marine autonomous system. We are already doing things like building edge computing into our payloads to enable them to ensure that they're feeding the pertinent data to the user in real or near real time. We are also collaborating with the likes of the UK's Defence Science and Technology Laboratory (Dstl) and Thales, here in the UK, on secure methods of communications between robotic platforms to enable interoperability.
Either as a company, as a group of companies or in partnership with others, we are looking to provide solutions for the complete marine autonomous system, from packages that go onto the robot themselves to packages that help the robot to launch, be recovered, recharge, dock, transfer data and so on.
I'm looking to start those conversations now about how we can work with you to partner on integrations or to understand your operational challenges and help to solve them with you.
Want to find out more about this article?
Speak to an expert