Sounding out harbour porpoise
By Andy Marsh, Technical Consultant, Sonardyne 
Harbour porpoise are rather elusive creatures. They're one of six species of porpoise and one of the smallest marine mammals. But, while they're abundant in British coastal waters, including around river estuaries and even up rivers, their behaviours and social patterns aren't very well known.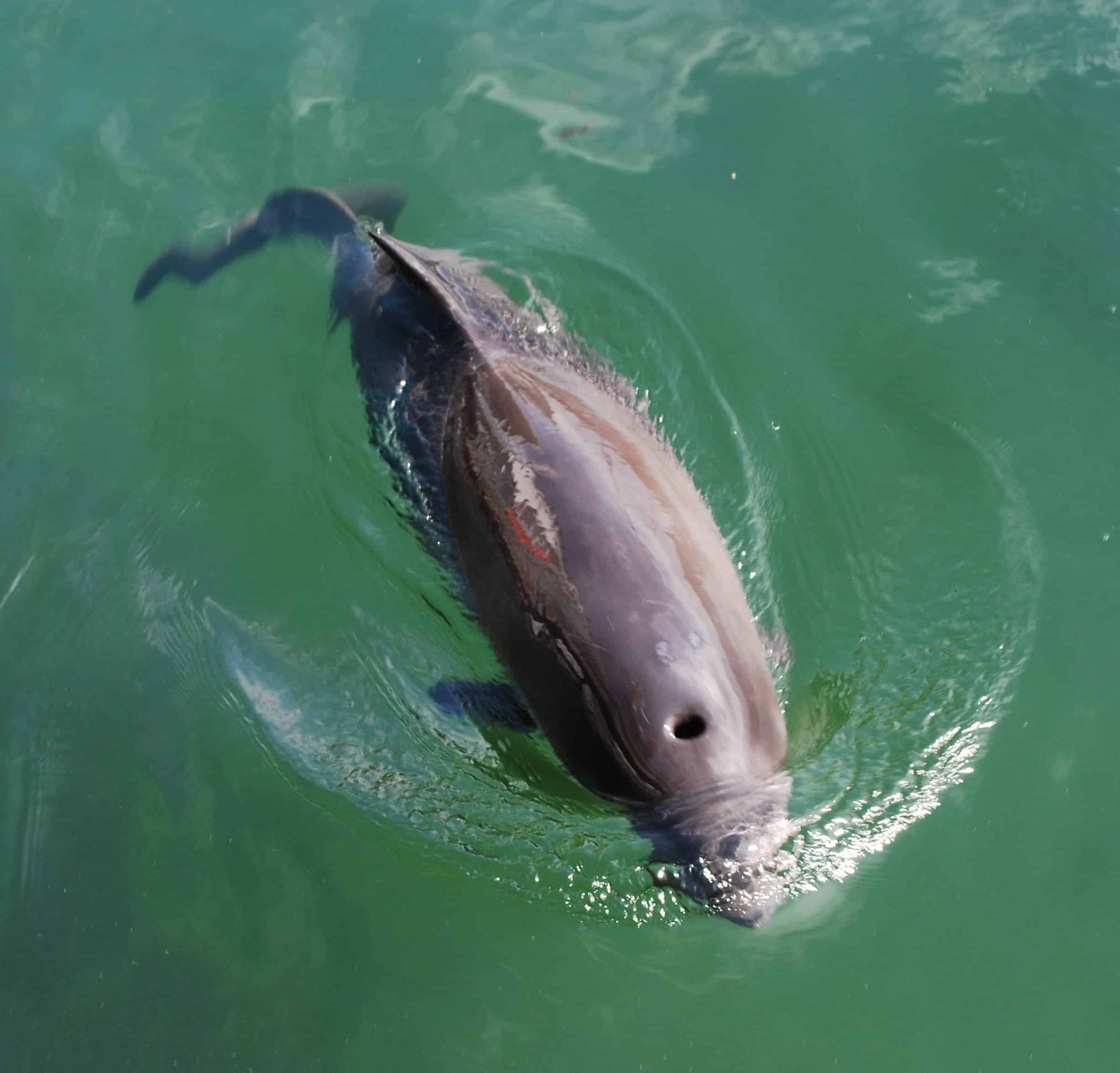 In some areas, their presence is not so well documented. It had been thought that they were rarely present, if at all, in the eastern English Channel. Indeed, sightings of live porpoise in Dorset, for example, are rare – at just a couple a year – with about twice as many reported dead strandings.
Because they tend to be quite shy and good at keeping a low profile, harbour porpoise are notoriously hard to spot. So, it's been hard to really know if they are there or not. So, Dorset Wildlife Trust decided to take a different approach to looking for them – one that wasn't based on visual sights. This meant using an acoustic equivalent of a camera trap – a C-POD, loaned by Chelonia Ltd.
These types of instruments can sit on the seabed for months at a time, recording the click sounds the harbour porpoise make. Recovering them, to access the data they've recorded, is then made easy – and wireless – using one of our acoustic release transponders.
Release transponders mean instruments can be moored where they're required and then the instrument released wirelessly, using an acoustic signal from a remote transducer deployed from a vessel. Once it pops up to the surface, it can be easily collected. With a rope canister option, the entire mooring or instrument base can also be hauled up out of the water.
For this project, I arranged the loan and deployment of one of our Type 7986 Lightweight Release Transponders – LRT – (now RT 6-1000) with a rope canister. These LRTs work in up to 500 m water depth, making them great for use in continental shelf waters. Depending on the battery type chosen (alkaline or lithium), it can stay submerged, ready to be released, for up to 18 months or up to four years.
In Dorset, the LRT ( RT 6-1000) with a C-POD was deployed just off Anvil Point lighthouse last year. Dorset Wildlife Trust then went out in February this year to collect the instrument, by triggering the LRT from a 7967 Surface Command Unit from the San Gin II, a locally hired vessel.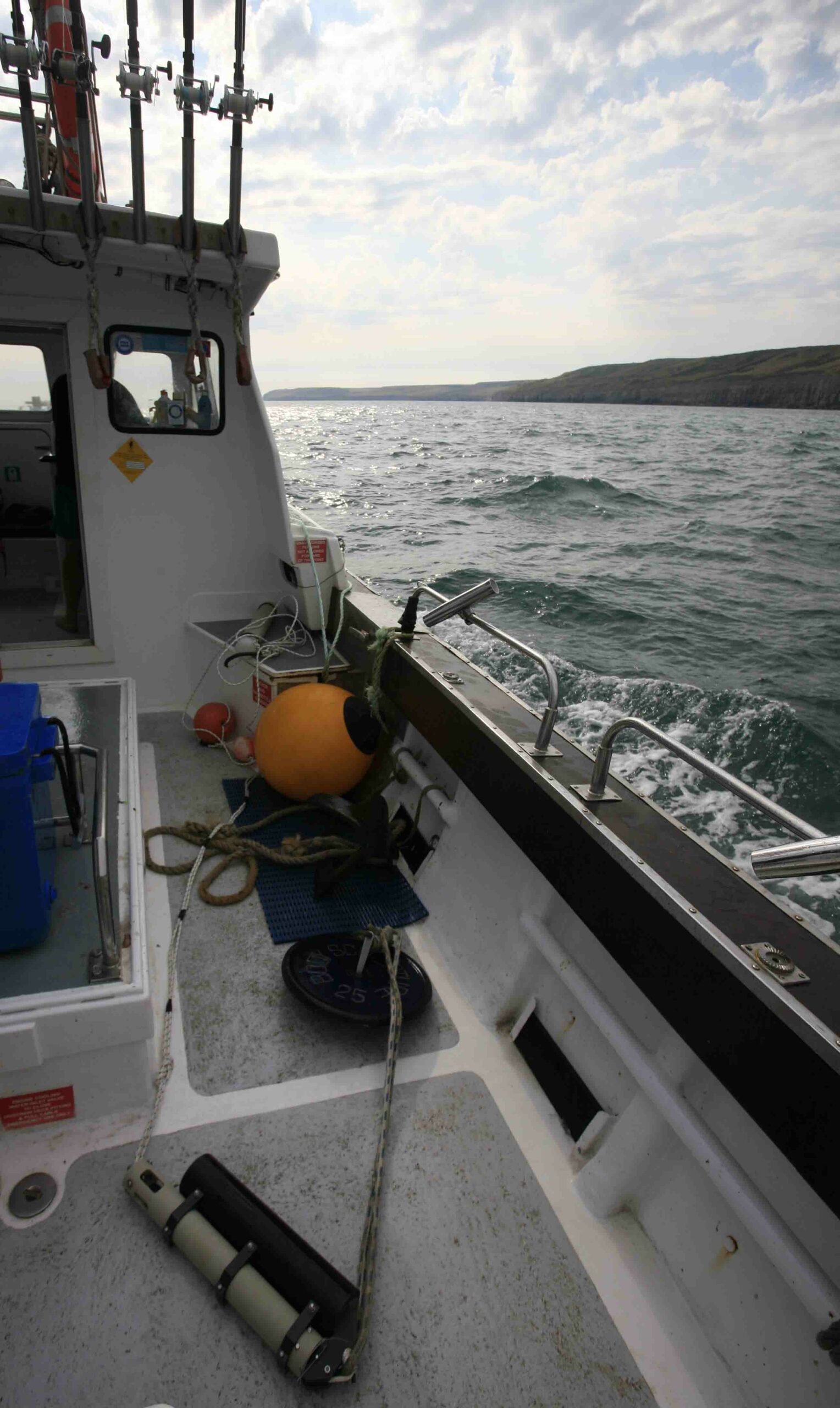 The results showed that this type of marine mammal monitoring was worthwhile. During the deployment period, observers watching the sea surface only saw one harbour porpoise. In comparison, analysis of the C-POD data indicated harbour porpoise encounters on 11 out of the 83 days that it was out there listening.
"Even this is likely to be an underestimate as the C-POD was swamped by sediment noise during the periods the tide was running strongly (about 70% of the time)," says Dorset Wildlife Trust's Marine Policy and Evidence Manager Peter Tinsley.
It's a great way to learn more about coastal marine life," he says. "The data gathered is likely to help improve the understanding of who is using the seas around Dorset's coastline. The impact of that is more than just fulfilling curiosity. It will help organisations like Dorset Wildlife Trust to demonstrate how we can better manage human activities in those areas," says Tinsley.
"As the seas have become busier, they have become much noisier – perhaps it's time to identify some quiet refuges, akin to 'dark sky sites' for light pollution," he suggests. "It's also just good to know these shy hunters are out there."
Find out more about Dorset Wildlife Trust here: www.dorsetwildlifetrust.org.uk
Porpoise Photo credits:
Header image: Marcus Wernicke (Tuugaalik), Porpoise.org Porpoise Conservation Society (www.porpoise.org) [CC BY-SA 4.0] (https://creativecommons.org/licenses/by-sa/4.0)]
Body image: Erik Christensen [CC BY-SA 3.0] (https://creativecommons.org/licenses/by-sa/3.0)]
Want to find out more about this article?
Speak to an expert