Products
Instruments & Software
Command Deck Unit
Commands LRT, LAT, OBC and Coastal Transponders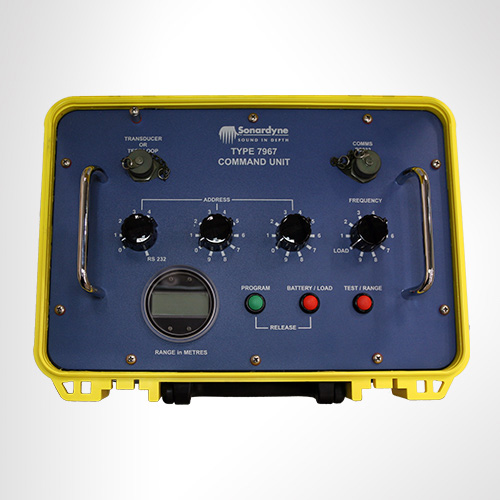 The Command Deck Unit is used to program, test and command Lightweight Release Transponders (LRTs), Lightweight Actuation Transponders (LATs), Coastal Transponders and TZ/OBC Transponders.
---
At a glance
Works with LRT, LAT, OBC and Costal transponders
Use it to test and configure before deployment
Highly secure coding sequence prior to commanding LRTs to 'release'
Suitable for
Built for command and control on the go
Want to know more?
Overview
The Command Deck Unit is used initially to program the acoustic identity of the transponder, test the transponder and, in the case of the LRT, load the release 'bit' prior to deployment. Once deployed, it can be used to measure ranges to the transponder and prior to sending a secure release command, relocate the transponder. The command deck unit can also be controlled via RS232 enabling raw range data to be logged to a PC. The system comprises a command deck unit and dunking transducer supplied with 10 m of cable.
Resources
| Feature | Type 7967 |
| --- | --- |
| Operating Frequency | HF (35–50 kHz) |
| Transmit Source Level (dB re 1 µPa @ 1 m) | 185 dB |
| Receive Sensitivity (dB re 1 µPa) | 110 dB |
| Pulse Length | 2 ms |
| Timing Resolution | 16 ms |
| Transducer Ports | 1 |
| No. Independent Navigation Channels | 9 |
| Dimensions (Length x Width x Height) | 360 x 270 x 155 mm (14.1 x 10.6 x 6.1") |
| Power Supply | Alkaline Battery |
| Weight | 5 kg |
| | |
You may also be interested in
Built for command and control on the go