---
How do I install a firmware update to Syrinx DVL?
21 June 2021
---
So, you have a .swu file and you want to update your Syrinx DVL? Here's how
Ensure that the unit is powered and the Ethernet cable is attached to the programing PC.
For this example, we will be assuming the Syrinx DVL IP address is configured as default (192.168.179.200) if your Syrinx is configured to a different IP address please use this instead.
Run a web browser (Chrome or Internet Explorer/Edge are recommended). And type: 192.168.179.200/support (remember to substitute your own IP address if your unit is configured differently) into the address bar and hit enter. The following page should load, if the unit has only just been powered on you may have to wait a while and refresh the page to allow the unit to properly boot (around 15 seconds).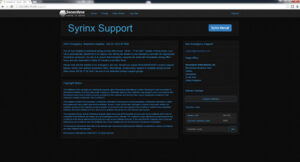 Uploading and installing the .swu
Click the Update Software button and the following pop-up will show.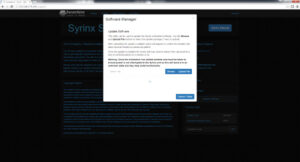 Click browse and navigate to the .swu update that you wish to install, here we are using Syrinx_Rel2_RevI.swu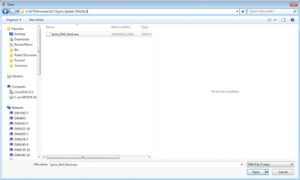 Select it, and click 'open'
Then click "Upload File" and wait for the button to go from 'Uploading' to "Upload Complete".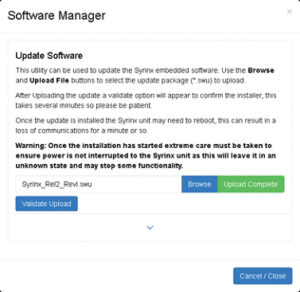 Once this is done, click the validate button.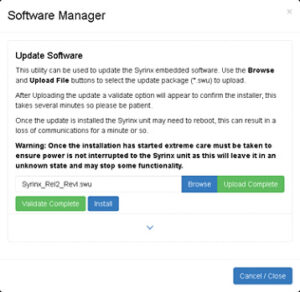 On successful validation the Install button will appear, click this, and wait for the unit to complete the install. Once the install has completed the unit will restart itself.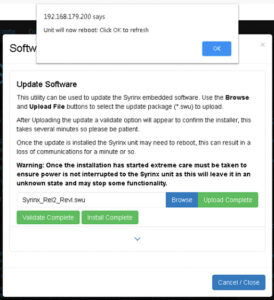 Wait for 20 seconds to allow the unit to restart and then click the ok button. The webserver will refresh and reload the support page.
You have now successfully updated your Syrinx DVL. If you wish you can check the installed firmware versions on the home page of the web interface.
Contact Support@sonardyne.com for more information.
---
Looking for more content?
Find more product support in our Knowledgebase
Haven't found what you're looking for?
Then speak to one of our team for expert help