Over-the-horizon uncrewed ocean data collection
A/S Norske Shell
Seabed monitoring over large areas has entered the age of autonomy, thanks to a combination of our long-endurance, wireless Fetch seabed sensors and a wide choice of uncrewed surface vessels (USVs) able to wirelessly collect their data. Read how Shell is making use of both for ocean data collection.
The challenge
A/S Norske Shell is running a long-term seabed monitoring campaign over the giant Ormen Lange gas field, 120 km offshore Norway, using an array of our Fetch pressure monitoring transponders (PMTs) in 800 – 1,100 m water depth at the field.
Fetch PMTs accurately collect pressure, temperature and inclination data at the seafloor, at pre-programmed intervals. Using this data, any vertical displacement of the seabed can be calculated. The data will help Norske Shell to proactively inform its reservoir management strategy. Each incorporates a high-speed acoustic modem, allowing stored data to be extracted at any time, wirelessly through the water, on demand.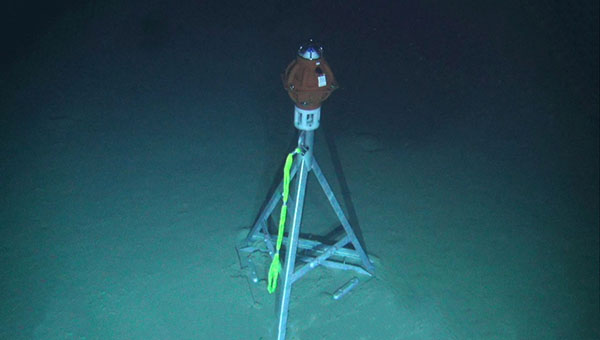 During previous seabed monitoring campaigns, Norske Shell used a vessel of opportunity to travel out to the field to harvest the data using wireless acoustic communications. However, regularly visiting the sensors to gather the information they contain comes with costs, emissions and puts employees in potential harm's way offshore.
Tags
Want to find out more about this project?
We can tell you more about this story
The solution
We provided a full seabed to shore data collection service. Using a USV, controlled remotely, over the horizon, we visited the site and collected all the Fetch PMT data, without a single person having to travel offshore or from their home office.
The USV, an XOCEAN XO-450, was "posted" via cargo ship to Norway for the project and was launched by local marine operations service provider SafePath AS. The USV, piloted by XOCEAN staff in Ireland, then carried out the full mission, covering 300 km from Kristiansund and back, over just three days.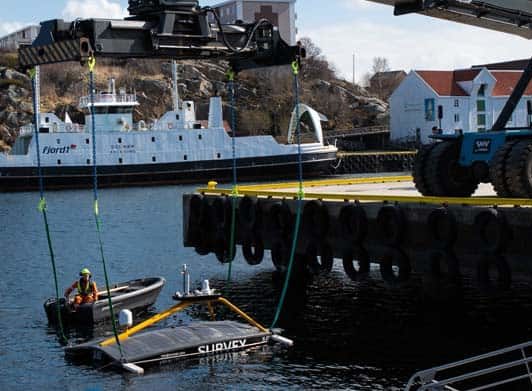 Throughout the mission, all those involved in the project, including Sonardyne's remote operations specialists in the UK, XOCEAN's pilots and Shell's geophysicists in Norway and the US, remained working from their home offices where they were able to quality check and then receive the data, live.
The results
One of the largest data harvesting missions using a USV, to date, achieved safely, quickly and with significantly lower emissions and costs than could otherwise be achieved. An estimated 5.4 tonnes less CO2 per day was emitted compared with a manned vessel had been used. XOCEAN offset any remaining emissions created by its vessel.
As well as minimizing risk to personnel, reducing costs and emissions, using a USV for data collection also meant the time download the data was halved, thanks to the maneuverability and low hull and electric propulsion noise of the USV.
Planning your next ocean data collection mission? Read our white paper to find out how to move to uncrewed.
Or let us handle your next ocean data collection mission with our USV Data Harvesting Service.
Read more about why Sonardyne instruments were chosen for Ormen Lange here.
Ormen Lange in numbers
120 km offshore Norway
800 – 1,100 m water depth
20% of UK gas needs
Have you got a similar project?
Challenge us to solve your problem
Challenge us to solve your problem