Starting out in the deep (and robotic) end
Author: Elaine Maslin, Senior Content Writer and Editor
There's nothing like starting a new job at the deep end and at Sonardyne that's quite literally what happened for me.
With my feet barely through the door, I travelled with the team from company headquarters in Blackbushe, Hampshire, down to Plymouth, to join our latest Marine Robotics Week event.
Over three days, we "opened the doors" to our training and testing vessels in Plymouth's Mayflower Marina to give existing and future clients an in-depth and hands-on look at our marine robotics technology capabilities.
Marine robotics is a fast-growing segment of the marine industry, featuring unmanned surface vessels (USVs) and autonomous or unmanned underwater vehicles (UUV/AUVs), and the systems that connect and control them, which we specialise in.
Plymouth Sound, on the edge of which Mayflower Marina sites, is a challenging environment to operate and demonstrate these systems in, with aggressive tides and different thermal as well as seawater and freshwater layers, all of which make for a tough proving ground for underwater technologies. However, this means those working in the military, oil and gas and ocean science sectors can see our technologies performing in real and challenging conditions – from the comfort and warmth of our vessels.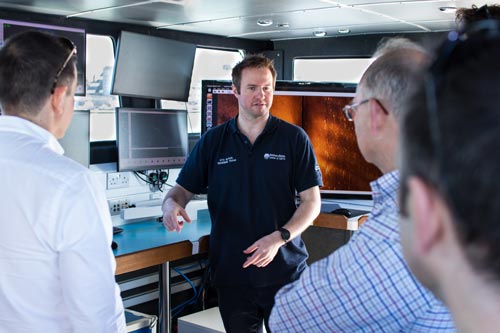 Our research vessel Echo Explorer took visitors out into the Sound to demonstrate our Solstice side scan multi-aperture sonar.
Solstice, which boasts an impressive 200 metre swath, using only 18 watts, is designed to work on small AUVs operating in stable conditions at a constant depth from the seafloor. For this demonstration, however, it was deployed over the side of Echo Explorer, in fairly rough conditions. Despite this set up, it was still able to pick out details on the seafloor that you would not normally expect to see with a multi-aperture sonar.
Echo Explorer was also used to demonstrate our combined SPRINT-Nav, which houses an INS, DVL and a high precision pressure sensor, in one compact and easy to integrate unit. SPRINT-Nav also performed well within its expected limits.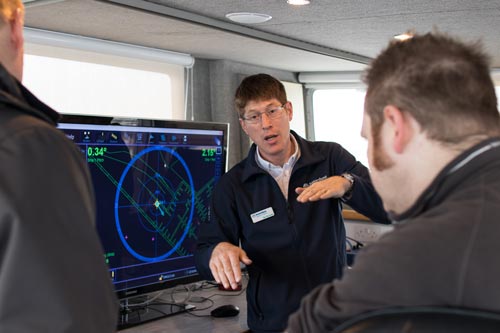 Meanwhile, onboard Sound Surveyor, our second 12 metre catamaran based at Mayflower Marina, we demonstrated the latest software bolt-on for our Ranger 2 USBL tracking system, the Marine Robotics Pack. Used with AvTrak 6 multi-function transceivers, the Marine Robotics Pack enables tracking and communication with and between multiple subsea targets, such as AUVs or swarms of vehicles, at the same time.
In our static floating classroom, Val B, we focused on BlueComm, our high-speed optical modem. BlueComm can enable high-speed and high-volume data transfer between underwater objects or between underwater and surface based systems, such as an AUV and USV. So how high-speed is high-speed? Well, put it this way, you could transfer HD video with BlueComm, which means subsea survey data could be transmitted to shore far faster than is otherwise possible.
USV supplier and operator ASV Global also joined us to give an on the water demonstration of its C-Cat 3 USV platform, equipped with our Syrinx DVL. As well as providing bottom-lock navigation aiding, Syrinx's ADCP mode was used to show how a water column can be profiled "on the go". The sight of an unmanned yellow craft manoeuvring between private yachts certainly caught the eye of many other marina users during the week.
Many of our visitors were impressed that we were happy to demonstrate our technologies in far from ideal environments (including a very windy and quite wet day one).
Our visitors were also impressed with the range and the capabilities of technologies demonstrated and the breadth and depth of knowledge the staff we had on site to talk them through the various systems (as well as a tasty lunch in the on-site restaurant).
The event was also a chance for us to show off our Plymouth Sea Trials and Training Centre facilities at Mayflower Marina, which are available to hire. Indeed, all our vessels, their crew and instrumentation, can be hired, supported by permanently installed LBL and USBL equipment on site.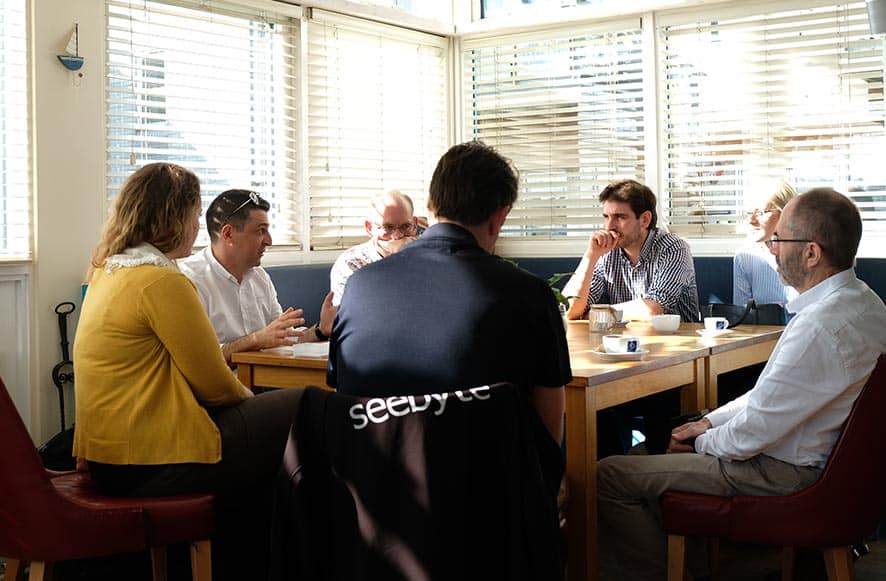 Most importantly, the event was also a chance for us to meet our clients, to discuss how we can help them and to adapt our technologies to meet their needs, and for our visitors meet us and other visitors.
Ioseba Tena, Global Business Manager for Marine Robotic Systems, led the event. He said: "It's about the opportunity to have time to talk to our customers, understand their requirements and see how we can adapt our solutions to meet their requirements."
Marine Robotics Week was our third marine robotics demonstration event. We hope to hold more and are planning the next one, which will be outside the UK. Let us know if you would like to attend a future event and don't just take it from us how useful these events are. Watch our short film from the event to see for yourself.
Want to find out more about this article?
Speak to an expert