Products
Instruments & Software
iRelease
Transponder test, configuration and release unit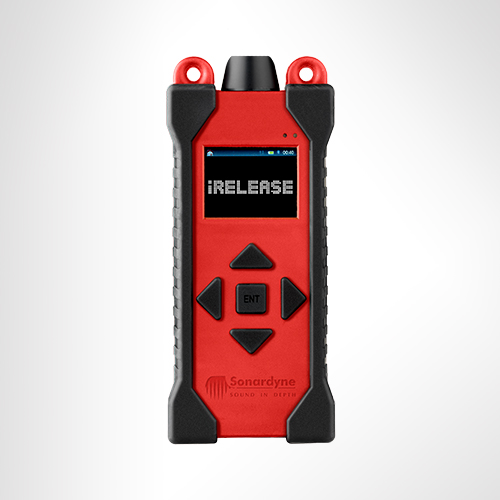 iRelease is a rugged, handheld unit that's used as part of a Lightweight Command Unit (LCU) setup on the back deck to test, load and release our legacy range of ORT and DORT acoustic release transponders.
---
At a glance
Use it to test and control legacy ORT and DORT acoustic releases
Compatible with legacy LCU dunking systems (replaces obsolete Psion unit)
Handheld design, battery powered, rechargeable
Splash-proof and rugged; designed for the back deck
Easy-to-use five-button interface
Command and control on the backdeck
Want to know more?
Overview
iRelease has been developed to provide extended product support for owners of legacy LCU, ORT and DORT acoustic release equipment.
It's design is based our popular iWand back deck unit but is limited in functionality to only command and control ORTs and DORTs via a simple user interface.
An internal rechargeable battery provides over five hours of active use with a life of three months in the lowest power standby mode.
iRelease has a USB to recharge the internal battery and a serial connection for communication with you LCU.
A rugged transit case is provided and contains a wall mount USB ac charging adapter with a variety of international AC power adapters. A USB cable is also included in the case.
Resources
| Feature | | Type 8315 |
| --- | --- | --- |
| Case | | Rugged polypropylene copolymer case with styrenic over mould shock protection |
| Keypad | | Sealed 5 key navigation pad |
| Display | | 320 x 240 sunlight readable LED display |
| Connections | USB | Splash-proof mini-USB Type B |
| | Serial | 9-way D-type (male) |
| Charging | | USB to PC or USB to wall adaptor |
| Internal Flash Memory | | 1 GB |
| Battery | | Li-ion 3.7 V 1,300 mAh (typical) |
| Battery Life | Normal (Screen On) | >5 hours (screen automatically turns off after a selectable period) |
| | Idle (Screen Off) | >12 hours (press a key or 'shake to wake' to turn screen back on) |
| | Off | >3 months (press a key to wake) |
| | Off for Shipping | >1 year (requires USB connection to wake-up) |
| Operating Temperature | | -10 to 55°C |
| Storage Temperature | | -10 to 55°C |
| Dimensions (Length x Width x Depth) | | 194 x 84 x 40 mm |
| Weight | | 0.8 kg |
Manuals and quick start guides
Datasheets
You may also be interested in
Command and control on the backdeck