Products
Instruments & Software
Heavy duty release frames
Accessory for RT 6-3000 and RT 6-6000 transponders
Engineered for: Seabed, Structure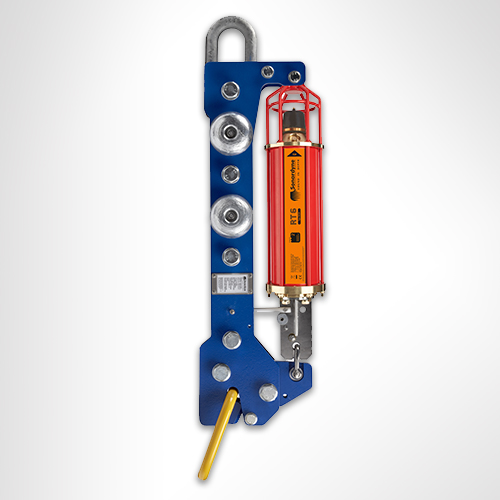 Our range of heavy duty acoustic release frames increase the WLL of RT 6-3000 and RT-6000 acoustic release transponders enabling you to lift, lower and release heavy loads onto the seabed, includes structures and specialist equipment.
---
At a glance
Working Load Limit of 7,500 or 25,000 kg
Breaking Load of 100,000 kg
Choice of depth rating; 4,000 or 12,000 m
Compact size; just over 1 metre long
Industry standard lifting rings
Suitable for
Lift and lower more with you RT 6s
Want to know more?
Overview
The Type 7869 release frame increases the Working Load Limit (WLL) of a standard RT 6-3000 or RT 6-6000 to 7,500 kg (at 4:1 safety factor) with a breaking load of 30,000 kg. The Type 7988 release frame has a WLL of 25,000 kg and breaking load of 100,000 kg.
In most cases both types of release frame can be fitted without any modification to the acoustic release itself and is easily assembled in the field.
Manufactured from high strength steel which is galvanised and powder coated, the releases offer excellent corrosion resistance for long term deployment.
Applications for which the acoustic releases have been developed include; civil engineering, offshore construction, offshore renewables, marine salvage, defence and ocean science.
Resources
| Feature | Type 7869 | Type 7988 |
| --- | --- | --- |
| Depth Rating (dependant on RT 6-3000/6000) | 3,000 m* (RT 6-3000), 6,000 m (RT 6-6000) | 3,000 m* (RT 6-3000), 6,000 m (RT 6-6000) |
| Working Load Limit (at 4:1 Ratio) | 7,500 kg | 25,000 kg |
| Maximum Safe Release Load | 11,000 kg | 11,000 kg |
| Breaking Load | 30,000 kg | 100,000 kg |
| Proof Load (a Proof Test Certificate is available on request) | 15,000 kg | 50,000 kg |
| Mechanical Construction | Galvanised steel, painted | Galvanised steel, painted |
| Dimensions – (with RT 6-3000/6000, including lifting rings) (Length x Width x Height) | 1190 x 160 x 303 mm (46.9 x 6.3 x 11.9") | 1465 x 265 x 306 mm (57.7 x 10.4 x 12.1") |
| Weight of Frame in Air | 38 kg | 115 kg |
| Weight of Frame in Air (with RT 6-3000/6000) | 58 kg | 135 kg |
| *RT 6-3000 is pressure rated to 4,000 m; however, due to operating range constraints of MF, its use at depths greater than 3,000 m is not recommended. | | |
Manuals and quick start guides
Datasheets
Lift and lower more with you RT 6s