DiveTrack
Portable diver tracking and safety system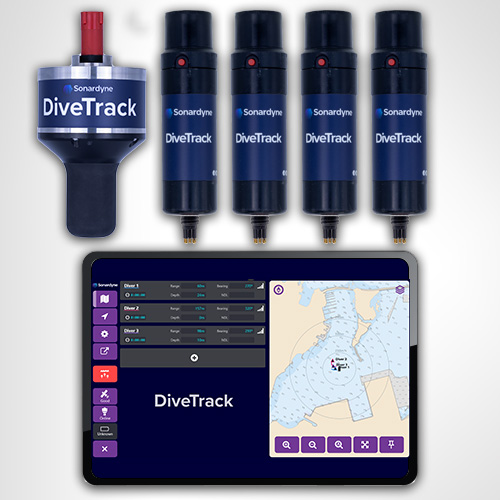 Do you want to know where your divers are and how they are performing? DiveTrack has got you covered! Designed with simplicity and ease of use in mind, DiveTrack's excellent performance and reliability will enable your dive team to stay safe and informed.
---
At a glance
Track and exchange information with dive teams
Simple to use – no acoustic expertise required
Out-of-the-box integration with world leading dive computers and rebreathers from Shearwater Research and JFD
Deploy from dockside or RHIB using the simple deployment kit
Suitable for
Operate anywhere, safely track your dive teams
Want to know more?
DiveTrack options
Sonardyne
Rugged and quick to mobilise, the DiveTrack system can be deployed rapidly from vessel or shore to track and recall dive teams. 
Shearwater
Connect your Shearwater DiveCAN enabled dive computer to the DiveTrack system to unlock; diver metric monitoring, tank pressures, diver recall and diver retasking. 
JFD
DiveTrack is compatible with JFD Stealth and Shadow rebreathers. Connect to Stealth to unlock; diver metric monitoring, tank pressures and any alarms and warnings raised by the rebreather. 
Overview
DiveTrack has been designed to provide a dive supervisor with the location of their divers, as well as providing diver metrics and a crucial communications link.
Expanding on the heritage of our USBL and telemetry systems, DiveTrack will push the envelope of your dive training operations to new heights. Always allowing a dive supervisor to position divers, as well as giving them the ability to send audible acoustic aborts from the surface to the dive team.  This functionality can also be expanded by connecting the DiveTrack Transponder to one of our partner rebreather/dive computer systems from JFD and Shearwater.
The system has been ergonomically engineered to fit in two IP-67 rated rugged Peli cases. Ideal for teams to hand carry and not overburden your already extensive kit list.
The DiveTrack command unit contains; power supply (with up to 10 hours battery life), USBL acoustic positioning system, 10 metres of cable, Wi-Fi, GNSS heading and a space for a laptop or tablet. GNSS heading makes the system calibration-free and simple to use. All you need to provide is the laptop or tablet you want to run the system on.
The second Peli case is a charging base for up to eight DiveTrack transponders, and also provides safe and secure transport for the units. All transponders when in the Peli case are automatically set to a "safe flight mode", disconnecting the battery and taking them out of operation. Each DiveTrack transponder has an internal battery with over 10-hour operational endurance and a universal connector for different dive computer configurations.
DiveTrack is our first system to utilise our revolutionary new digital signal architecture. Its performance in reverberant shallow water environments and over long ranges is unrivalled, ideal for long expeditionary dive profiles. All divers are simultaneously tracked, and information transferred with acoustic configuration managed intelligently by the system.
The UI works in real-time with constant updates, providing the dive supervisor a text-based view of key diver metrics (exact metrics will depend on the dive computer) as well as the ability to plot their position on readily available S-57 and S-63 ENC charts.
Shearwater Research
We've partnered with the world's leading technical dive computer manufacturer, Shearwater, to integrate DiveTrack with their Petrel 2. As a DiveCAN device the DiveTrack transponder can communicate with the dive computer and listen to information available in the Shearwater system. This unlocks powerful functionality such as:
Supervisor visibility of the following dive computer parameters; depth, NDL, NDS time, NDS depth, x2 tank pressure
Supervisor requests diver to abort dive and provides a range, bearing and depth change to return home (constantly updated)
Supervisor directs diver to another diver or target (constantly updated)
Diver raises an SOS
Diver raises a message requiring assistance
Diver communicates they have arrived at target or are no longer going towards the target
JFD
DiveTrack can be integrated into the JFD military spec rebreather system. It aids in improving diver operations and extends the training envelope of what a rebreather system is capable of. All available information is provided to dive supervisors to help manage and monitor operations. By connecting a DiveTrack transponder to a JFD system, it will actively listen to messages in the water. These messages contain metrics, warnings and alarms produced by the system. DiveTrack software will mirror these parameters, always keeping the supervisor in the loop with where divers are and their key metrics. These include;
Depth
Average PO2
Diluent pressure
O2 pressure
All high level (flashing red) alarms raised by the JFD system
All medium level (flashing green) alarms raised by the JFD system
DiveTrack can also be used to track other JFD dive systems. This includes tactical diving vehicles but also can extend to biometric data on JFD diver health monitoring products.
Why invest
Design
Portable, rugged

Simple to connect and deploy

Easy to use, training available if required

Developed with divers, for divers
Performance
Up to 5% slant range

8 targets tracked simultaneously

>1500 m max tracking range

>10 hours battery life
Acoustic
MF frequency (20-28 kHz)

Uniquely addressed transponders for ease of use

Digital signal architecture for high-level shallow water performance

Omni-directional tracking and data exchange
Ownership
Configure a system including DiveTrack command unit, transponder transport box with 4/8 transponders, buoy/vessel deployment kit, tablet

Warranty: 1 year return to Sonardyne service centre

ITAR Controlled: No

UK Export License: Not required
Resources
| Feature | DiveTrack Transceiver | DiveTrack Transponder |
| --- | --- | --- |
| Operating range | >1,500 m | >1,500 m |
| Depth rating | n/a | 100 m |
| Frequency band | MF (20-28 kHz) | MF (20-28 kHz) |
| Transducer beam shape | Omni-directional ±130º | Omni-directional ±130º |
| Source level (re 1 µPa @ 1 m) | 181 dB | 181 dB |
| Range precision | Better than 15 mm | Better than 15 mm |
| Position accuracy | 3-5% slant range | n/a |
| Communication interface | Ethernet/Wi-Fi | RS232/CANbus |
| Depth sensor | n/a | 10 bar abs ±0.7% full scale |
| Power supply | 12/24 V dc & 115/230 V ac | 12/24 V dc |
| Power consumption - charging | ~30 W | ~6 W |
| Battery life - Quiescent listening | n/a | >3 days |
| Battery life - at DiveTrack ping rate | >10 hours | >10 hours |
| External connections | Bulgin 6000 series | Subconn MCIL8M |
| Mechanical construction | Polymer & Stainless Steel | Polymer |
| Operating temperature | -15 to 50°C | -30 to 50°C |
| Storage temperature | -30 to 55°C | 30 to 55°C |
| Dimensions (length x width x depth) | 177 x 106 x 106 mm | 192 x 55 x 55 mm |
| Weight in air/water | 1.84/0.99 kg | 584/162 g |
| Peli case dimensions (length x width x depth) | 524 x 428 x 206 mm | 524 x 428 x 206 mm |
| Peli case weight in air | 13 kg | 13 kg |
Operate anywhere, track anything