---
Can I use Compatt 6+ Multiuser in Fusion 2?
21 June 2021
---
What is Multiuser and how do I set it up in Fusion 2?
How Does Multiuser work?
Multi-user functionality allows a Compatt to be configured to listen for up to 5 different Common Interrogation Signals at the same time. This allows the Compatt to be used by 5 independent users simultaneously. They could be a mix of LBL, USBL and INS users.
Multiuser functionality is enabled by default in Fusion 2 and all Compatt 6+ devices. Compatt 6+ Multiuser has its own unique range of interrogation and reply channels that can be used in Wideband 2, 2+, 3 & 3+ modes.
How do I Configure Multiuser in Fusion 2?
Given that several independent operators may be using the array, careful user management is required to ensure there are no conflicts. As such, the connection to be used by each vessel or operator should be provided by the Project or Lead Surveyor for the project.
To change the connection being used:
Select Tools and then select Options.
Select the Multiuser connection and click Apply. Or click Advanced Setup to manually configure the Compatts.
Note: When changing the connection used, this could potentially conflict with other users, so ensure that all Multiuser changes are coordinated with all users.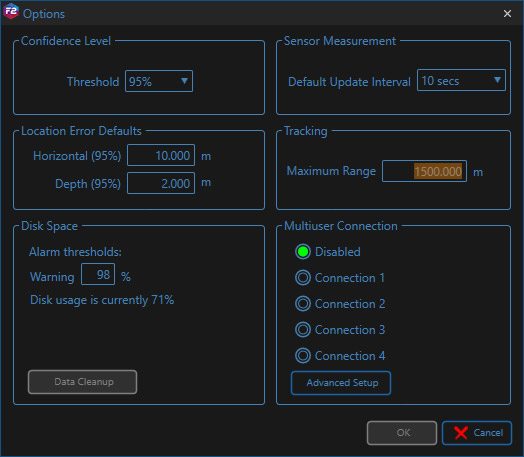 The Beacon Table will now only show the navigation settings for your connection. These can be edited as usual and this will not affect other users, other than a short delay in tracking during telemetry. Users should perform a Get All to each Compatt when first connecting to synchronise settings. Wideband 3+ NAV channels are available, if the Compatt acoustic address is set in that range.

How do I set ALL the Multiuser connection Settings?
This allows master control of all the Multiuser connections and would normally be used at the beginning of operations to configure the entire array, ready for incoming vessels. Settings for individual connections can also be changed using the beacon table, for normal operations.

The user can change the Interrogation Signal, Reply Signal, Turn-Around Time (TAT), Transmit Power and Activity Time to be selected for each connection. To make the changes, use the drop-down menus, and click apply. This will begin acoustic configuration of the Compatts.
Uncommitted changes in the transponders list are highlighted in orange. Selecting a low or a high signal will automatically set the reply to an available signal in that grouping.
When choosing an Interrogation Signal the user is given two default choices, one Low (LO) and one High (HI) channel, or the user can select to Disable or manually select a channel, with Advanced…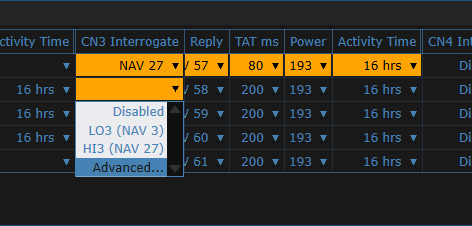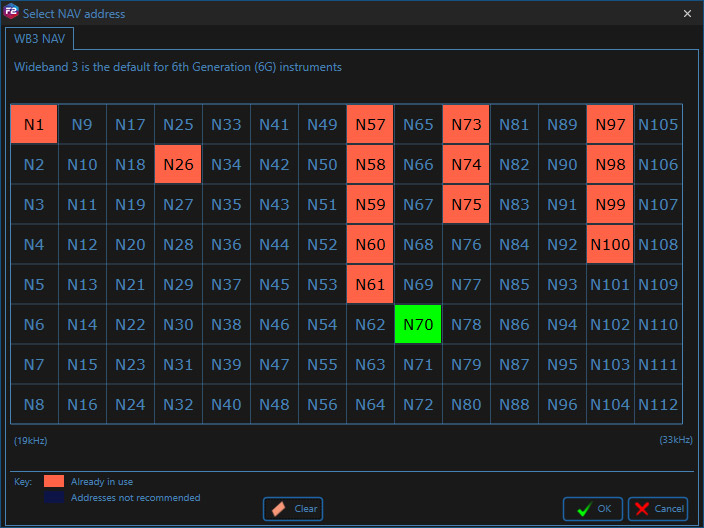 Channels already set in your system will show as pink, the newly selected channels will be shown in green.
Although it is recommended that the initial Multiuser connection configuration is organised by the Project or Lead Surveyor, there is no restriction on who can subsequently alter or manipulate these settings. As such, it is reliant on individual users to exercise discipline in working to their designated signals, and in maintaining good communication between all other users, if changes need to be made.
---
Looking for more content?
Find more product support in our Knowledgebase
Haven't found what you're looking for?
Then speak to one of our team for expert help